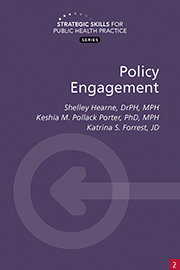 Given the partisanship of U.S. politics, policy is an important tool for public health professionals. A new APHA Press book offers a field guide on how to successfully use policy on political, social and economic issues that improve population health.
"Policy Engagement," part of the Strategic Skills for Public Health Practice series, offers ways health professionals can be better communicators and advocates — from educating policymakers and mobilizing stakeholders to putting together a public health campaign. The book explains why public policy is a major component of public health, offering the ins and outs of policymaking engagement and the rules, lessons and insights needed for success.
"We need to see that partaking in the policymaking process is really part of the heart and soul of public health," Shelley Hearne, DrPH, MPH, director of the Johns Hopkins Center for Public Health Advocacy and co-author of the book, told The Nation's Health.
The book's other co-authors are Keshia M. Pollack Porter, PhD, MPH, a professor of health policy and management at Johns Hopkins, and Katrina S. Forrest, JD, co-executive director at CityHealth.
During periods in the 20th century, public health had a close relationship with policymakers, working together on sanitation, drinking water safety, healthy foods, seat belts, water fluoridation, safer work spaces and more.
But in recent decades, public health has in many cases diverged from politics. Some professionals steer away from advocacy, viewing it as bias or political, and instead embrace expertise and research as a means to spark change.
But peer-reviewed studies and expert advice are not the main drivers in the policy process, according to the book. Facts must be understood within a political context. Advocates must be aware of how policymakers and outside interest groups see issues, and be nimble enough to see openings for persuasion and adjust to changing circumstances.
Decisionmakers rarely know the subtleties of public health issues. It is up to public health professionals to translate the science, provide counsel and propose recommendations and solutions based on research, the authors write.
"The more public health professionals are engaged in the policymaking process, the greater influence and impact we can have on the public's health," they write. "We can only build a healthier nation when we combine sound public health research with skillful advocacy to navigate the complex political forces shaping our nation's policy."
While health workers are adept at getting to know and listening to community members, they are not as experienced at relating to policymakers and decisionmakers, Hearne said. The book helps to demystify the process.
"The more that we understand decisionmakers, the more effective we are," Hearne told The Nation's Health.
To learn more about "Policy Engagement" and the Strategic Skills for Public Health Practice series, visit www.aphabookstore.org.
Copyright The Nation's Health, American Public Health Association