Carl Kinkade travels the globe responding to public health emergencies, though his formidable response skills aren't the typical fodder for nightly newscasts and glossy magazine covers.
Kinkade won't be administering vaccines, patching wounds or delivering food — he'll be behind the scenes, creating the data analyses responders use to decide who needs to be vaccinated, where medical help should be sent and how many families are waiting for a hot meal. As the enterprise geographic information system coordinator for the Centers for Disease Control and Prevention, Kinkade is a public health mapmaker, using public health surveillance data to create geographic illustrations of everything from disease outbreaks to cancer disparities and helping health officials successfully direct public health's oft-limited resources.
This year alone, Kinkade has traveled to Namibia, Uganda, Myanmar, Afghanistan and Thailand to put his expertise in geographic information systems, better known as GIS, to work to face public health emergencies and train local health workers on their use. CDC has been using the mapping technology for almost two decades, Kinkade said, though a simpler form of the technique dates back to 1854 when British physician and epidemiology pioneer John Snow used mapping to trace the source of a cholera outbreak to a public water pump.
"CDC uses (geographic information system technology) throughout almost every center, institute and office to track outbreaks, identify patterns of disease, follow trends…look at funding patterns, evaluate the effectiveness of programs, prepare for responses and much more," Kinkade told The Nation's Health. "In public health, things happen in places, so geography is always tied to events and (mapping technology) allows us to analyze this information to support public health initiatives."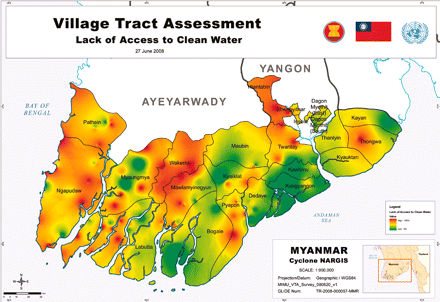 More than a century-and-a-half after Snow's discovery, advanced geographic information systems are making their mark within every public health discipline. In Los Angeles, workers overlapped data on child body mass index percentiles, economic status, violent crime and park acreage to create a map illustrating the built environment factors associated with childhood obesity. In Mississippi, public health workers used mapping to track the distribution of the state's oral health work force and support a statewide oral health surveillance plan. And in Pittsburgh, Pa., in preparation for Medicaid changes that would expand the state's family planning program, health workers used mapping to pinpoint areas in greatest need of such services. In the aftermath of Hurricane Katrina in 2005, Kinkade used daily reports from the American Red Cross to map evacuees' movement through the shelter system, better enabling health officials to direct recovery resources. And after Cyclone Nargis came ashore in Myanmar earlier this year, Kinkade helped map survey results to determine where humanitarian efforts were needed.
"(A geographic information system) allows us to identify populations at risk and visualize how CDC needs to respond," said Kinkade, who is a consultant deployed to CDC.
Geographic information system technology is used in all 50 state health departments, most local departments and most ministries of health worldwide, Kinkade said, though it is often "still seen only as a tool and many times an afterthought in the data collection process." While Kinkade said the mapping technology remains underutilized in public health, he noted that the more CDC invests in "setting up enterprise (geographic information system) infrastructure, the less it will cost local and state health departments to implement it." In fact, work is already under way at CDC on building a Web-based network to allow health departments to share mapping data and eventually build a nationwide public health geographic information system community, Kinkade said. Known as the Public Health Distributed Geospatial Intelligence Network and based on a similar system used within the defense community, the network would mean a "local or state health department can leverage a cluster of tools built at CDC or CDC can leverage a tool built by a state health department. We can share the intellectual wealth across public health much better and support our strained budgeted health departments," he said.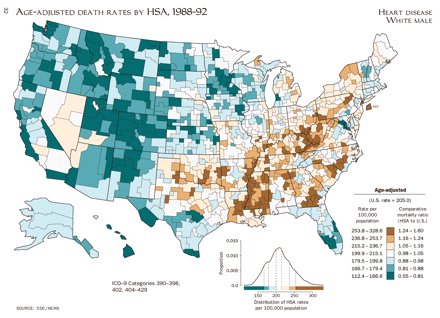 "Right now, each health department must set up, maintain and build their (own geographic information system) environment," Kinkade said. "But this network will allow us to help each other set up, maintain and enhance each others' environments."
When CDC's network makes its debut, many state and local health departments will already have a wealth of mapping data and infrastructure to share. At the Colorado Department of Public Health and Environment, geographic information system technology has been assisting workers since 1995. Initially an environmental public health program, today the mapping technology is being used to enhance HIV prevention, emergency preparedness, water quality and vector-borne disease programs, according to Mark Egbert, the department's geographic information system coordinator. The most significant change, he said, is not the technology's inherent functionality, but its ease of use. While it used to be a specialized skill, it is now a tool that everyone can use, said Egbert, who trains health workers from around the state on the technology and is part of a statewide geographic information system users group.
"It's just a part of our business practices now," he told The Nation's Health.
One of the technology's many benefits is moving from "big picture stuff" to the ability to study one point on a map — to look at data by community, by county or census tract, Egbert said. Most recently, Egbert and colleagues used the mapping technology to track data during the Democratic presidential convention in Denver to prepare for a possible public health emergency, plotting convention events, the flow of protestors and the types of services being used. A few years ago, Egbert assisted workers in Denver in mapping teen pregnancies. Knowing that teen pregnancies were not evenly distributed throughout the city, a map was created using data such as likelihood of pregnancy and how teen mothers relate to other mothers in terms of prenatal care and behavioral habits. The resulting maps guided Denver public health workers to communities most in need of teen pregnancy interventions.
"The (geographic information system) is such a part of so many of our operations, but for a lot of smaller health departments, it's really a struggle," Egbert said. "It can be hard to make a transition to a new way of doing business."
In 2001, health workers in Atlanta decided that the threat of West Nile virus would require a more coordinated response, and the Metro Atlanta Public Health GIS collaborative was born. After watching West Nile virus make its way down the East Coast, representatives from Atlanta's five health districts came together to prepare for its arrival, according to Juanette Willis, former chair of the collaborative and arbovirus coordinator for Georgia's DeKalb County Board of Health. Just by mapping dead bird calls — and "without ever having to pick up a bird" — health workers could visualize clusters of bird reports and predict where the virus was moving, Willis said. In response, Atlanta-area health workers were able to better target their prevention efforts, educating residents door-to-door and treating storm drains with larvicide in neighborhoods where the virus was predicted to travel.
"It's one thing to look at a listing and mentally group ZIP codes together," Willis said. "But when you can see it geographically, you can see other connections."
In addition to West Nile virus, Atlanta health workers used the mapping program to examine a 2006–2007 spike in shigella cases and to determine where pedestrian safety resources would best be spent, among other projects. In the case of the shigella spike, Willis said, nothing had stood out when simply looking at data listings. But after entering data into the mapping program, workers were able to locate a school and public pool with several cases nearby.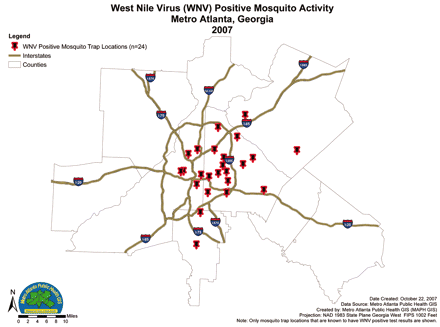 As colorful visual communication tools, such maps also aid public health workers in their advocacy and policy work. In Atlanta, for example, a local legislative board proposed limiting septic system permits, which are required to repair faulty septic systems. The possibility alarmed those in the environmental public health field, and so a map of the metro area's septic systems was created to educate legislators on just how many existed, Willis said. In the end, the proposal did not go forward.
Such public health mapping can be a "phenomenal communication tool" for making data more "real" and putting it in context, said Lance Waller, PhD, who has been teaching a course on "GIS and Public Health" at Rollins School of Public Health at Atlanta's Emory University for about six years.
"Every time I teach (the class), students know more and more about it," Waller told The Nation's Health. "It's not at the same stage as some of the core public health classes, but I do see a lot of students choosing this as their elective."
Geographic information system technology is enormously helpful, but it does not guarantee the user will make a good map that effectively communicates, Waller noted, adding that a "good map of bad data is a lot more believable than a bad map of good data." Knowledge of geography and cartography, or the art of mapmaking, can make a world of difference in how easily a map speaks to its audience, he said.
"If you can't look at a map and get it in two minutes, you've probably missed an opportunity," Waller said.
For more on geographic information systems and public health, visit www.cdc.gov/nchs/gis.htm.
Copyright The Nation's Health, American Public Health Association