In the midst of the H1N1 flu pandemic in Mexico in May 2009, almost 1 million cell phone users received a text message asking about their flu experiences. More than 50,000 responses were received, and the surveillance method proved to be a timely, low-cost way to collect data on the fast-moving virus.
The Mexico effort is just one example of the many innovative techniques health workers are using to paint a more detailed portrait of how influenza spreads. From online surveys to automated disease mapping systems to flu-related Internet searches, keeping track of the flu — as well as other infectious diseases — is slowly moving out of the exclusive purview of the professional arena and into the public domain. The new methods are seen as complementary to traditional disease reporting and surveillance, which still reign in regard to accuracy.
In Mexico, health workers were hoping the text messaging effort would offer a clearer picture of the emerging H1N1 flu strain, said Martin Lajous, MD, MS, a researcher at the National Institute of Public Health in Cuernavaca, Mexico, who is coordinator of the effort. Contacting one of the country's major telecommunications companies, Lajous persuaded the company to send a text message inviting a random sample of customers to take a flu-related survey. About 6 percent of recipients answered the invite, reporting their symptoms, age, vaccination history and other information. While the survey had its limitations, Lajous said the effort found "signals that were consistent with what was observed in the traditional surveillance system."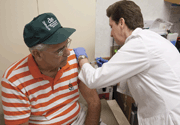 "This was a good start, but it has to be perfected as a tool," Lajous told The Nation's Health. "In this case, it's a clear example of what can be done when we create a partnership between government and the private sector."
While some new methods collect data, others allow people to easily track flu outbreaks in their own communities. One example is Google Flu Trends, which launched in 2008 and examines online search queries — such as people searching about flu symptoms — to estimate flu-like illness rates in the United States and around the world.
According to Google, when compared with data from the Centers for Disease Control and Prevention, Google Flu Trends data had a "consistently strong correlation with real CDC surveillance data." At the time of the software's launch, Google called the flu tracking system "experimental." A recent study presented at the May conference of the American Thoracic Society found that Google Flu Trends was not as accurate as laboratory-confirmed flu case data collected by CDC.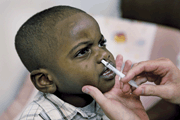 Another online effort, known as HealthMap, also collects and filters data from different sources to pinpoint disease trends. Created under the auspices of the Children's Hospital Informatics Program in Boston, the automated mapping system collects data from a variety of sources, such as news articles, official health reports and online mailing lists, to create maps of infectious disease outbreaks, including flu. According to Isaac Kohane, MD, PhD, director of the Children's Hospital Informatics Program, HealthMap has the potential to identify disease trends earlier than traditional systems that depend on people interacting with health care systems.
"In the absence of having brigades of people all around reporting and measuring (disease)…it turns out that both mailing lists and news reports, by and large, are accurate reporters," Kohane told The Nation's Health. "In an era of Twitter and Facebook, every citizen can become, in some sense, a public health reporter."
In a 2008 article published in the Journal of the American Medical Informatics Association, researchers found the HealthMap system performed with 84 percent accuracy, showing "significant usefulness in managing the large volume of information processed by the system." Kohane said HealthMap is updated several times a day, and that visitors can use the site to track flu this season as well.
Health departments are taking advantage of online communication to enhance their flu data as well. During the 2008–2009 flu season, the Maryland Department of Health and Mental Hygiene launched the Maryland Resident Flu Tracking Survey, an online survey of residents across the state. While usual data collection depends on residents coming in contact with health care providers, the survey can cast a wider net, reaching people who may not have access to health care or who decide not to seek medical help, said Rene Najera, MPH, an epidemiologist with the health department.
The tracking survey began with a few hundred participants, Najera said, but has grown to more than 1,500 residents who regularly answer flu-related questions. The survey was particularly helpful during the H1N1 outbreak, as health workers had a "special avenue to reach out to folks" with flu reports and education, Najera said, adding that the department hopes to add other health conditions to the survey and is developing a smart phone application as well.
"All it takes is a few questions," Najera told The Nation's Health. "It's quality assurance for what we're already doing."
For more information, visit www.google.org/flutrends or www.healthmap.org.
Seasonal flu outlook: H1N1 here to stay, but season will be quieter
With an official end to the 2009 H1N1 flu pandemic declared this summer, the upcoming flu season is expected to be more typical of past seasons. However, public health officials caution that it is just as critical to get vaccinated and take preventive precautions against the potentially deadly disease.
The 2010–2011 seasonal flu vaccine is now available across the nation and protects against three strains of flu, including H1N1 flu. In August, the World Health Organization declared an official end to the H1N1 flu pandemic, but cautioned that the strain will still continue to be a health threat, particularly for younger age groups and pregnant women.
"This does not mean that the H1N1 virus has gone away," said WHO Director-general Margaret Chan, MD, MPH. "Based on experience with past pandemics, we expect the H1N1 virus to take on the behavior of a seasonal influenza virus and continue to circulate for some years to come."
The U.S. Advisory Committee on Immunization Practices is recommending near- universal vaccination this flu season, advising that everyone ages 6 months and older be immunized.
While past flu seasons have been plagued with vaccine distribution and manufacturing problems, as of late August, the Centers for Disease Control and Prevention was not expecting any such delays, said Jeff Dimond, a CDC spokesman.
Almost all of last year's seasonal flu vaccine — or about 110 million doses — was distributed and administered as well as about 90 million doses of the H1N1 vaccine, according to Dimond.
Last flu season also marked a significant achievement for immunization efforts, as CDC reported that more Americans than ever before were vaccinated against the flu. Dimond stressed that there is "plenty" of flu vaccine now available, noting that this season's vaccine was available earlier.
"Last year's public health messaging really did resonate and we're anticipating that our message — vaccination, sanitation and stay home — will carry over (into this flu season)," Dimond told The Nation's Health.
Much of the nation's flu prevention work depends on state and local public health systems, many of which are already struggling with staff and budget cuts. Paul Etkind, a senior analyst at the National Association of County and City Health Officials, said that unlike last year, when emergency federal funds were made available to combat H1N1 flu, additional public health funds are not expected this flu season.
"I think this could be a difficult year," Etkind told The Nation's Health. "There was a tremendous amount of creativity last year and we're hoping some of that creativity can be brought forward again this year and that we don't incur a lot of additional cost."
Etkind said local health departments are anecdotally reporting that residents are hoping for a repeat of last year's extensive flu outreach efforts.
"One way or another, we're going to get this done," Etkind said. "That's what happened last year, that's what happens every year. We've got some daunting challenges, but…the health departments of this nation will get the job done."
For more information, visit www.cdc.gov/flu.
— Kim Krisberg
Copyright The Nation's Health, American Public Health Association