Inefficient cookstoves are linked to 2 million yearly deaths worldwide and pose a public health threat to the world's poorest people, particularly low-income women and children. Global health advocates are coming together to do something about the problem.
Decades of research into household air pollution have shown that smoke from cookstoves or cooking over open fires increases the risk for a host of health problems, from childhood pneumonia to lung cancer, emphysema and chronic obstructive pulmonary disease. Now, an alliance is working to bring improved cookstoves to 100 million households by 2020.
Reaching that goal will require not only continued scientific research but also cooperation across the public health community to give the issue the level of importance devoted to critical public health concerns such as clean water and immunization against infectious diseases.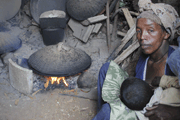 "There is just a limited awareness generated about the nature of the issue," Radha Muthiah, executive director of the Global Alliance for Clean Cookstoves, told The Nation's Health. "What seems to be a relatively small intervention, clean cookstoves and clean fuels, can have such a big impact."
The alliance, formed about a year and a half ago, brings together powerful partners such as the United Nations Foundation, Centers for Disease Control and Prevention, National Institutes of Health and scores of countries and private companies to support research and shed light on the problem. Still, the issue has long flown under the global health radar screen.
"I think everyone who first hears about this issue is surprised," William J. Martin, MD, associate director for disease prevention and health promotion for the National Institute of Child Health and Human Development, told The Nation's Health. "I think one of the communication challenges with illness and death associated with cooking is, instinctively, we think of cooking as something that is nurturing. We think of it as family-oriented. We have almost hardwired in our genes the sense that controlled fires within a household or village are protective or sacred in our memory."
But the data about those household fires are startling. More than 3 billion people are regularly breathing air contaminated with astronomical levels of particulate matter. Most U.S. cities, for example, measure 20 micrograms to 25 micrograms per liter cubed of particulate matter. In households with open fires or inefficient cookstoves, the measurement ranges from 300 micrograms to several thousand micrograms per liter cubed, Sumi Mehta, MD, MPH, director of programs for the Global Alliance for Clean Cookstoves, told The Nation's Health.
"It's really astonishing," Mehta said about the level of air pollution linked to rudimentary cookstoves. "That's why we've been really trying to work to look at all combustion factors."
In other words, researchers are linking existing data on cigarette smoke — both direct and secondhand — and ambient air pollution to add to the knowledge base on household air pollution. The idea is to create an "exposure curve" that will help lead to an understanding of how much reduction in pollution is needed to lower health risks.
Such risks take a high toll, including burns, cataracts and low birthweight babies. A November study in The Lancet found that using cookstoves with chimneys cut the rate of pneumonia — the leading cause of death in children worldwide — in infants by 30 percent and drastically reduced carbon monoxide exposure. Cookstove smoke is the fifth leading cause of death in developing countries, according to the World Health Organization, with annual global deaths outpacing malaria and tuberculosis.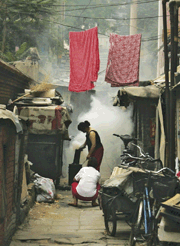 Kirk Smith, PhD, MPH, professor of global environmental health at the University of California Berkeley, has been studying the health impacts of household air pollution from cooking fires for three decades. Now that a body of research has connected the dots when it comes to inefficient cookstoves and health problems, more work is needed on how exactly to reduce killer levels of exposure, he told The Nation's Health.
Smith is one of the researchers working with the Global Alliance for Clean Cookstoves to make the scientific case for changing the way so much of the world prepares their food. Another important area involves developing stoves that are affordable and accessible, something Dean Still has been focusing on at the Aprovecho Research Center in Oregon, where a twice-yearly "Stove Camp" brings engineers, scientists and everyday people together to brainstorm. What might work in Latin America for cooking tortillas might not offer the proper heating surface for Ethiopian flatbread.
During a stove development project in India about five years ago, Still said the women in the villages proved the best innovators.
"They kept on saying, 'make it lower, make it lower,'" Still remembered, because the women sat cross-legged on the ground while cooking. "We found that, making it lower to the ground…it improved the entire stove. It improved the emissions, too."
Women and children are disproportionately affected by household air pollution because they spend more time in kitchens than men, and the issue is "the mother of all health disparities," Martin said. The need to address the disparity lies not only in improving air quality for reduced health risk, he said.
"One of the interesting benefits of a successful stove or fuel intervention is that it frees up time for women and children to not have to collect as much fuel, it reduces the amount of time for cooking, and the hope is that with this additional time, women and children will have more opportunities for personal, educational and economic growth," Martin said. "So the message constantly has to be that we don't look at household air pollution in isolation."
He said NIH is working to "support the type of studies that will clearly document the exposure responses that are associated with these disease outcomes and then to demonstrate that interventions with advanced stoves or fuels can reduce exposures sufficiently to reduce these health risks."
As for the role of the public health community in helping the Global Alliance for Clean Cookstoves reach its goal of bringing improved cooking methods to 100 million households in eight years, Martin said awareness is key.
"Schools of public health can certainly help with developing awareness about this issue among their faculty and students," Martin said. "I think that's key because public health professionals who have an interest in global health are the ones who can help. They're sort of the glue that is needed to keep all these different groups together focused on improving the health of the poor and the developing world."
For more information or the alliance report, "Igniting Change," visit www.cleancookstoves.org.
Copyright The Nation's Health, American Public Health Association