After the Supreme Court's landmark decision affirming the constitutionality of the Patient Protection and Affordable Care Act in June, public health is celebrating and looking forward. The decision was a victory for public health, allowing for dedicated funding for prevention programs and upholding a mechanism for the uninsured to purchase affordable health insurance.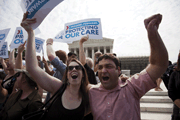 But the decision also means questions — particularly about how the U.S. will cover its poorest residents — that public health will continue to grapple with in coming years.
Full coverage of the Supreme Court decision starts on Page 17.
Copyright The Nation's Health, American Public Health Association