The baby boomer generation is aging, and many men and women in that age group find themselves simultaneously taking care of their parents and their own children. Those responsibilities can have an effect on both the physical and mental health of caregivers, and by extension, all of society. Author, journalist and lecturer Gail Sheehy has examined that new reality and other "predictable crises of adult life," in best-selling books including "Passages," first published in 1976. Her latest book, "Passages in Caregiving" seeks to help guide readers through issues associated with caring for aging relatives and navigating the health care system. She will discuss her findings as one of the keynote speakers at APHA's 140th Annual Meeting in San Francisco this month.
The theme of this year's annual meeting is "Prevention and Wellness Across the Life Span." Your book "Passages," talks about the "predictable crises of adult life." What are those predictable crises, and do they mesh with the idea of wellness across the life span?
(In my keynote address), I'll talk about the stages of life we all move through as we get older, and ways in which one we can revitalize the spirit as we approach second adulthood, (a time formerly known as middle age). Making successful passages is the key to preserving wellness across the lifespan. It is through meeting and mastering a major passage, like the crisis of meaning (when we question our purpose), that galvanizes us, gives the immune system a kick in the pants, allows us to grow stronger so we are more resilient in meeting the next passage.
You have also written extensively about caregiving. How is caregiving different today than in the past?
The population of caregivers is exploding. Today's family caregiver comes in all ages, but the average is a 47-year-old woman who still has a child or children at home and works outside the home. Half of family caregivers hold full-time jobs. Half of baby boomers in midlife today pay to partially support their own adult children. And members of this sandwich generation will need to work longer and save more for their own delayed retirement.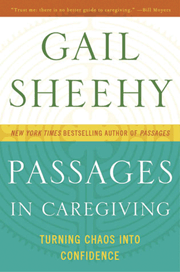 What challenges are today's generations facing when it comes to caregiving and the resources that are available?
Today's generation of caregivers may have not only an elderly parent to care for, but also children young enough to still be at home. Adult children are leaving the nest later and are remaining more costly to parents longer as their own parents' age and need attention and financial support. Caregivers today are struggling to cope with the needs of aging and ill loved ones, while trying to keep their careers and personal life from neglect. The health of the caregiver is at risk, since so many caregivers neglect their well-being to take care of a loved one. The resources that are available are keeping people alive longer, but turning what were once terminal diseases into chronic illness, which often demands a caretaker's presence on a day-to-day basis.
How do these challenges affect public health?
As you all know, there is a crisis in long-term care. Medicine and lasers are so advanced that most serious illnesses are contained. They become chronic illnesses. The way these diseases are currently being managed is inhumane and expensive. Seniors are languishing in hospitals when the alternative of being cared for at home by a team is more cost efficient and comfortable for the patient. Today, family caregivers provide about 80 percent of elder care, delivering meals, taking loved ones to doctor's visits or around the revolving door to hospital readmissions, managing medications and family conflicts. This results in lost work hours or lost jobs, high stress and serious declines in physical and mental health. But up to now, the burden on family caregivers has been largely overlooked by policymakers. We cannot expect them to pay for humane elder care with their own health and economic security. We'll then lose two for one. Only if family caregivers are able to be compensated with designated public health funds will we enable older adults to age in place, instead of in high-cost institutions. Palliative care is one hope, but the services of palliative care home teams will have to be reimbursed by Medicare.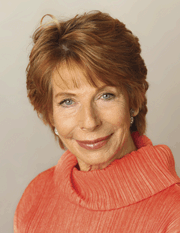 What is your message to public health professionals who are facing budget cuts, layoffs and lack of support for their work?
You are the backbone holding up our fractured health care system — I know from my 17 years of caregiving for my husband (who died in 2008) I couldn't have done it without such a strong team of health professionals. Donations to public health programs have probably been flat since the 2008 economic crisis, while increases in demand have been sharp for services and cuts significant in Medicaid and block grants. The fastest-growing age group is 85 years and older. Alzheimer's is reaching epidemic proportions and there is no cure in sight. We must loudly advocate for reform in the reimbursement system for long-term care and government support for training and adequate compensation for geriatricians.
Copyright The Nation's Health, American Public Health Association