Nancy Writebol was infected with Ebola in 2014 while caring for patients in West Africa. The North Carolina missionary went to Emory University in Atlanta for treatment and is now Ebola-free.
Still, as she recuperates, she says some people are afraid they will contract the virus simply by standing near her.
"'Some people wrap their arms around you. Some people stand 10 feet away,'" President Barack Obama said, quoting Writebol during Dec. 2 remarks at the National Institutes of Health. "This disease is not just a test of our health systems; it is a test of our character as a nation. It asks us who we are as Americans. When we see a problem in the world — like thousands of people dying from a disease that we know how to fight — do we stand 10 feet away, or 10,000 miles away, or do we lead and deploy and go to help?"
As Obama urged Congress to approve emergency funding to fight the disease, the public health response to the worst Ebola outbreak in history continued. By Dec. 15, the outbreak had claimed more than 6,800 lives and sickened nearly 18,500 people, most in West Africa. Some countries have been declared Ebola-free, and progress continues on developing a vaccine as well as disease treatments. But combating misinformation about the virus has been one of the greatest challenges of the epidemic.
During a special session on Ebola at APHA's 142nd Annual Meeting and Exposition, held Nov. 15-19 in New Orleans, presenters talked about the struggle to inform the public about Ebola. Many attendees wore APHA-distributed pink ribbons imprinted with the #FactsOverFear hashtag as a reminder of the public health community's role in spreading science-based information about Ebola.
"The Ebola virus epidemic is one of the greatest public health challenges of our time," said session moderator Barry Levy, MD, MPH, a former APHA president.
Session presenter Emmanuel d'Harcourt, MD, MPH, physician and senior advisor for the International Rescue Committee, said a "vast disconnect" exists between the government and the people in countries such as Liberia that are being hard hit by Ebola.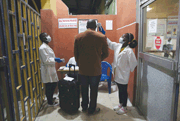 "The good news is that Ebola is very beatable," d'Harcourt said. "It is imminently possible to stop Ebola, and even to keep it from coming in the first place."
Trust can be difficult to build amid a climate of fear about Ebola transmission. APHA Executive Director Georges Benjamin, MD, spoke out throughout the fall against actions such as travel bans for countries most affected by Ebola and underscored the need for public health funding to respond to such an infectious disease threat.
APHA has worked on many fronts to respond to the Ebola epidemic and is continuing do to so. The Association's Get Ready campaign created an Ebola fact sheet, available in English and in Spanish, to offer clear information for the public, including how the virus is transmitted, symptoms and what people can do to reduce their risk. APHA has also made the Ebola-Marburg chapter of its "Control of Communicable Disease Manual" available free online.
APHA's work to spread accurate information about Ebola and encourage support for a continued robust public health response has included action alerts on the importance of public health funding. The Association strongly supported Obama's November request to Congress for $6.2 billion in emergency funding to empower the nation's Ebola response both domestically and internationally.
The funding request included $4.64 billion for immediate response to the Ebola epidemic as well as $1.54 billion to address long-term needs that, as Obama said during his Dec. 2 remarks, would position the country to respond to future infectious disease threats. The funding would also protect public health workers by securing personal protective equipment for the Centers for Disease Control and Prevention's Strategic National Stockpile and enable state and local health departments to support Ebola treatment centers, among other treatment, prevention and surveillance support.
In October, APHA issued a statement supporting guidance by CDC for health workers treating Ebola patients. That statement also opposed mandatory quarantines of workers who had treated Ebola patients. Several states put such quarantines in place despite the evidence that asymptomatic people do not spread Ebola.
"Misuse or overuse of quarantine authority will erode public trust and thwart future efforts to control infectious disease when you need it most," Benjamin said in the statement.
Yet just two weeks before the APHA Annual Meeting, Louisiana public health officials issued an advisory that people "who have traveled to and returned from the countries of Sierra Leone, Liberia or Guinea in the past 21 days" or had contact with a someone with Ebola should not travel to New Orleans to attend the APHA Annual Meeting, noting such travelers would be subject to quarantine.
In response, Benjamin issued a statement to APHA members that the Association disagreed with the basis of the advisory but also recognized "the right of our colleagues in Louisiana to establish public health guidance for their state." A latebreaker policy statement approved by the APHA Governing Council during the Annual Meeting calls for strengthening Ebola response and protection for health workers.
Health workers have been at high risk for contracting Ebola, with more than 100 dying since March, including three in early December in Sierra Leone. Despite the risk, personnel with the U.S. Public Health Service as well as countless volunteers have traveled to West Africa to help.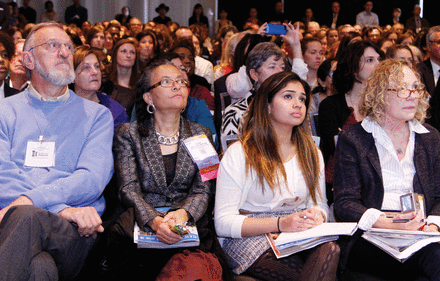 "Ebola has panicked many people," Kathy Kirkland, DrPH, MPH, chair of APHA's Occupational Health and Safety Section, said during the Annual Meeting opening session. "Instead of ensuring that employees have effective infection control panels and providing education and personal protective equipment, what we're seeing is stigma and fear."
Kirkland noted that the only two people who have contracted Ebola in the United States were health workers, and they caught the virus while on the job.
A study presented during the APHA Annual Meeting found a lack of cooperation between residents of rural Guinea and volunteers and health care workers when it came to stemming the spread of Ebola. According to the research conducted over a two-week period in July, many community members did not believe Ebola existed and were afraid to go to health care facilities.
"Had community members and health workers developed a trusting relationship prior to the outbreak, important messages about the disease and how to stop its spread would likely have gotten through to people much sooner," said study author Tim Roberton, MPH, of the Johns Hopkins Bloomberg School of Public Health.
APHA teamed with the Pan American Health Organization to present a Dec. 2 webinar, "#FactsOverFear: Ebola Preparedness for the Americas," to highlight the impact of Ebola on the public's health and effective prevention strategies. Continuing education credit is available through Jan. 6. APHA also arranged an Oct. 31 call for APHA members, during which CDC officials explained the agency's efforts in fighting Ebola in West Africa.
APHA's Ebola Web page is updated regularly and includes links to volunteer, training and donation opportunities, the latest CDC guidance and APHA statements. The public health community's role in fighting the outbreak and making the case for preparedness and surveillance support is ongoing.
"We've had a major battle of fear to fight in the United States," said Pamela Cipriano, PhD, RN, NEA-BC, FAAN, president of the American Nurses Association, a presenter at the APHA Annual Meeting session on Ebola. "We continue to send the message that we have to stop the fear and follow the science."
For a recording and transcript of the APHA-CDC call, visit www.cdc.gov/PHPR/partnerships/Ebola.htm. For more information on Ebola, visit www.apha.org/topics-and-issues/ebola, www.cdc.gov/ebola and www.who.int/csr/disease/ebola/en.
Copyright The Nation's Health, American Public Health Association