The Nation's Health mobile edition app: Read the newspaper wherever you go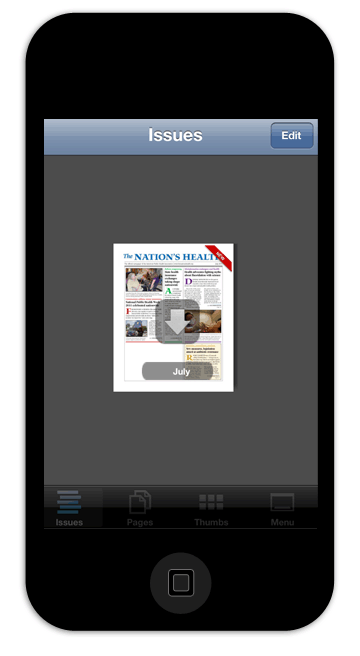 For the latest health news, public health professionals and decision-makers turn to The Nation's Health, the monthly newspaper of the American Public Health Association. Now, you can take that information anywhere you go via your mobile phone or tablet.
The Nation's Health app -- which is available for iPhone, iPad and Android users -- provides mobile access to newspaper content as full-page, expandable images or as individual text articles.
The app, which earned an award of excellence in a 2012 national competition, is free for all APHA members and newspaper subscribers. And for a limited time, the app can be accessed and used by all device users — no password or login needed.
To download the app, visit the Apple and Android app stores:
The Nation's Health iPhone app: Download
The Nation's Health iPad app: Download
The Nation's Health Android app (for phone and tablet devices): Download

Using The Nation's Health app: Instructions
The Nation's Health lets users read full issues online or download them to their phones and tablets so that they can be read anytime, anywhere. App users can read the issue in full page mode or access individual articles. Tips for using the app:
Zoom in: When reading the issue in full page mode, double tap the page and pinch to zoom in or out. To lock in full page mode again, double tap.
Create a favorite: Tap the top right corner of a page to create a favorite that you can save and return to later.
Turn the page: To turn a page in full-page mode, slide your finger in either direction.
Visit a link: To go to a webpage that has a link listed in a page, article for ad, tap the gray box surrounding the link.
Read individual text articles: You can also read individual articles as text. From within an issue, tap the "Menu" link at the bottom of the page, then tap "Contents >" Tap the "Article" icon to read the story as text. To magnify or shrink the text, use the "A" links at the top of the screen. Select "Contents" to return to the list of articles for the issue.
Contact us for help
If you need help using The Nation's Health app, send us a message through our feedback page.