As vice president for philanthropy and public affairs at the San Francisco AIDS Foundation, James Loduca has made it his life's mission to advocate for people living with — and those at risk for — HIV and AIDS. He has been instrumental in the foundation's awareness campaign around pre-exposure prophylaxis, or PrEP, including its website, Prepfacts.org. And he comes from a place of experience — he's used PrEP himself.
PrEP is a way to help those who are HIV-negative stay that way. By consistently taking one daily pill containing a combination of two antiretroviral drugs, tenofovir disoproxil fumarate and emtricitabine, PrEP users in multiple studies reduced their risk of getting HIV infection by 92 percent, according to the Centers for Disease Control and Prevention. In May, CDC released new guidelines calling for health providers to recommend PrEP to their patients who are at high risk for HIV but who are not infected.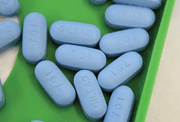 The combination pill was approved by the U.S. Food and Drug Administration for HIV treatment in 2004, and for prevention in 2012, in combination with safer sex practices. The new guidelines, which were developed by CDC with other federal health agencies, call for PrEP to be used by people who are at substantial risk for HIV infection: monogamous serodiscordant couples — in which one partner is HIV-positive and one is not — gay or bisexual men not in monogamous relationships who have had sex without condoms or been recently diagnosed with a sexually transmitted infection, people who are unable to negotiate condom use with their partners and injection drug users.
The guidelines were based on years of studies showing the drugs' effectiveness. The largest, the iPrEx — or Preexposure Prophylaxis Initiative — Trial, held in Peru, Ecuador, Thailand, Brazil, South Africa and the United States, was a randomized, double-blind, placebo-controlled trial that found that PrEP use resulted in a 92 percent reduction in the risk of acquiring HIV.
CDC isn't the only major agency to support PrEP for prevention. The World Health Organization published guidance on PrEP in 2012, and recommended for the first time in July that men who have sex with men use PrEP and condoms to prevent infection.
The new guidelines are an important step in curbing the continual spread of HIV. More than 50,000 people are newly infected each year in the United States, with men who have sex with men at the largest risk. Twenty-five percent of new infections are among people ages 13-24, and one in six people living with HIV do not know they are infected, according to AIDS.gov.
The availability of PrEP for prevention has been a welcome advance for many people, particularly in the gay community, where HIV infection levels are significantly higher than the rest of the U.S. population, Loduca said.
"Three decades ago, the AIDS crisis, and the tremendous loss and grief that accompanied it, changed the way that we approach sex," Loduca told The Nation's Health, referring to campaigns that encourage condom use in every sexual encounter. "But a recent study by CDC found one in six gay and bi men use condoms consistently...and correctly. What about the other 85 percent of us? PrEP has the potential to be a game-changer."
While PrEP guidelines urge users to also use a condom while taking the drug, as it does not protect from other sexually transmitted infections, it does have one benefit condoms do not: A bit of leeway.
"The pill you took yesterday provides some protection today," Loduca said. "The condom you used yesterday will not protect you if you decide to have sex today."
That said, PrEP use has not been linked with increased risky sexual behavior, including reduced condom use, in studies, said Dawn Smith, MD, MS, MPH, biomedical interventions implementation officer in the epidemiology branch of the Division of HIV/AIDS Prevention at CDC's National Center for HIV/AIDS, Viral Hepatitis, STD and TB Prevention. In fact, PrEP use can actually increase healthy behaviors.
That increase can be accounted for, in part, by the steps patients have to take in order to get and stay on PrEP. Those include appointments with doctors to test for kidney function, hepatitis B and other illnesses before starting PrEP, as well as three-month checkups and blood work while on the drug.
"In all the studies, safe sex practices have increased," said Rachel Baggaley, MD, coordinator of WHO's HIV Department. "They are looking after their sexual health, perhaps in a better way."
Despite the promising figures, PrEP remains controversial to some. The drugs used for PrEP are relatively new, and their use in pre-exposure, HIV-negative people especially new. Gilead, the maker of the PrEP pill, reported that about 1,770 people received prescriptions for the drug by March 2013. About half were women, and more than 13 percent were younger than 25.
There is the potential for side effects. The drugs involved in PrEP have not been shown to be harmful for those taking them pre-exposure to HIV, but they have been found to occasionally worsen renal function that has already been damaged by HIV in patients taking the drugs as HIV treatment, Smith told The Nation's Health.
There is also the issue of health care provider awareness and comfort with PrEP. Jim Pickett, director of prevention advocacy and gay men's health at the AIDS Foundation of Chicago, said the foundation's Project Ready, Set PrEP! helps to spread awareness not just to the high-risk communities that PrEP could benefit, but also those who work within those communities. The foundation's trainings now have waiting lists more than 50 people long, with primary care providers and caseworkers making up the majority of the list. They want to learn more about the pill — and how it is paid for. In fact, PrEP is covered by the majority of state and private insurance programs. Those who are not covered can get assistance through the drug-maker: www.truvada.com/truvada-patient-assistance.
"We have just seen an enormous increase in interest," Pickett told The Nation's Health. "Over time, we're seeing (apprehension about PrEP) melt away, and that's because of a lot of education work that we've been doing, and the power of the personal story. That's really been the most powerful advocacy: breaking down people's preconceived notions about it."
However, many people in need of PrEP may not know it even exists. A September Kaiser Family Foundation survey found that only 26 percent of gay and bisexual men knew that the drug was available.
What may help, too, is that PrEP could be paradigm-shifting. Jake Sobo, a Los Angeles-area academic and writer who uses a penname, cataloged his journey to getting a prescription for and taking PrEP in a 2012-2013 Frontiers magazine series, "My Life on PrEP." He has heard the gamut of responses when it comes to PrEP, from the supportive to the outright hostile.
"I think all you need to do is look at the human papillomavirus vaccine and the debates about its implementation to understand just how volatile the politics around sexuality and health can be," Sobo told The Nation's Health. "The people who are most likely to contract HIV are the people who are highly stigmatized in our society: injection drug users, gay men and sex workers. There's a lot of politics and anxiety about gay men's health."
Sobo's column in Frontiers, which has been widely read online, documented some of the concerns and reactions he got when telling others he was using PrEP. Some of it, he said, was ignorance: People wanted to know about side effects, as well as cost. But he was met with some hostility as well: Some HIV-positive people were concerned PrEP could limit their access to use of the drugs in their treatment, even though it does not.
And some people suggest PrEP gives users license to be sexually risky. But Sobo and public health advocates argue that PrEP is more about offering different options for people who are not being protected via condoms.
"The way birth control revolutionized sexuality for women, I think PrEP could revolutionize sexuality for gay men," Sobo said. "It's changed everything: the stress levels go down, the regret over a condom breaking, the fear of thinking back and not being sure whether someone was positive or not...All these kinds of anxieties that tend to structure the way that so many gay men negotiate their own sexuality tend to change with PrEP. That's one of the greatest promises of it."
For more about PrEP, visit bit.ly/CDCprep.
Copyright The Nation's Health, American Public Health Association