For years, public health and medical professionals have been sounding the alarm on antibiotic resistance, warning policymakers that without coordinated action, modern medicine could lose one of its most potent tools.
But now, with leadership from the White House, a new national action plan and a request for more than $1 billion in federal funds could help turn the tide.
In March, the White House released the first "National Action Plan for Combating Antibiotic-Resistant Bacteria," which coordinates actions across federal agencies and sets goals for reducing antibiotic-resistant disease and inappropriate antibiotic use. The new action plan is organized around five main goals: preventing the spread of antibiotic resistance, strengthening surveillance efforts, advancing diagnostic testing, accelerating the development of new antibiotics and improving global collaboration.
According to the Centers for Disease Control and Prevention, antibiotic-resistant infections are associated with 23,000 deaths, 2 million illnesses and billions in health care costs in the U.S. every year.
"We can better protect our children and grandchildren from the re-emergence of diseases and infections that the world conquered decades ago, but only if we work together, for as long as it takes," said President Barack Obama in a March interview with WebMD.
To support the new efforts, Obama's fiscal year 2016 budget proposal recommends doubling federal funding for antibiotic-resistance efforts to more than $1.2 billion, of which more than $280 million would go toward public health efforts at CDC. Amanda Jezek, vice president of public policy and government relations at the Infectious Diseases Society of America, said combating antibiotic resistance has typically attracted strong bipartisan support. However, the bigger issue of federal budget caps, or sequestration, could derail the proposed increase.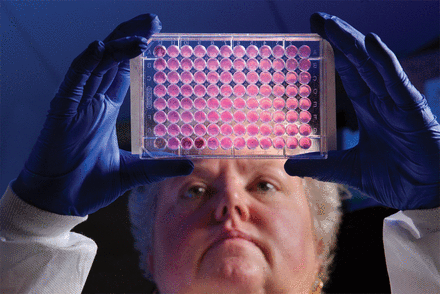 The new action plan outlines steps for implementing September's "National Strategy for Combating Antibiotic-Resistant Bacteria," which was also released by the White House and identified priorities for combating antibiotic resistance.
According to Jezek, the national strategy and federal funding proposal address two critical factors in combating antibiotic resistance: new diagnostics and new antibiotics. For example, if physicians had quicker diagnostic tests when patients present at a clinic, they would know if antibiotics were an appropriate treatment and if so, what kind of antibiotics are best suited to the problem. Instead, Jezek said physicians are sometimes left with little choice but to start treating very ill patients with broad-spectrum antibiotics before receiving lab results. On the issue of new antibiotics, Jezek noted that their small profits make them an unattractive investment for pharmaceutical companies.
"Our members are basically saying we're on the precipice of a post-antibiotic era," Jezek said. "It's a very real and very frightening threat, and that threat is here."
That threat has manifested in a number of health problems, from methicillin-resistant Staphylococcus aureus to multidrug-resistant tuberculosis, of which there were 450,000 new cases worldwide in 2012. The new action plan sets specific reduction goals for many resistant strains, such as reducing MRSA bloodstream infections by 50 percent by 2020. In addition, Obama's fiscal year 2016 budget request would provide more than $650 million across the National Institutes of Health and the Biomedical Advanced Research and Development Authority to better understand the mechanisms of drug resistance and prime the pipeline for new antibiotics and diagnostics.
"(The national strategy) sets goals — it provides a broad, general approach that's much more collaborative," Anthony Fauci, MD, director of NIH's National Institute of Allergy and Infectious Diseases, told The Nation's Health. "All government, in a sense, is now working together on a unified strategy."
Fauci noted that NIH already has significant investments in combating antibiotic resistance and is making real progress. For example, the institute launched its Antibacterial Resistance Leadership Group in 2013, which is charged with advancing clinical research with the ultimate hope of attracting private drug company investments. As of March, Fauci said 14 separate trials were either completed or still in progress. For example, he said, one trial is studying whether shortening the course of antibiotics for pediatric community-acquired pneumonia could help prevent the evolution of antibiotic resistance, while another trial is working to develop a master protocol for more rapid diagnostics. In fact, the new action plan calls for strengthening the leadership group's ability to reduce barriers to new antibiotic development within the pharmaceutical industry. Also on the diagnostics side, NIH is co-sponsoring a $20 million prize for the development of rapid, point-of-care diagnostic tests that health care providers can use to identify highly resistant bacterial infections.
Such work will continue at NIH, though the research institution would "certainly be able to do much more" if Obama's funding request comes to fruition, he said.
While much of Obama's national strategy and plan received praise, health advocates have described its treatment of agricultural antibiotic use as a missed opportunity. The great majority of antibiotics sold in the U.S. are used to promote growth or prevent diseases in healthy food animals, which can serve as reservoirs for resistant pathogens that can directly or indirectly result in antibiotic-resistant infections in humans.
A September report from the President's Council of Advisors on Science and Technology, "Combating Antibiotic Resistance," called on the U.S. Department of Agriculture to step up educational programs for farmers and on the U.S. Food and Drug Administration to enforce previous antibiotic guidance and monitor agricultural antibiotic sales.
However, APHA member Robert Lawrence, MD, director of the Center for a Livable Future at Johns Hopkins Bloomberg School of Public Health, said FDA's previous 2013 guidance, which set a course for phasing out antibiotic use for animal growth promotion, could be sidestepped by animal producers who will instead use many of the same antibiotics for disease prevention. He also noted that the strategy does not address the need for continuous monitoring and specimen collection on farms to facilitate early detection of antibiotic-resistant patterns. The action plan does not include specific reduction targets for the agricultural use of antibiotics.
"In terms of sheer volume and amount of antibiotic misuse in the U.S., the agricultural sector is the major target of opportunity for true prevention," Lawrence said.
At CDC, Beth Bell, MD, MPH, director of the National Center for Emerging and Zoonotic Infectious Diseases, said the president's budget proposal would enhance tactics aimed at identifying antibiotic-resistant trends and preventing their spread. For example, she said CDC hopes to engage regional labs around the country in testing specimens for the mechanisms of resistance — in other words, discovering what it is about the genome of a bacteria that allows it to be resistant. Currently, CDC is the primary location for such testing, so engaging fellow labs could greatly increase capacity and provide more information to help drug companies develop new antibiotics and diagnostics, Bell told The Nation's Health.
CDC also hopes to expand its National Healthcare Safety Network, which is used by more than 12,000 hospitals to track health care-associated infections, to capture information on antibiotic use and antibiotic-resistant organisms. Bell said the newly captured information could be vital in shaping stewardship efforts aimed at reforming prescribing practices. The national action plan calls for reducing the inappropriate use of antibiotics by 50 percent in outpatient settings and by 20 percent in inpatient settings by 2020.
Overall, Bell said if Obama's funding request becomes a reality, most of CDC's funds will go out to state and metropolitan health departments, which she described as "pivotal" in preventing the spread of antibiotic resistance.
"It's a problem that's widespread throughout all of our communities and we at CDC are not going to be able to address this problem in a meaningful way without the funding that the president has requested in his budget," Bell said.
For more details, visit www.whitehouse.gov.
Copyright The Nation's Health, American Public Health Association