For many, climate change invokes images of stranded polar bears, melting icebergs and rising oceans. But for pediatrician Samantha Ahdoot, the face of climate change is a boy with asthma whose pollen allergies triggered such a severe respiratory attack he had to be hospitalized.
"This boy — he couldn't breathe," said Ahdoot, MD, FAAP, who practices in Alexandria, Virginia, and treated the young patient in April. "He had to be admitted and put on oxygen and steroids. He was very sick."
Ahdoot said she expects such health emergencies to increase in the coming years, as warmer temperatures, more rainfall and greenhouse gases create the perfect environment for longer and more intense allergy seasons. However, increased pollen production is just one way children will experience the health effects of climate change, she said. Health officials and scientists warn that a changing climate is leading to more extreme heat, poorer air quality, heavier rainfall, and more frequent and intense natural disasters — all of which have serious consequences for human health. And because children are so susceptible to environmental change, they stand to bear the brunt of climate-related disease and stress.
"It's imperative that we act preventatively, rather than waiting for more evidence of harm," said Ahdoot, a member of the American Academy of Pediatrics' Council on Environmental Health. "That would be a great injustice to children."
Fortunately, the issue of climate change and health received a major boost in April when President Barack Obama debuted a host of initiatives aimed at protecting communities from the health impacts of climate change and reframing climate change as an urgent public health issue.
On April 6, in conjunction with National Public Health Week, Obama announced a series of executive actions related to understanding, communicating and mitigating the health effects of climate change, including a White House Climate Change and Health Summit featuring U.S. Surgeon General Vivek Murthy, MD, MBA, and a new toolkit designed to help health care facilities prepare for climate change. On the research and technology side, the White House expanded its Climate Data Initiative, which it launched last year, to include more than 150 health-relevant data sets on topics such as vectorborne disease, foodborne and waterborne illness and extreme heat.
Later this year, the National Institutes of Health will launch a national data challenge inviting coders and analysts to use the data sets to generate new insights on climate and health. And on April 7, the U.S. Global Change Research Program released a draft version of the "Impacts of Climate Change on Human Health in the United States: A Scientific Assessment."
APHA Executive Director Georges Benjamin, MD, said the new White House push not only builds cross-sector support for confronting climate-related health threats, it elevates a new, more personal climate change narrative.
"The White House is accelerating its efforts to deal with what many of us believe to be the greatest environmental crisis we face in our lifetime," Benjamin said. "People are interested in protecting the environment, but nothing gets people's attention quite like a threat to one's own health."
While public health agencies nationwide have been preparing for climate change for many years, some with support from the Centers for Disease Control and Prevention's Climate-Ready States and Cities Initiative, most Americans still think of climate change as an environmental issue, not a health issue. In "Climate Change in the American Mind," a March report from the Yale Project on Climate Change Communication and the George Mason University Center for Climate Change Communication, nearly 70 percent of more than 1,200 adults surveyed described global warming as a major environmental issue, while only 44 percent considered it a health issue. Ed Maibach, PhD, MPH, director of the George Mason center, praised Obama for sending a clear message that climate change is a threat to human health, but he said that message must be repeated often and by trusted voices to leave an impression.
"Public health voices are trusted, but they're often not heard," Maibach told The Nation's Health. "We have to keep the focus on the health aspects of climate change."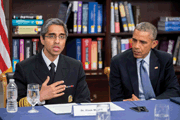 Americans may soon be hearing more about the health impacts of climate change from another messenger — their doctor. Among its actions on climate and health, the White House announced a new coalition of deans from 30 medical, public health and nursing schools who have committed to educating students on the health effects of climate change. Patrick Kinney, ScD, director of the Columbia University Climate and Health Program, represented the university's Mailman School of Public Health at an April meeting of coalition members and White House staff in Washington, D.C. During the meeting, Kinney said participants discussed how to fit climate and health education into curriculums so that future health professionals could assess who is most vulnerable to the health effects of climate change and teach patients how to minimize the impacts.
Unfortunately, too few public health agencies have the specific knowledge and resources needed to take strong action on climate change. According to surveys conducted by the George Mason University Center for Climate Change Communication and the National Association of County and City Health Officials, while most local health department directors believe climate change is already happening in their communities, a majority also believe they lack the expertise to develop effective adaptation plans and have insufficient resources to protect their residents' health from climate change.
Eli Briggs, MA, director of government affairs at NACCHO, said he hopes the president's new focus on climate change and health will help garner support for related federal funding. Obama's fiscal year 2016 budget proposal recommends a $10 million increase in funding for CDC's Climate and Health Program, which would allow the agency to fund 30 more grantees through its Building Resilience Against Climate Effects framework, a five-step process that helps health officials develop strategies and tools that prepare their communities for climate change.
APHA member Kim Knowlton, DrPH, a senior scientist with the Natural Resources Defense Council's health and environment program, said public health workers can serve as leaders in helping their communities understand why reducing the greenhouse gases that cause climate change is not a choice between economic prosperity and people's health. To the contrary, Knowlton said, the two must go hand in hand.
"I think health is a pivotally important frame to think about climate change because nothing is more intimate or defensible," Knowlton said. "Health is the basis through which we live and act. Talking about health makes global climate change a local story."
To learn more about the White House's new climate and health initiatives, visit www.whitehouse.gov.
Copyright The Nation's Health, American Public Health Association