For public health professionals looking to earn a few extra continuing education credits over the holidays or in the new year, APHA has an easy, affordable opportunity.
APHA Live, an online program that gives users access to select 2016 Annual Meeting sessions, is now available for anyone who either missed the meeting or who attended the meeting but would like to catch key sessions they missed.
"We know that APHA members are always looking to improve their public health knowledge, and earning continuing education credits, either at the Annual Meeting or through APHA Live, is a great way to stay up-to-date on the latest in the field," said Natalie Sorkin, CMP, assistant director of convention services. "You can watch some of the best sessions from this year's Annual Meeting from your home or office and share them in the classroom with students."
Sessions available on APHA Live include the opening session, featuring keynote speaker Cecile Richards, president of Planned Parenthood Federation of America; the Royal Society for Public Health's session featuring Michael Marmot, PhD, MPH, MBBS, author of "The Health Gap" and an expert on health inequalities; and a special session hosted by then APHA President-elect Tom Quade, MPH, MA, on the water crisis ongoing in Flint, Michigan.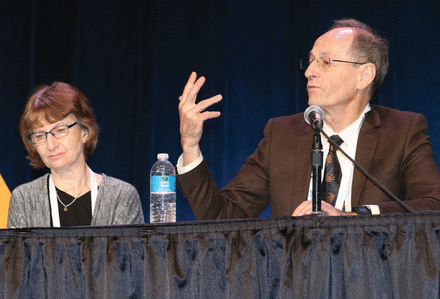 Other sessions include a conversation with directors of the Centers for Disease Control and Prevention and discussions with leaders on building the public health workforce and addressing racism around the globe.
APHA Live offers continuing education credits for nurses, certified health education specialists, medical professionals and other workers as well as for the Certified in Public Health credential. Participants can earn up to nine free continuing education credits.
APHA Live is available to members for $99, non-members for $199 and groups for $399. Group registration requires one point of contact for the purchase, who will receive an access code that can be shared with colleagues or students.
APHA Live is sponsored by the deBeaumont Foundation and the Aetna Foundation.
To learn more or purchase APHA Live, visit www.apha.org/apha-live.
Copyright The Nation's Health, American Public Health Association