Damaging over 100 homes and forcing the evacuation of about 85,000 people, the Blue Cut wildfire that swept through San Bernardino County, California, in August was worsened by drought-like conditions driven by climate change.
While many people struggled in the fire's aftermath, residents with fewer resources, such as seniors, have the hardest time stabilizing after such events, said Corwin Porter, assistant director of the San Bernardino County Department of Public Health.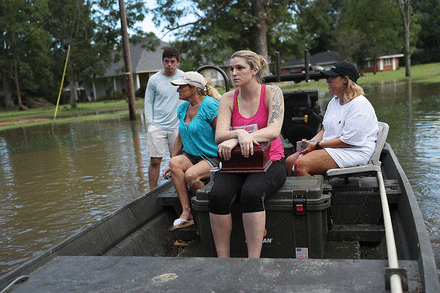 "Senior citizens, they don't have the resources somebody else might have to rebuild, or deal with the smoke or deal with the heat," Porter told The Nation's Health. "Those are things we have to look at."
For vulnerable populations, such as children, low-income people, people with disabilities, pregnant people and minorities, the health effects of climate change-related extreme weather events can be especially devastating. Such populations may be more susceptible to disease, have preexisting health conditions or live in areas that do not promote good health or well-being.
Extreme weather events linked to climate change have the potential to harm U.S. health in numerous ways. Rising temperatures, for example, can result in a longer-than-average allergy season and prolong the stay of mosquitoes, increasing the risk of vector-borne diseases, such as West Nile virus.
One of the most heavily researched effects of climate change on vulnerable populations is extreme heat, said APHA member Adele Houghton, AIA, MPH, LEED AP, a green building and public health consultant and former member of the U.S. Green Building Council's faculty. Extreme heat's link to heat waves and air pollution makes conditions ripe for more heat-related illness, such as heat stroke, asthma and heart attacks, according to the Environmental Protection Agency.
"For children and the elderly in particular, they both have a harder time controlling their body temperature than people in the middle of the age spectrum," Houghton told The Nation's Health. "The elderly a lot of times have complications — obesity, diabetes, respiratory disease — and those are exacerbated by exposure to heat. In both cases, those are populations that are more likely to depend on caregivers to keep them safe. The elderly, if they're in long-term care and there's a power outage because of extreme heat, they have to be evacuated."
Climate change-related events that lead to evacuation, such as flooding, are also devastating to vulnerable groups. In Baton Rouge, Louisiana, a record-breaking August flood, spurred by as much as 30 inches of rain in some areas, prompted President Barack Obama to declare 20 parishes disaster areas.
Such extreme precipitation has become "more likely and more intense" in the central Gulf Coast region as a result of climate change, according to an August analysis from World Weather Attribution, a partnership of Climate Central, the University of Oxford Environmental Change Institute, the University of Melbourne and others.
The Louisiana disaster only exacerbated issues in a state home to many vulnerable populations, such as people with low incomes. According to census data, Baton Rouge's poverty rate was 25.5 percent in 2015, compared with 19.6 percent overall statewide and 13.5 percent nationwide.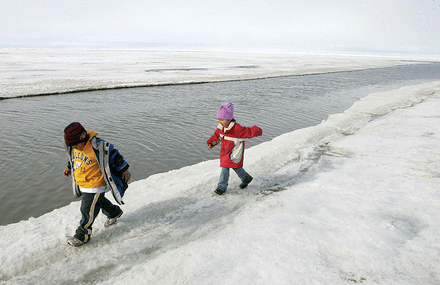 "This disaster is the worst to hit the United States since Superstorm Sandy and we anticipate it will cost at least $30 million, a number which may grow as we learn more about the scope and magnitude of the devastation," said Brad Kieserman, vice president of the American Red Cross' Disaster Services Operations and Logistics in an Aug. 17 news release.
Evacuation scenarios are particularly difficult for seniors and people with disabilities who may be physically unable or prepared to leave their homes. Nearly half of the deaths from Superstorm Sandy in 2012 were among people ages 65 and older and almost half of Hurricane Katrina deaths in 2005 were among people over 75, according to EPA.
David Filiberto, PhD, a research associate at Cornell University's Yang-Tan Institute on Employment and Disability, whose work focuses on how climate change affects vulnerable populations, said the aging population has doubled globally since 1980 and is projected to reach 2 billion by 2050.
"As you age, prevalence for disability increases," Filiberto told The Nation's Health. "Heat-related, cold-related and other weather-related deaths have the potential to show a substantial increase for people age 75 and older as the frequency of these events increases."
One of the challenges to protecting vulnerable populations is a lack of resources, such as education and training on how to adapt, said Sabrina McCormick, PhD, an associate professor in environmental and occupational health at George Washington University's Milken Institute School of Public Health. The health effects of climate change can worsen existing issues linked to social determinants of health, such as availability of healthy housing, access to health care and food affordability, according to "The Impacts of Climate Change on Human Health in the United States: A Scientific Assessment" an April report from the U.S. Global Change Research Program.
"These communities have first-order concerns day-to-day, such as, 'Today, I need to eat,' or they're limited in their capacity," McCormick told The Nation's Health. "Even in five years, their food security could be threatened by climate change by increases in drought and rising food prices that are a result of that. What we need to be pushing is using this very tangible effect on human health to make the argument that we should protect the health- and economic-related consequences of these populations."
Food security is just one of many concerns of residents who live in Barrow, Alaska. Higher ground temperatures continue to alter migration patterns of caribou, a local food source, and limit vegetation the animals eat, said Ivana Castellanos, an APHA program associate who visited Barrow in May during a Tribal Public and Environmental Health Think Tank meeting. The change in migration pattern has become a dire issue for people who live a life of subsistence and rely on hunting for food. Residents talked about how the shoreline has been moving closer to town and concerns about relocating and moving buildings, she said.
Barrow is one of many Alaska Native communities where melting permafrost and sea level rise are affecting infrastructure and, in some cases driving relocation for full communities, said Jeremy Hess, MD, MPH, co-director of the Center for Health and the Global Environment at the University of Washington. One such community is Shishmaref, Alaska, where residents voted in August to relocate due to an eroding shoreline.
But Hess said that even when villages relocate, issues remain in how to plan infrastructure that adapts to continued effects of climate change, such as thawing and periodic freezing.
"There are infrastructure situations you have to think about with those changing environments that are related to sanitation, sewage and hunting and gathering," Hess told The Nation's Health.
For more information on climate change, visit www.epa.gov and www.apha.org/climate-change.
For a look at how workers in Denver and Maricopa County, Arizona, are creating climate change plans for vulnerable populations, read our related story,
Copyright The Nation's Health, American Public Health Association