With a new presidential administration on the horizon, health experts are leading a National Academy of Medicine effort to chart a new course for the nation's health policy priorities.
Commissioned by an 18-member steering committee, the Vital Directions for Health and Health Care initiative is a series of discussion papers on 19 key health care priorities and challenges the experts say must be addressed to keep Americans healthy.
NAM reached out to over 100 health experts to weigh in on the papers, which were released Sept. 19. They will be used to create a synthesis document of key priorities to be released later this year following public input and revision. The authors include well-known researchers, former members of Congress and university, nonprofit and government leaders.
"We think meaningful change is possible," said Victor Dzau, MD, co-chair of the steering committee and NAM president at a Sept. 26 public symposium at the National Academy of Sciences in Washington, D.C. "We're capable of creating a healthier and more efficient and equitable nation. I think we all believe in this. I know everybody in this room would want to see it that way. The question is how to get there."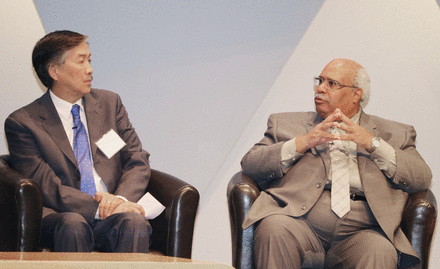 The papers make policy recommendations across three goals: better health and well-being, high-value health care and strong science and technology. Topics addressed by the papers include the aging population, health workforce, precision medicine and chronic disease prevention.
Each discussion paper offers recommended directions for the nation. For example, a paper on the 21st century workforce calls for training workers for end-of-life care, developing teams to manage chronic diseases, supporting a multi-disciplinary frontline workforce and reorganizing the acute care workforce.
Under the goal of better health and well-being are six papers on subjects such as improving access to care for people with mental health and substance use issues. One of those papers, co-authored by APHA Executive Director Georges Benjamin, MD, is "Advancing the Health of Communities and Populations," which recommends that decisionmakers address social determinants of health, such as access to affordable healthy housing, among other directions.
"The Vital Directions for Health and Health Care initiative represents a national call to action," wrote Howard Koh, MD, MPH, the Harvey V. Fineberg professor of the practice of public health leadership at the Harvard T. H. Chan School of Public Health and a co-author of one of the papers, in a Sept. 26 Journal of the American Medical Association editorial. "At this critical time, the United States must decide whether, and how, to make these strategies achievable, not just aspirational…Doing so could not only transform individual lives but also lift the nation closer toward a state of complete well-being."
The opportunity for input began with the Sept. 26 event, in which panels of health experts, including Benjamin, discussed and posed questions about the papers across all three goals.
When asked what he would advise the next president on, Benjamin said he would push for a focus on public health reform and using population health data to inform health system changes that could lead to better health for all.
"The interesting thing is we know how to do this," Benjamin said. "We pretend like we don't. We have state health rankings, county health rankings, yet we put our heads in the sand to do things we know won't work."
Former APHA President Shiriki Kumanyika, PhD, MPH, a co-author of the same paper and steering committee member, said being a part of the Vital Directions effort is a chance for her to "sense the major potential of this initiative to make a real difference."
"It provides a novel opportunity to get messages to the new administration about why and how to advance prevention, public health and health equity goals within a broader health and health care context," Kumanyika told The Nation's Health. "Let's get ready to build on what comes out of this."
Kumanyika also co-authored a related article in JAMA, which published two editorials and 19 related viewpoints.
The academy will share the national health priorities of the final synthesis paper throughout 2017 with public and private stakeholders.
For more information, visit https://nam.edu/vitaldirections.
Copyright The Nation's Health, American Public Health Association