APHA's 2017 Annual Meeting and Expo convened in Atlanta to help move communities forward in the race to prepare for, adapt to and prevent the health effects of climate change.
About 12,000 public health professionals from around the world — public health workers, students, teachers, advocates, scientists and supporters — traveled to the Georgia capital for the Association's Annual Meeting, which ran Nov. 4-8 and had a theme of "Creating the Healthiest Nation: Climate Changes Health." The 2017 Annual Meeting represented the capstone of APHA's Year of Climate Change and Health, which worked to bring human health concerns to the forefront of national climate change discussions and help public health workers do the same locally.
The Annual Meeting's hundreds of sessions and events ran the gamut on climate change, from the latest science on its health risks to the innovative climate work now happening inside state and local public health agencies. But regardless of the particular topic, one major thread weaved its way throughout much of the meeting's climate discussions: the rela-tionship between climate change, environmental justice and health equity.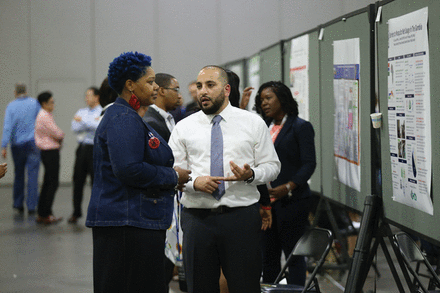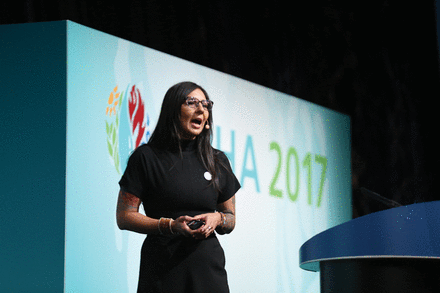 Eriel Tchekwie Deranger, an indigenous activist and a founding member and the first executive director of Indigenous Climate Action, kicked off that thread with her keynote address at the meeting's Sunday, Nov. 5, opening session. A member of the Athabasca Chipewyan First Nation of Northern Alberta in Canada, Deranger discussed how the fossil fuel industry and its practices are threatening the health, livelihoods and sustainability of many indigenous communities. She zeroed in on the Athabasca tar sands in northeastern Alberta, the world's largest reservoir of a type of heavy crude oil found in natural oil sands deposits. The tar sands sit upstream from Fort Chipewyan, an indigenous community where the impacts of mining and extraction threaten local food and water sources as well as the sovereignty of First Nations communities to protect their lands and environments, she said.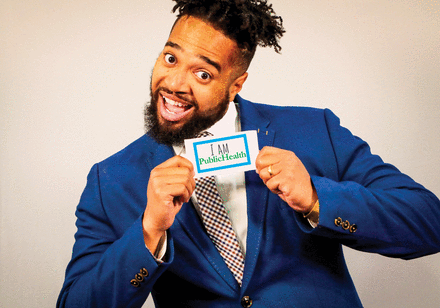 "The battle over the tar sands has come down to the fundamental right to exist for indigenous people," she told an audience of thousands.
Deranger discussed myriad health and environmental problems associated with the tar sands. For example, the industry uses up billions of liters of water every year — a number that is only expected to increase — and advocates worry the chemical-laden wastewaters left over from the mining process will leach into nearby drinking water systems. Some research, she said, has found higher rates of cancer in Fort Chipewyan. Tar sand development is also one of the top greenhouse gas contributors in Canada, Deranger noted, adding that the industry's biggest customer is the U.S.
Solving climate change, she said, means indigenous people must have an equal seat at the table. She noted that the Paris climate agreement contains important references to indigenous peoples' rights that can help drive change at the local level.
"I want to change the game so that my children have a chance," she told attendees. "Climate may change our health, but it also provides us with an opportunity to start anew."
The call to climate action continued at the Monday, Nov. 6, general session with keynote speaker Gina McCarthy, MS, former administrator of the U.S. Environmental Protection Agency, who sat down for an intimate conversation with APHA Executive Director Georges Benjamin, MD. McCarthy, now a professor of public health practice at the Harvard T.H. Chan School of Public Health, shared her thoughts on the work she did as EPA's top official as well as the erosion of public health advances under President Donald Trump. And while she derided the attacks on science and how climate change impacts disproportionately affect people with low incomes, she urged advocates not to give up the fight.
"We didn't get to cleaner air and water by sitting on our butts," she said. "We knew we had to get there. For too long we've been asleep at the wheel. I believe this year was a wake-up call."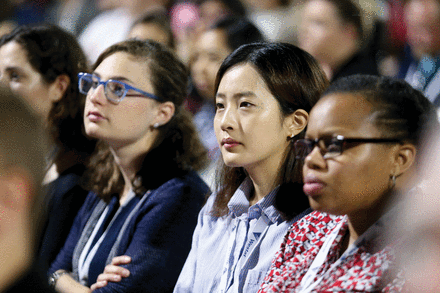 The Monday session also highlighted the debut of The Lancet Countdown for the U.S., released by The Lancet and APHA. APHA member Howard Frumkin, MD, DrPH, a professor at the University of Washington School of Public Health, announced the release of the report, which outlines the threat of climate change as it stands now and in the future and suggests policy changes that can mitigate those threats.
Environmental justice dominated discussions at the closing session of APHA's 2017 Annual Meeting, which featured four activists mobilizing in communities that typically bear a disproportionate burden of environmental health risks. The activists — Kimberly Wasserman-Nieto, director of the Little Village Environmental Justice Organization in Chicago; Rosemary Ahtuangaruak, an Inupiaq activist and community health practitioner; Chieftess Queen Quet of the Gullah/Geechee Nation; and Vivian Huang, campaign and organizing director of the Asian Pacific Environmental Network — discussed the challenges they face and ways the public health community can get involved.
In Chicago, for example, Wasserman-Nieto helped lead her community in successfully shutting down two coal-fired power plants. It was a hard-fought accomplishment, but "little did we understand that through winning, we were having a hand in displacing our community," she told closing session attendees. In addition to shutting down the plants, the mostly Hispanic community of Little Village fought for and got a new bus line and a new park. But with cleaner air and more amenities, the "poor brown people who lived there were no longer the ideal resident," Wasserman-Nieto said. The unintended consequences, she said, forced advocates to re-examine how environmental justice efforts intersect with gentrification and displacement.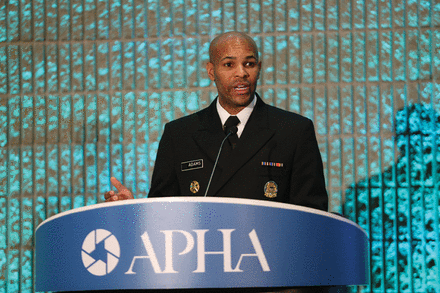 On engaging with new partners, Wasserman-Nieto urged the audience to "come correct" — in other words, engage community members from the very start when trying to solve environmental injustices.
"If you're writing policy and you don't have the community in the room, you're writing the wrong policy," she said.
Beyond the general sessions, the topic of climate change drew crowds at many of the Annual Meeting's hundreds of scientific sessions and poster presentations as well. Meeting attendees had the opportunity to hear from noted experts in the field, such as Jonathan Patz, MD, MPH, director of the Global Health Institute at the University of Wisconsin-Madison and a lead author of the U.N. Intergovernmental Panel on Climate Change; Mona Sarfaty, director of the Program for Climate and Health at George Mason University's Center for Climate Change Communication; and Linda Rudolph, MD, MPH, director of the Center for Climate Change and Health at the Public Health Institute.
"APHA is proud to help lead the climate and health movement," wrote APHA's Benjamin in a post on the APHA Annual Meeting Blog. "We've been sounding the alarm on its threat to people's health for years now, and we have no plans to quiet down."
The APHA Annual Meeting was also a time for public health education, networking and celebration — and Atlanta's gathering was no exception.
Nearly 350 people took part in APHA's Learning Institutes, half-, full- and two-day sessions held Nov. 4 and 5 in Atlanta that featured in-depth explorations into a variety of public health topics. In fact, a number of this year's learning institutes sold out, including sessions on global health, public health evaluation, biostatistics and economic analysis. The institutes offered attendees the chance to earn continuing education credits, as did a number of the meeting's scientific sessions. Nearly 1,300 people signed up to earn CE credits in Atlanta.
The Annual Meeting hosted a number of events honoring public health leaders and organizations for their achievements in the field. Among them, APHA's Council of Affiliates held its annual awards reception in Atlanta, naming the Georgia Public Health Association as its Affiliate of the Year.
Many of the Association's honors were awarded during APHA's Public Health Awards Ceremony and Reception, which was held Tuesday, Nov. 7, and featured remarks from U.S. Surgeon General Jerome Adams, MD, MPH. During his speech, Adams declared his commitment to evidence-based science and health equity and pledged to uphold APHA's values. He also stressed that knowing about health is not enough to effect change, calling on audience members to break down silos and communicate public health messages to a wider audience. He urged public health practitioners to collaborate with nontraditional community partners, such as law enforcement, faith groups and businesses to address health concerns.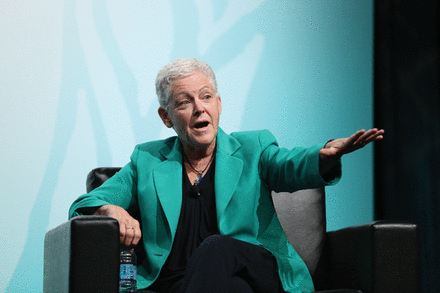 Another notable award winner at this year's Annual Meeting was Lex Frieden, MA, LLD, who received the 2017 Fries Prize for Improving Health from the CDC Foundation during the Monday general session. Frieden is one of the architects of the Americans with Disabilities Act and a longtime disability rights advocate. Upon receiving the award, Frieden encouraged public health leaders to keep pushing to improve health access for people with disabilities.
The APHA Annual Meeting is also a time to walk the walk when it comes to public health promotion. Between scientific sessions and browsing the more than 500 booths at this year's Public Health Expo, Annual Meeting attendees stopped by the APHA Wellness Center inside the Georgia World Congress Center for yoga, tai chi, meditation and massage. The APHA 2017 Steps Challenge, a friendly competition to log as many steps as possible during the Annual Meeting, welcomed nearly 200 participants who logged more than 5.4 million steps. This year's Steps Challenge prize winner logged an impressive 101,654 steps. For attendees who wanted a little more rhythm in their steps, the APHA Dance provided a joyful end to a long day of sessions. Check out this year's moves on APHA's YouTube channel: www.youtube.com/aphadc.
There were myriad ways of keeping up with all the science and news coming out of Atlanta, especially on APHA's many online platforms. Throughout the meeting, APHA's social media team was posting to Twitter, uploading photos to Instagram and Flickr and connecting with followers on Facebook. The APHA Annual Meeting Blog — online at www.publichealthnewswire.org/annualmeeting — published more than 50 stories from Atlanta. APHA TV broadcast daily episodes, many featuring original interviews with public health leaders, which were broadcast inside the Georgia World Congress Center and inside select hotels. The episodes can be watched now on APHA's YouTube channel.
Meeting attendees got in on the social media game as well, with almost 21,000 tweets posted with the official hashtag, #APHA2017. And for attendees who wanted tips on engaging in social media world, the APHA Social Media Lab — a partnership with HIV.gov — welcomed about 400 visitors in Atlanta to learn more about using the online tools to promote health.
For practitioners not able to attend the Annual Meeting or for those who could not fit in all the sessions they had hoped, access to the Recorded Annual Meeting Presentations program is now available. RAMP allows registrants to listen to audio and view slides from hundreds of the meeting's scientific sessions. For more information, visit www.apha.org/ramp.
For those who want to earn continuing credits while engaging in the Annual Meeting, APHA Live is the option. The program, online now, allows participants to watch 13 key sessions from the Annual Meeting and the opportunity to earn up to 16.5 continuing education credits.
Planning is underway for APHA's 2018 Annual Meeting and Expo, which will be held Nov. 10-14 in San Diego. This year's Annual Meeting theme will be "Creating the Healthiest Nation: Health Equity Now." Members and other public health scholars and advocates are encouraged to submit abstracts, particularly on health equity topics, for the meeting. Abstract deadlines vary, but fall between Feb. 19-23.
For more information about the APHA Annual Meeting, visit www.apha.org/annualmeeting.
Lindsey Wahowiak and Julia Haskins contributed to this story. Portions of this story were published on APHA's Annual Meeting Blog.
Copyright The Nation's Health, American Public Health Association