For more than a dozen years, the Cambridge Public Health Department has observed National Public Health Week by opening its doors to the next generation of public health leaders. The events not only offer students an inside look into real-life public health, they have actually helped expand the agency's real-life programs.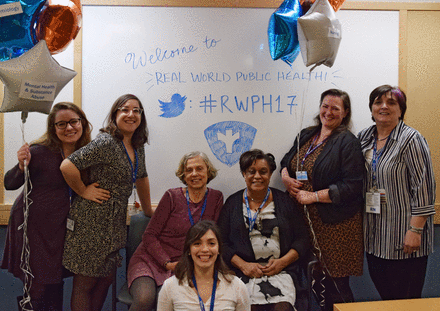 "It's one of my favorite days," said APHA member Claude-Alix Jacob, MPH, chief public health officer at the Cambridge Public Health Department. "It's a great feeling for staff to connect with so much potential talent."
The agency's NPHW 2017 event, "Real World Public Health," took place April 5 in Cambridge, Massachusetts, and invited Master of Public Health students from about a dozen schools and programs of public health in the area.
The event also recently began involving local nursing students, and for the first time, organizers extended an invite to medical residents from local hospitals. About 35 students attended this year's gathering, which featured a panel discussion, interactive workshops and networking opportunities, Jacob said.
Among the day's activities, students could attend one of three workshops in which they worked through a public health problem with the guidance of a seasoned practitioner. This year's workshops focused on substance abuse, creating a successful public health campaign and developing a policy package on urban agriculture. From there, they attended a panel discussion on a 2016 mumps outbreak at a local college. The week included a networking lunch.
Jacob, who also serves as president of the National Association of County and City Health Officials, noted that local public health departments have lost 43,000 employees since 2008, or about 22 percent of their workforce.
"There's an erosion in the capacity of the public health workforce," Jacob told The Nation's Health. "That means we have to do a better job of recruiting others to fulfill our public health mandate."
Abhidnya Kurve, an MPH student at the Massachusetts College of Pharmacy and Health Sciences, said she especially liked the interactive substance abuse workshop.
Hoping to eventually work in health communications and policy, Kurve said it was particularly helpful to get practical knowledge on communicating about the opioid crisis and tailoring messages that actually reach people. It was the first time she got to interact with her local public health officials.
"It gave a really great view of what it takes to be a real professional in the real world," Kurve told The Nation's Health.
For more information, visit www.cambridgepublichealth.org.
Copyright The Nation's Health, American Public Health Association