Health equity took center stage at APHA's 2018 Annual Meeting and Expo in November, with public health leaders making passionate calls to end the injustices and inequalities that lead to poorer health and shorter lives.
"Now is the time for us to go to work," said APHA member David Williams, PhD, MPH, MA, a professor and disparities researcher at the Harvard T.H. Chan School of Public Health and creator of the Everyday Discrimination Scale, during his keynote address at the meeting's opening session on Sunday, Nov. 11, at the San Diego Convention Center.
The opening session officially kicked off APHA 2018, which welcomed about 13,000 public health practitioners, scientists, advocates, students, educators and supporters to Southern California for five days of science, strategizing, networking and celebration. With an Annual Meeting theme of "Creating the Healthiest Nation: Health Equity Now," many of the meeting's hundreds of scientific and poster sessions focused on documenting health inequities and their contributors and sharing lessons from community-based interventions. Equity-focused sessions ran the gamut, from reproductive justice and gun violence to fair housing laws and immigrant health.
Calls to advance health equity were present throughout the Nov. 11 opening, with outgoing APHA President Joseph Telfair, DrPH, MPH, MSW, telling an audience of more than 5,000 people that he was confident public health could tackle the nation's considerable health challenges — despite the current political climate.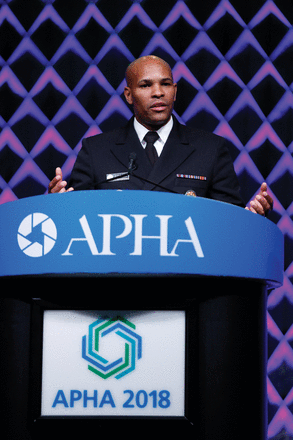 "We can and will make our country and the broader world a much better place," Telfair said.
U.S. Surgeon General Jerome Adams told the opening session crowd that America still has a long way to go to become the healthiest nation in the world, as many disparities are now widening, but that he was confident as well.
"It's imperative that we lift up those who are most disadvantaged by promoting health equity for all," Adams said.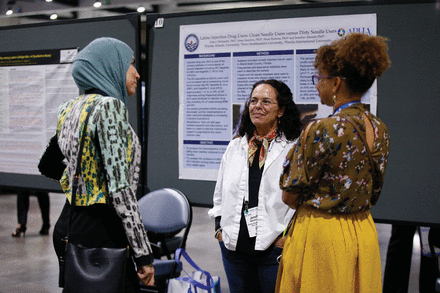 The issue is a personal one, said Adams, who talked about his experience of growing up poor and black in a rural community and struggling with severe asthma. Decades later, Adams' 10-year-old nephew is growing up in the same house Adams did. His nephew also has severe asthma and is facing many of the same barriers to good health and opportunity that Adams had faced.
"Equity is about showing why communities that foster health for all are important not just for my brother or nephew, but for each and every American and each and every constituency," Adams said, adding that when people suffer from preventable ill health and disease, "it's America that loses."
Williams, the keynote speaker, gave attendees a brief overview of the findings on health disparities and inequities, noting that when he first began his career, scientists believed racial gaps in health were mainly a function of socio-economic status. But now, he said, researchers find that even after accounting for determinants such as income and education, racial and ethnic minorities in America still face greater health risks than their white counterparts. Williams said the science points to factors such as discrimination and segregation as key culprits in persistent racial and ethnic health disparities.
Where a person lives in the U.S., Williams told attendees, determines the social determinants that shape her or his health, such as the quality of education, access to job opportunities, the safety of housing, access to primary care, the quality of city services and more.
"Virtually everything that drives health is linked to place," he said, noting that if America could eliminate segregation, it could help erase the differences in income, education and unemployment — all major determinants in people's health.
Unfortunately, surveys show that many Americans believe that climbing out of poverty is simply a matter of working harder, with many not acknowledging the systemic and institutional barriers that people of color often face. Williams called it an "empathy gap." But like the surgeon general, Williams said public health professionals can be agents of change.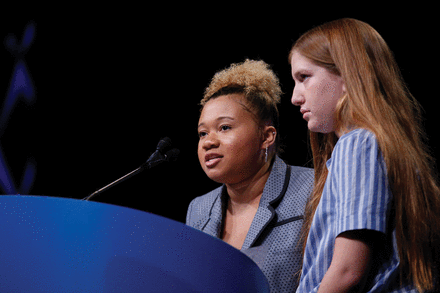 "We can build a healthier America," he said. "Yes, public health — together, we can."
This year's opening session in San Diego also featured two youth gun violence prevention advocates. Fifteen-year-old Eden Hebron, a survivor of the Marjory Stoneman Douglas High School shooting in Parkland, Florida, and 17-year-old Tatiana Washington, who lost her aunt to gun violence, came out to standing applause. Hebron asked audience members who knew victims of gun violence to raise their hands — and in a reflection of the nation's ongoing gun violence epidemic, hands went up across the session's giant auditorium.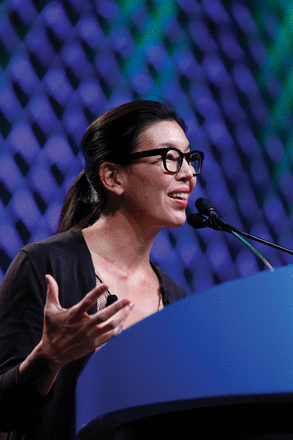 Washington, who hails from Milwaukee, organized her high school's walkout in March to call attention to gun violence and demand that policymakers take action. While school shootings deservingly make the headlines, she noted that many incidents of gun violence, which disproportionately impact black youth, never make the front pages. Washington called on the audience to help change the culture around gun violence — for example, she said, stop circulating pictures of mass shooters, which only gives them notoriety, and call out police violence.
"Misuse of a firearm is misuse of a firearm," said Washington, who is on the executive council of Team Enough, an organization of students and activists opposed to gun violence.
Both youth activists called for funding gun violence research. And in response to a recent National Rifle Association tweet that told doctors who advocate for gun safety laws to "stay in their lane," the young activists said in unison: "Gun violence is all of our lanes."
"Students like us aren't afraid to talk to those who don't understand," Hebron said. "We aren't interested in a political debate — we want solutions to end this epidemic."
Political scientist, commentator and Wake Forest University professor Melissa Harris-Perry, PhD, kept equity forefront during a wide-ranging discussion at the Annual Meeting's Monday general session on Nov. 12, which touched on implicit bias, racism, classism, presidential elections, state policies and much more. In a rousing, often funny, presentation, Harris-Perry challenged attendees to reconsider popular, entrenched narratives and look to new narratives that focus on the intersectionality of race, poverty and gender.
"I think we need new stories about vulnerability, poverty and identity," she said.
Harris-Perry led a discussion with three panel members, including Ai-jen Poo, executive director of the National Domestic Workers Alliance, which advocates for the rights of often-"invisible" workers, such as house cleaners, nannies and home care workers. One particularly innovative strategy that Poo discussed was trying to change narratives around domestic workers in the same way that gay civil rights advocates used pop culture and grassroots organizing to change how Americans think about lesbian, gay, bisexual and transgender people. She pointed to the impact of television shows such as "Will & Grace" and "Glee."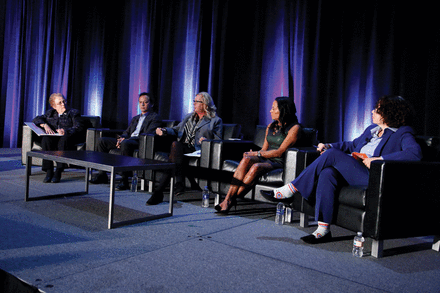 "We have to build power behind the narrative that humanizes and asserts our dignity and our fundamental rights in this democracy, no matter what," Poo told the audience.
Poo called on the public health practitioners to go beyond the data and tell emotional stories that resonate.
"Until (progressives) get used to and comfortable with being in the space of the emotional and the irrational and really contending for hearts — not just minds — I think that we're always going to be at a disadvantage," Poo said.
During the meeting's closing session on Nov. 14, the equity focus turned to women's health, with remarks from APHA member Linda Blount, MPH, CEO of the Black Women's Health Imperative; Cynthia Lamberth, PhD, MPH, co-executive director of the Kentucky Population Health Institute; Michael Lu, MD, MPH, MS, former director of the federal Maternal and Child Health Bureau; and Debra Joy Pérez, PhD, MPA, senior vice president of organizational culture, inclusion and equity at Simmons University in Boston.
Blount noted that there is often a considerable disconnect between black women and the epidemiologists who study their health. Most black women, she said, self-rate their health as excellent.
"They don't see themselves as broke and broke down at all," she noted.
That disconnect is another reminder that to successfully narrow disparities, public health workers need to start by listening to black women's voices.
"We have to consider the lived experiences of black women in our work," Blount told the audience. "We have a choice: We can look at people through the lens of the problem or look at the problem through the lens of people."
Public health professionals can watch the opening, Monday and closing general sessions online now via APHA Live. The program allows access to video recordings of 14 Annual Meeting sessions. Continuing education credits are available for APHA Live.
Science, equity at forefront of meeting
Beyond the meeting's general sessions and equity-themed events and science, attendees chose from hundreds of scientific sessions covering the full spectrum of public health practice and research, browsed hundreds of booths at the Public Health Expo, earned hundreds of continuing education credits, celebrated public health achievements, networked with peers and even made direct calls for change, including a Nov. 13 vigil outside the San Diego Convention Center that called attention to border health and justice.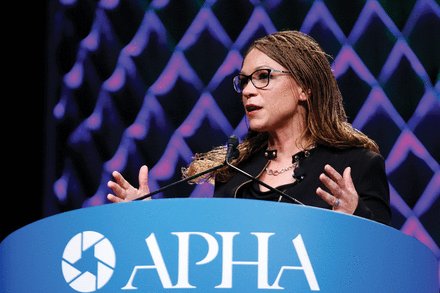 Back inside the meeting, about 300 people took part in APHA's Learning Institutes, half-, full- and two-day sessions held Nov. 10 and 11 in San Diego that featured in-depth explorations on a range of public health topics, with the sold-out global health institute once again being the most popular offering. Learning Institutes came with a chance to earn continuing education credits, as did a number of the meeting's regular scientific sessions. In total, more than 1,300 people signed up to earn continuing education credits in San Diego, which comes out to about 10 percent of this year's Annual Meeting attendees.
Every year, the Annual Meeting hosts a number of celebrations and receptions to honor outstanding work among public health organizations, practitioners and advocates. At this year's APHA Council of Affiliates annual awards reception, for example, the New Hampshire Public Health Association was honored as the Affiliate of the Year. For more on APHA's 2018 award winners, see Page 11.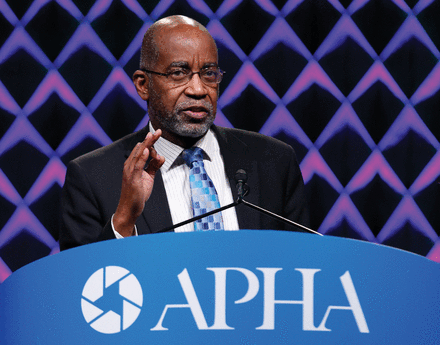 At such a large meeting about public health, it is no surprise that attendees were encouraged to care for their own health as well. At APHA's Wellness Center, located inside the San Diego Convention Center, attendees could participate in yoga, meditation, stretching and massage. The Annual Meeting Steps Challenge, a friendly competition to log as many steps as possible during three days of the Annual Meeting, welcomed nearly 400 participants who logged more than 8.7 million steps. And for attendees who felt like shaking instead of stepping, this year's APHA Dance welcomed guests for an hourlong dance party with a DJ. Check out the moves on APHA's YouTube channel: www.youtube.com/aphadc.
APHA's communications team was busy bringing the latest news and events from San Diego to public health practitioners and supporters who could not make the trip in person. Throughout the five-day meeting, the Association's social media team was posting to Twitter, uploading photos to Flickr and Instagram and engaging with friends on Facebook. The APHA Annual Meeting Blog — at www.publichealthnewswire.org/annualmeeting — published more than 50 posts from San Diego, while APHA TV broadcast daily news updates, many featuring original interviews with public health leaders. The episodes, which were broadcast inside the San Diego Convention Center and in select hotels, can be watched now on APHA's YouTube channel. Overall, Annual Meeting attendees generated more than 19,000 tweets using the hashtag #APHA2018.
For those who wanted to up their social media game, this year's APHA Social Media Lab, a partnership with HIV.gov, welcomed 300 visitors for one-on-one consults and mini-sessions at the lab's presentation theater.
For public health practitioners not able to attend the Annual Meeting or for those who could not fit in all the sessions they had hoped, access to the Recorded Annual Meeting Presentations program is now available. RAMP allows registrants to listen to audio and view slides from hundreds of the meeting's scientific sessions. For more information on the program, visit www.apha.org/ramp.
Planning is now underway for APHA's 2019 Annual Meeting and Expo, which will be held Nov. 2-6 in Philadelphia. The 2019 Annual Meeting theme will be "Creating the Healthiest Nation: For science. For action. For health." Members and other public health workers, scholars and advocates are encouraged to submit abstracts for the meeting. Abstract deadlines vary, but fall between Feb. 19-23.
For more information about the APHA Annual Meeting, visit www.apha.org/annualmeeting.
Melanie Padgett Powers contributed to this story, portions of which were published on the APHA Annual Meeting Blog.
Copyright The Nation's Health, American Public Health Association