America's population is getting older, with seniors projected to outnumber children for the first time by 2035, according to the U.S. Census Bureau's 2017 National Population Projections released in March. As such, public health will be faced with new challenges in meeting the needs of a rapidly aging population. Those challenges, as well as solutions, will be highlighted at the 2018 Healthy Aging Summit. To be held July 16-17 Washington, D.C., the summit is organized by the U.S. Department of Health and Human Services and the American College of Preventive Medicine. The Nation's Health spoke with APHA member Don Wright, MD, MPH, deputy assistant secretary for health and director of HHS' Office of Disease Prevention at HHS, about promoting health and wellness among an aging population.
What constitutes healthy aging?
I think many people focus on physical health, which we think is an important part of well-being, but it goes much broader than that.
It's (about) cognitive health and maintaining strong brain function. It involves social engagement.
We know that the downstream health outcomes of those individuals that maintain social engagement are...enhanced. And we also know that it's about adopting a healthy lifestyle and healthy behaviors.
We're going to see unprecedented numbers of older adults in the U.S. What challenges can we expect in the future, and what can we prepare for now?
One of my overall goals for this conference is to help the senior population maintain a sense of independence and vibrancy as late in life as possible. I tell my staff, our function is to help people die young as late in life as possible, in that they stay vibrant as late into their life as they possibly can. And we know from evidence-based studies that it's possible through good nutrition, through remaining physically active through — and it's so important — remaining socially engaged. We want to help seniors age in place as often as possible, because we know they're happiest in that sort of environment.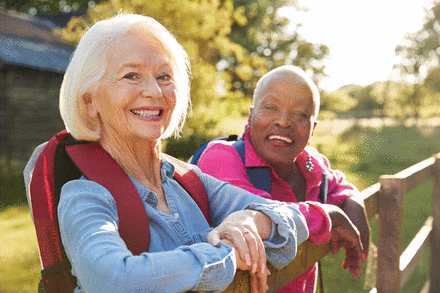 Chronic disease management for these individuals is highly important.
A large percentage of senior citizens have one or more chronic diseases, and if we can manage those well to prevent some of the complications for those diseases, it just moves us closer to maintaining that independence and overall well-being.
Trying to prevent disease through getting the age-appropriate immunizations such as pneumococcal vaccine or herpes zoster vaccine, to early detection of breast cancer or colon cancer, all those things I think contribute in a meaningful way to helping seniors remain vibrant and active as late in life as possible.
What was your motivation for holding the first Healthy Aging Summit in 2015?
We have this large cohort of (the) baby boomer generation that is moving into their senior years, and I wanted to do anything that I could to ensure that those individuals remained as healthy and as vibrant as long in their life as possible. And, I knew through good health behaviors, good social engagement, etc., that we could help those seniors maintain that vibrant lifestyle moving forward.
What can we expect at this year's Healthy Aging summit?
We have four major goals in the summit. First of all, we want to explore that science on healthy aging and really highlight those areas that have changed over the past three years and what we've learned that we didn't know three years ago.
(We also want) to identify the gaps in our knowledge of what are areas of research that need to be funded in the future to move forward our initiative in healthy aging.
We want to promote prevention and keep people out of the health care delivery system. So we'll be focusing on those behaviors and clinical preventive services that we know are successful in keeping individuals healthy.
The last area is supporting people in the area of aging in place. We know that most seniors would prefer to live in their homes. We want them to maintain independence as long as possible.
What can we do to promote the use of clinical preventive services among older adults, an objective that is part of the federal Healthy People plan?
My office sponsors the MyHealthFinder website. This is a place that older adults can go into, put their age and their sex and push a button and learn...the clinical preventive services...that have been recommended by the U.S. Preventive Services Task Force.
Health care providers, as part of the routine visit, should look at that individual and discuss with them clinical preventive services that they should be getting but maybe have not received and make that part of a health care visit that may be unrelated to clinical preventive services.
Many of these older adults have one or more chronic diseases and frequently engage with some member of the health care delivery team, and we would hope that this would be a teachable moment to talk with the patient about the importance of having these clinical preventive services.
Responding to elder abuse was another point in Healthy People. What role does public health have in preventing this harm?
Public health plays an important role in creating awareness of (elder abuse).
We can document the extent of the problem, conduct research of the risk and protective factors. We can create and evaluate effective prevention programs. And we can really help states and local partners implement some of those elder abuse prevention programs that have evidence as being successful.
I think that's a role government has to play in sharing those best practices for others to emulate.
What resources or support do we need to give caregivers to be most helpful to the older adults that they are serving?
(Caregivers are) a very important part of the workforce that takes care of the senior population as they age and as their mobility decreases. Certainly, ensuring that there is a great supply of able caregivers, that they're adequately compensated.
Caregivers really are one of the keys to allowing people to age in place. Having the appropriate caregiver that can drop by on a periodic basis and provide services to a senior citizen is crucial as we try to help Americans age in place.
What have been some of the most successful federal efforts in improving chronic illness services among older adults?
Our Agency for Community Living focuses on, among other things, the senior population.
And what they felt like was so important was chronic disease management and ensuring that these chronic diseases that so many seniors have are managed appropriately, that seniors know how to manage these chronic diseases, that they get to have an interface with a health care delivery system to help them do that. And they showed success in good management of those chronic illnesses and making people aware of the importance of chronic disease management.
To register for the summit, visit www.2018healthyagingsummit.org.
Copyright The Nation's Health, American Public Health Association