In a just a few months, 12,000 public health workers and advocates will touch down in San Diego for APHA's 2018 Annual Meeting and Expo, which will rally support and action around a theme of "Creating the Healthiest Nation: Health Equity Now." To help get you even more fired up to speak for health this fall, we've compiled a reading list of new books that zero in on the injustices and social determinants that keep good health and longevity out of reach for far too many.
High-Risers: Cabrini-Green and the Fate of American Public Housing
Ben Austen
Chicago's Cabrini-Green public housing project is the focus of this book, which explores its origins and the eventual demise of the low-income housing community. Cabrini-Green, originally built in the 1940s, grew into a 23-tower community with a population of 20,000 packed into just 70 acres. By 2011, the entire community had been demolished and the people who called it home displaced. Austen explores the politics and policies surrounding Cabrini-Green, and tells the story through the eyes of those who lived there.
2018, Harper, 400 pages
Insane: America's Criminal Treatment of Mental Illness
Alisa Roth
It's no secret that America's correctional systems have become de facto mental health systems — in fact, up to half of the country's jail and prison population is struggling with a psychiatric condition. Roth, a journalist, reports that jails in New York, Los Angeles and Chicago each house more people with mental illnesses than any hospital does. Roth dives deep into the nation's criminal justice system and its treatment of people with mental illness.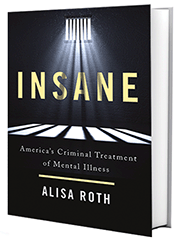 2018, Basic Book, 320 pages
Teeth: The Story of Beauty, Inequality and the Struggle for Oral Health in America
Mary Otto
In 2007, Otto, a journalist at The Washington Post, reported the story of 12-year-old Deamonte Driver, a Maryland Medicaid patient who died after bacteria from a dental infection spread to his brain. The tragic story led to a revamp of oral health services within the Maryland's Medicaid program and drew attention to gaps in oral health access and the life-saving benefits of prevention. In "Teeth," Otto investigates America's silent oral disease epidemic, its impact on health and opportunity and the reality of chronic oral pain.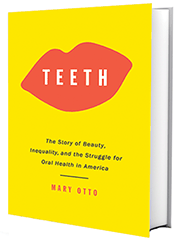 2017, The New Press, 288 pages
The Broken Ladder: How Inequality Affects the Way We Think, Live and Die
Keith Payne
The impacts of inequality go far beyond people's paychecks. Payne, PhD, a psychologist and professor at the University of North Carolina, explores how inequality affects people's ability to fend off disease, stay healthy and deal with stress, and how we view issues of justice and fairness. The book delves into understanding how inequality hampers opportunity, drives ideological division and shapes our communities.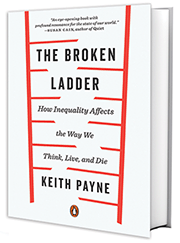 2018, Penguin Books, 256 pages
The Hate U Give
Angie Thomas
Thomas' award-winning young adult novel explores the impact of police violence through the story of 16-year-old Starr Carter, who splits her time between two worlds — the poor black neighborhood where she lives and the rich, suburban high school she attends. One night, Starr witnesses the fatal police shooting of her childhood best friend, who is unarmed. The shooting makes national headlines, and Starr is thrust into the spotlight as she faces the realities of systemic injustice head on. Read the fictional account in the book before watching the movie, which reaches theaters in October.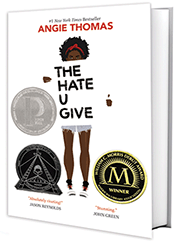 2017, Balzer + Bray, 464 pages
The Line Becomes a River: Dispatches from the Border
Francisco Cantú
In this memoir, Cantú writes about his childhood growing up in the Southwest and his work with the U.S. Customs and Border Patrol, the often-callous behaviors he and fellow officers took part in and the heartbreaking stories of people who cross the border seeking help and refuge. The last part of the book highlights the U.S. deportation system through the story of Cantú's friend, who was nabbed by border patrol after visiting his dying mother in Mexico.
2018, Riverhead Books, 256 pages
Doing Harm: The Truth About How Bad Medicine and Lazy Science Leave Women Dismissed, Misdiagnosed and Sick
Maya Dusenberry
Dusenbery, a journalist and editor of the blog Feministing.com, explores the history of sexism and dismissal that women have experienced when seeking medical help, and the persistent bias in health care that continues today. Shining a light on women's experiences within the health care system, Dusenbery also explores how bias and sexism have contributed to gaps in women's health research and knowledge. The book digs into the causes of such bias and its consequences, and calls on practitioners and patients to demand equity.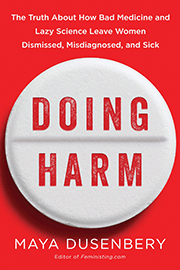 2018, HarperOne, 400 pages
What the Eyes Don't See: A Story of Crisis, Resistance and Hope in an American City
Mona Hanna-Attisha
APHA member Hanna-Attisha, MD, MPH, is the pediatrician whose research exposed the Flint water crisis. In her book, she tells the story of how she and a team of parents, researchers and advocates exposed a preventable lead poisoning crisis that stemmed from policies of austerity and erosions of local democratic representation. The book gives details on how officials continually rebuffed residents' complaints about the water and the swift backlash Hanna-Attisha faced after coming forward with her research. The story is a wrenching narrative on injustice and inequity and hopeful reminder of the power of public health.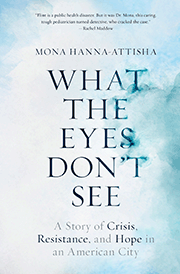 2018, One World, 384 pages
Tomorrow Will Be Different: Love, Loss and the Fight for Trans Equality
Sarah McBride
Prominent transgender activist McBride writes about her personal struggle coming out as transgender to family and fellow students at American University, where she served as study body president. Four years after her coming-out story went viral, McBride was speaking out on the national stage, advocating for transgender rights and inclusion and eventually, in 2016, becoming the first transgender person to speak at a national political convention. Now at the Human Rights Campaign, McBride explores the political battle for transgender rights and shares her personal experiences.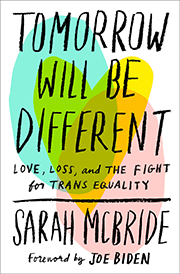 2018, Crown Archetype, 288 pages
Copyright The Nation's Health, American Public Health Association