In New York City, where vehicle exhaust fumes mingle with tobacco smoke and pet dander and people coexist in tight quarters, triggers for asthma are abundant.
As is the case for many big-city residents, New Yorkers are regularly exposed to both indoor and outdoor allergens that could result in an asthma flare-up. But a closer look at where asthma is most prevalent and symptoms are most severe reveals disparities rooted in socio-economic inequity.
"We are all more or less breathing the same particulate matter, and the differential in terms of impact…really comes down much more to poverty," Shoshanah Brown, MBA, MS, CEO of At-Home Integrated Relief for NYC, told The Nation's Health.
Disparities in asthma are particularly notable when comparing potential asthma triggers in affluent and low-income households. The National Institutes of Health in November published findings in the Journal of Allergy and Clinical Immunology that showed widespread allergens in U.S. homes, with significant differences in exposure levels by age, race, ethnicity, sex and socio-economic status. Further, the study found higher rates of multiple exposures in homes that were older, mobile, rented and located in rural areas.
Public health is tackling disparities in asthma severity and management by going to the source. Home visits, in which community health workers come to people's homes to assess potential asthma triggers and offer holistic solutions to illness, can be especially beneficial to low-income families who may lack the resources and support to make their homes conducive to easy breathing.
"A lot of research has been done showing that home-based education and interventions work," Michelle Eakin, PhD, MA, associate professor of medicine in the Pulmonary and Critical Care Medicine Department at Johns Hopkins Medicine, told The Nation's Health.
She noted that because "asthma has such an environmental component, it's just one of those diseases that really lends itself nicely to home visits."
The practice falls under interventions outlined by the Centers for Disease Control and Prevention's National Asthma Control Program, which promotes evidence-based prevention strategies for asthma management. Other interventions include education, regularly and correctly using preventive medication and control of environmental triggers for asthma — all of which are connected to home visits.
The Master Home Environmentalist Program through the American Lung Association in Washington is one such home visiting program to demonstrate CDC's tenets of asthma management strategies.
"Our program is really focused on empowering and educating residents to know that these toxins and these air pollutants are occurring in the home, and also empower(ing) them to make changes to their home environment," Molly Ryan, MPH, director of health promotions at the American Lung Association in Washington, told The Nation's Health.
Through the program, Seattle residents can request a Healthy Home Checkup that includes a home inspection to identify triggers, with an emphasis on low- or no-cost solutions to reducing allergen exposure. Participants are left with the top three recommendations for improving air quality in their homes, a green cleaning kit and a doormat. Because the program serves many renters, community health workers focus on simple behavioral changes people can make, such as removing shoes at the door, Ryan said.
At-Home Integrated Relief for NYC is another program highlighting the relationship between housing and asthma. The program's community health workers encounter asthma triggers ranging from mold to rodent infestations during home visits, Brown said. And with the New York City Housing Authority struggling to accommodate so many problems among so many residents, even relatively small complaints may fall to the wayside. To fill the gaps in asthma care, community health workers must step in, often serving as educators, advocates and liaisons to health-related services.
It is not only major metropolitan areas where underserved populations disproportionately suffer from asthma and experience more severe symptoms. Disparities in asthma are also well documented in rural areas.
The Montana Asthma Home Visiting Program covers 19 counties in the state, where 82,000 residents are estimated to have asthma. Triggers more commonly found in rural areas such as wildfire smoke add another layer of complications for residents, said B.J. Biskupiak, coordinator of the Asthma Home Visiting Program at the Montana Department of Public Health and Human Services.
"It's kind of hard for asthmatics to escape triggers no matter what they do," he told The Nation's Health.
The Montana Asthma Home Visiting Program works to address some of the barriers to asthma care through a comprehensive intervention that involves at least four in-home visits and two meetings completed in person or via phone. Asthma education is underscored throughout the program, beginning at the first visit, when community health workers assess the home and gauge participants' asthma knowledge and their ability to control the disease themselves.
While it does take more time to coordinate care with a multi-visit program, the practice of making repeated contact with families is most effective for home visits, Biskupiak said. It is also backed up by research. A study published in February in the Journal of Asthma found that completion of the Montana Asthma Home Visiting Program resulted in improvements in asthma control test scores, self-management skills and self-efficacy of asthma management among participants.
The Montana program follows recommendations from CDC's National Asthma Control Program for home-based strategies in that it provides referrals, community health workers with relevant training, initial contact and follow-up and connections to relevant services.
Housing condition is an influential factor in health outcomes for people with asthma, but it is not the only stressor that impacts asthma management. A home visit can illuminate social determinants besides housing, pointing to deficiencies in quality of life and well-being. Such problems become apparent to community health workers when they are welcomed into people's homes.
"We're in somebody's home and they tend to open up, and it's very clear that they have other needs beyond what we can offer them," Ryan said.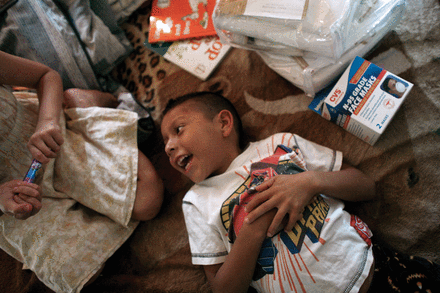 As medical director for the Impact DC Asthma Clinic, Ankoor Shah, MD, MPH, MBA, recognizes the role of quality housing in managing asthma.
"If your home is safe and clean without mold, mice, rodents, pests — that will do so much" for health and well-being, he told The Nation's Health.
However, parents visiting the clinic are often dealing with competing priorities outside the home that keep them from fully managing their children's asthma. Shah cited access to care as a major barrier to controlling children's asthma, with transportation to and from the doctor a potential source of stress. Scrambling for transportation means that children miss time at school and parents must take off from work. Food insecurity is another common hardship that may interfere with families' ability to help their children with asthma, or take care of themselves if they have the condition.
Disparities in asthma also come across in race and ethnicity. According to the American Lung Association, racial and ethnic minorities have a higher prevalence of asthma as well as disparities in asthma outcomes. And many home visiting programs serve families from minority backgrounds. Where Eakin is based in Baltimore, black residents make up the largest racial group in the city. They are at increased risk for poor health outcomes, which are reflected in housing conditions. And low-quality housing translates into "greater exposure to environmental allergens or triggers for asthma," she said.
Home-based intervention programs that focus on asthma are recognizing the importance of integrated care to deal with the numerous chronic health conditions that underserved populations in particular experience. Among the populations served by At-Home Integrated Relief for NYC, asthma is far from the only prevalent health concern, Brown said. Now the program that has offered home-based asthma care for 17 years is rolling out services related to diabetes, hypertension, behavioral health and aging.
"This model of getting to know a person, getting to know a family and forging those connections…the evidence shows it really helps extend the care that is available to a family," Brown said. "And it really helps us meet the family where they live, literally."
APHA's Annual Meeting and Expo, held Nov. 10-14 in San Diego, will feature several sessions on asthma care and disparities: session 3304 on asthma among U.S. children, session 5126 on integrating home improvement programs with asthma education, session 3065 on environmental health inequities and session 3350 on the New York City Healthy Neighborhoods Program. For more information, visit www.apha.org/annualmeeting.
For more information on asthma, visit www.cdc.gov/asthma.
Copyright The Nation's Health, American Public Health Association