In January, Californians got their very first state surgeon general, joining only a handful of states to ever have one. While the U.S. surgeon general position is a tradition going back more than a century, the title of state-level surgeon general goes back only about 20 years to Pennsylvania, which established the position of "physician general" in 1996.
A few years later in 2003, Michigan created a state-level surgeon general post, followed by Arkansas and Florida in 2007. Earlier this year, California Gov. Gavin Newsom joined the pack, appointing Nadine Burke Harris, MD, MPH, founder of the San Francisco-based Center for Youth Wellness, as the state's top doctor.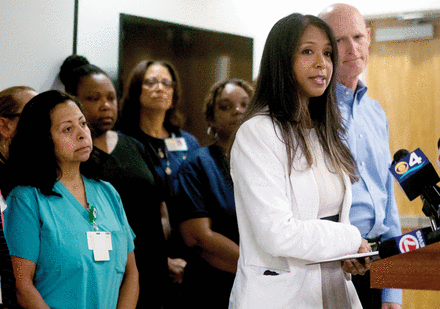 In creating the new position, Newsom's executive order requires the appointed physician to have a "demonstrated commitment to increasing the power and voice of those who are disproportionately experiencing the ill effects of the social determinants of health." Trish Riley, MS, executive director of the National Academy for State Health Policy, said advancing equity goals may be one of the most promising opportunities for a state-level surgeon general, which is why Burke Harris' work will be so interesting to watch.
But research on the benefits and effectiveness of state surgeon general posts and how to best structure those positions is limited, Riley said, which could be one reason so few states have one.
"There's not a lot of evidence or experience, so the fact that California has taken this on will be really interesting to watch," Riley told The Nation's Health. "There's potential there, but it depends on what authorities and responsibilities they have."
In 2016, the academy published a report on transforming health through a state surgeon general model. One of the report's co-authors is Kimberlydawn Wisdom, MD, MS, Michigan's first surgeon general and the country's first state officer with title of surgeon general. Among the report's key findings was that state surgeons general could best serve either one or a combination of three primary roles — as a medical advisor, a public health advocate or a health strategist. The report also recommended that the state post be clearly defined, with adequate resources that do not take away support from other state agencies.
To date, only five states have created such a post, and only four still have it, as Michigan has not filled the position since 2010. How the posts are structured has also varied. For example, in Florida, Michigan and Pennsylvania, the post was located in the state health department, while in Arkansas, the state surgeon general is a cabinet-level advisor. In three states, the post must be filled by a physician, and in all states, the post is appointed by the governor. In Florida, the state surgeon general is also the state's secretary of health, and in Arkansas, she or he also holds a joint appointment with the University of Arkansas School of Medicine.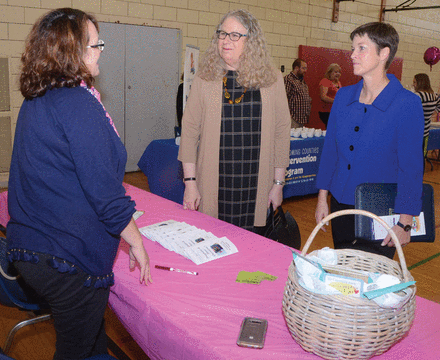 Wisdom, who served as Michigan's first and only surgeon general from 2003 to 2010, said that from her first day, she wanted to document her tenure to help build an evidence base for the state-level position. In fact, her tenure is the subject of a case study from the University of Michigan School of Public Health.
"Every state has an attorney general — they've got a top cop, so why not a top doc?" asked Wisdom, an APHA member who now serves as senior vice president of community health and equity, as well as chief wellness and diversity officer, at Henry Ford Health System in Detroit. "If you really want to drive health and health care-related efforts, having a state-level surgeon general is a really great way to convene stakeholders and work across the aisle."
As Michigan's top doctor, Wisdom was charged with serving as the state's chief public health advocate. She did not have an administrative role, but she said she could use the "bully pulpit" of state office to drive action on pressing health issues. She launched several efforts during her tenure, including work to combat childhood lead poisoning, obesity and teen pregnancy.
On lead poisoning, for example, she was a leading voice for children's health, testifying before lawmakers who eventually passed measures to reduce lead exposures from unsafe housing and expand access to medical screenings. According to Wisdom, the number of Michigan children tested for lead increased 68 percent during her tenure. Since 2010, that rate has been declining.
"I really didn't realize the level of influence that a post like that would carry," Wisdom told The Nation's Health. "You could really move things without a ton of money — that was a huge take-home for me."
In Florida, where the surgeon general is also secretary of the Florida Department of Health, Celeste Philip, MD, MPH, served in the role from 2016 until earlier this year. That dual role, Philip said, probably makes the Florida experience much different from fellow state surgeons general. But while her main responsibility was to serve as secretary — which in Florida's centralized health department system means she oversaw a workforce of about 13,000 — having the title of "surgeon general" came with a certain influence and ingrained familiarity that the "secretary of health" title did not.
"Physicians are pretty well respected, so the title builds in that automatic recognition and trust," Philip told The Nation's Health. "It does seem to resonate more with people and certainly with physicians and students."
Former U.S. Surgeon General David Satcher, MD, PhD, who served in the role from 1998 to 2002, said he could see how a state surgeon general post — filled by someone intimately familiar with a state's health challenges — could give states a health improvement advantage. As someone who has also held titles such as assistant U.S. secretary for health and director of the Centers for Disease Control and Prevention, Satcher said the U.S. surgeon general role came with a unique responsibility to talk directly and frankly with the American public.
"It should be clear that that person is speaking directly to the people of the state based on the best available public health science," Satcher, an APHA member, said of state surgeon general roles. "People have to trust that."
In California, the country's newest state surgeon general has tapped toxic stress and adverse childhood experiences as top priorities.
Burke Harris told The Nation's Health that the time is especially ripe for such work, as state efforts are already underway to expand access to trauma-informed care for children in Medicaid. As research links ACEs to serious health problems later in life, Burke Harris said she wants to elevate the importance of early detection and intervention, help providers integrate trauma screening into children's care, and advance the science on ACEs and toxic stress.
"It's such a wonderful opportunity to help bring everyone together around a shared agenda," Burke Harris said of her new role. "To me, so much of (improving health) happens at the state level, so having a state-level surgeon general just makes all the sense in the world."
For more on the history of state surgeons general, visit www.nashp.org.
Copyright The Nation's Health, American Public Health Association