Jennifer Reid lived with her husband and three daughters in a rural house in Ridgefield, Connecticut, when suddenly she started experiencing body aches and fatigue nearly every day. Sometimes she had trouble remembering things that had recently happened.
After seeing several doctors over 18 months, she finally received the correct diagnosis: Lyme disease. Her symptoms eventually resolved, but it took years.
Lyme disease, which Reid contracted in the late 1990s, changed her life. She went on to earn her degree in health promotion and community health at a nearby university, and since 2003 has advocated for awareness of tick-borne diseases. Lyme disease, named after a coastal Connecticut area where it was first identified, is her focal point.
"It has pushed me into doing things I never imagined and would not have done if I had not gotten sick," Reid told The Nation's Health.
For decades, tick-borne diseases have been reported in America's Northeast and upper Midwest. But in recent years, potentially disease-carrying ticks have spread north to Canada and west to Ohio and Kentucky, John Aucott, MD, director of the Johns Hopkins Lyme Disease Clinical Research Center, told The Nation's Health.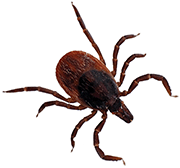 The spread of dangerous ticks and other vectors such as mosquitoes in the U.S. is linked to climate change, according to a 2018 report in The Lancet on climate and human health. Over the past five years, the continental U.S. has experienced its warmest stretch of weather ever recorded, the National Centers for Environmental Information reported in February. The warming climate and longer seasons are allowing ticks to expand their habitats.
While mosquito-transmitted illnesses get a lot of media attention, tick-borne illnesses are actually far more common.
"Ticks, not mosquitoes, are the problem in the U.S.," said Aucott, who chairs a federal working group on tick-borne diseases.
Regardless of which creature is the greatest threat, the U.S. is not fully prepared for the growing number of vector-borne illnesses, according to the Centers for Disease Control and Prevention.
Lyme disease accounts for 82 percent of reported tick-caused illnesses. Between 2004 and 2016, Lyme disease cases almost doubled in the U.S., from nearly 20,000 to over 36,000, according to CDC. But as most cases go unreported, the agency says it is more likely about 300,000 in the U.S. are infected with Lyme disease every year. The risk is highest from May to August, when temperatures are warmer and people are active outdoors.
Other tick-borne diseases — such as Rocky Mountain spotted fever, babesiosis and anaplasmosis — have also increased at a steady pace, CDC said. Overall, tick infections in the U.S. numbered over 59,000 in 2017, three times higher than in 2004. Cases are now in every U.S. continental state and the District of Columbia. The agency recognizes 18 different pathogens.
The black-legged tick is the vector for Lyme disease and at least five other pathogens. Ticks acquire Borrelia burgdorferi, the bacteria that causes Lyme disease, by feeding on blood of a host, often a mouse, then transmit the bacteria to another host, such as a deer or a human. Nymphs, which are juvenile ticks the size of a poppy seed, often transmit the bacteria to humans.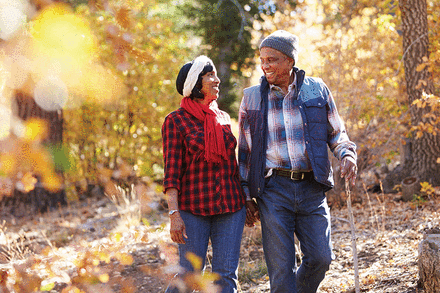 People who are infected can have flu-like symptoms and recover on their own or with antibiotics. A bull's-eye rash circling a bite is a Lyme disease giveaway, but not always. Reid, for instance, had no rash.
About 10 percent of Lyme disease carriers will acquire post-treatment Lyme disease syndrome, CDC said. Fatigue, body aches and short-term memory loss can go on for months or years. The syndrome does not have a specific treatment or cure.
Pennsylvania is one of the states with high rates of tick-borne disease, with 73,600 infections reported from 2004 to 2016, CDC said. In an ongoing study by East Stroudsburg University, researchers in 2017 collected 100 black-legged ticks in Milford Borough in eastern Pennsylvania. Half of them carried pathogens, of which 37 had the Lyme disease bacteria. Among the rest were four ticks with the bacterial infection leading to babesiosis, eight showing the infection leading to anaplasmosis and five harboring the Borrelia miyamotoi bacteria.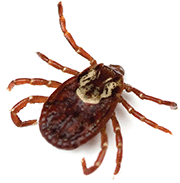 Some ticks in the Milford Borough study carried several bacteria, which when transmitted to humans complicates diagnosis and treatment. Two black-legged ticks, for instance, tested positive for Lyme disease and babesiosis bacteria.
"A doctor might not find babesiosis, which can't be treated with antibiotics used for Lyme disease, so a patient will not be rid of the babesiosis infection," Nicole Chinnici, MS, CWFS, director of East Stroudsburg University's DNA lab and leader of the study, told The Nation's Health.
Public health workers responding to threat
With no tick-borne disease vaccines available, public health advocates are focused on educating the public and clinicians about regional and specific risks related to ticks.
That means investing "in vector and disease tracking, surveillance and monitoring — not only of ticks infecting humans, but also those infecting animals," Michael Fraser, PhD, CAE, executive director of the Association of State and Territorial Health Officials, told The Nation's Health. Increasing epidemiologic investigation and pesticide-resistance testing are other priorities.
U.S. health workers are facing more demands in the wake of increases in tick and mosquito disease cases, but not all workers are prepared to meet them, according to CDC. In a 2018 Vital Signs report, the agency said many workers need help to improve their core competencies when it comes to vector control. Such competencies include multi-modal vector control and local monitoring of ticks and mosquitoes.
In Wisconsin, which had 33,200 tick-borne illnesses between 2004 and 2016, health workers are surveilling at least nine pathogens, including the Lyme disease bacteria. While most cases of tick-borne disease are found in the Northeast U.S., the upper Midwest has become a hotspot of both new tick species and pathogens, Christine Muganda, PhD, an epidemiologist in the Bureau of Communicable Diseases in the Wisconsin Division of Public Health, told The Nation's Health.
In 2017, through a CDC grant, four vector-control centers were established in Wisconsin, all part of the University of Wisconsin system. The largest, the Midwest Center of Excellence for Vector-Borne Diseases, is in Madison.
The centers are prioritizing research on vector surveillance and control, Muganda said. They are also designed to "foster collaborations to create a strong network of scientists, vector control professionals and public health experts to facilitate stronger and more effective efforts regionally," she said.
Social media has become an important tool to spread vector awareness. As part of a statewide campaign, Wisconsin is using social media platforms to strategically reach people in areas where, according to data, ticks are most prevalent, Muganda said.
Social media is also used to encourage the public to bring or mail tick specimens to a laboratory for testing, which helps track pathogens. In March, East Stroudsburg University launched Ticklab.org, offering free testing at its DNA lab, Chinnici said.
Local organizations are also ramping up outreach. One is the Pike County Tick Borne Diseases Task Force, established in 2014 in eastern Pennsylvania.
One of the most effective explanatory props used by the task force is a poppy seed bagel with black-legged nymphs sprinkled on top, task force chair Rose Schoepp told The Nation's Health. People cannot tell the difference between the two.
"That shows people how small they are," she said.
The task force is lobbying county representatives for measures to make it mandatory for primary care county physicians to receive continuing education on diagnosing and treating tick bites.
Connecticut is another state with many tick-borne illnesses, with 36,700 reported between 2004 and 2016, CDC said. In 2008, the BLAST Lyme & Tick Borne Disease Prevention Program began, a health education initiative of the Ridgefield Health Department in Connecticut's Fairfield County. BLAST stands for "Bathe after outdoor activity, Look for ticks and rashes, Apply repellent, Spray the yard and Treat pets."
Reid is director of the program. In 2016, staff from the Ridgefield program presented information at the annual meeting of the Connecticut Public Health Association.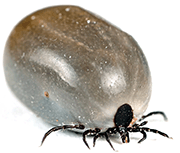 The Ridgefield education program strives to be creative in its advocacy. On April 10, it was scheduled to premier a short film series at a local playhouse on controlling ticks in residential yards. The films are fun and informative; one of the characters is a human-sized black-legged tick, looking like an amiable "Sesame Street" character. The U.S. Environmental Protection Agency provided a $25,000 grant for the film series.
Funders show interest in the Ridgefield education program because it has reputable health partners who base their work on science and evidence-based research, she said.
Reid's advocacy is fueled not only by her own brush with Lyme disease. Two of her teenage daughters also caught Lyme during her recovery. Their recoveries also took years. And their lives also changed.
"I made a promise," Reid said. "If my children got better, I would give five years to work on Lyme disease. And I am going on 16 years now."
For more information on tick-borne diseases, visit www.cdc.gov/ticks. For more on the Ridgefield prevention program, visit www.ridgefieldct.org.
Copyright The Nation's Health, American Public Health Association