Gun deaths among America's school-age children are reaching alarming levels, a new study finds.
Published in March in the American Journal of Medicine, the study found that between 1999 and 2017, nearly 39,000 gun-related deaths occurred among children and young people ages 5 to 18, including nearly 6,500 deaths among children ages 5 to 14 and nearly 32,500 deaths among those ages 15 to 18.
Among the causes of death, 61% were due to assault, 32% due to suicide, 5% were considered unintentional and 2% were undetermined. Significant increases in gun-related deaths began in 2009, with the first wave among ages 5 to 14, followed by a second wave that began in 2014 among ages 15 to 18.
Black children accounted for 41% of the gun-related deaths, with 86% of those among boys. Between 2013 and 2017, according to researchers, racial inequalities in gun deaths between blacks and whites increased significantly. The study is based on data from the National Center for Health Statistics' Multiple Causes of Death Files from 1999 to 2017.
"It is sobering that in 2017, there were 144 police officers who died in the line of duty and about 1,000 active-duty military throughout the world who died, whereas 2,462 school-age children were killed by firearms," said study co-author Charles Hennekens, MD, a professor in Florida Atlantic University's Schmidt College of Medicine, in a news release.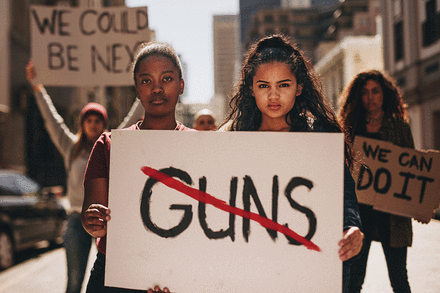 To reduce gun-related injuries among children, the de Beaumont Foundation in April announced a new partnership with the American Academy of Pediatrics. With gun violence a leading cause of death among U.S. children and teens, the new Gun Safety and Injury Prevention Initiative is a 3-year, $500,000 effort to support the creation and implementation of gun violence programs that facilitate cross-sector engagement and advance prevention.
The ultimate goal is to create an action agenda that offers practical tools for medical and public health professionals, parents, schools and community stakeholders.
Also in April, Guns Down America, an advocacy group, released "Is Your Bank Loaded," a scorecard sharing connections between financial institutions and the gun industry. The bank BB&T, for example, arranged $147 million in loans to gun companies from 2012 and 2016, while Wells Fargo has extended $471 million in loans and credit since 2012.
For more on the scorecard, visit www.gunsdownamerica.org. For more on preventing gun violence, visit www.apha.org/gun-violence.
Copyright The Nation's Health, American Public Health Association