Dara Richardson-Heron, MD, is the chief engagement officer for the All of Us Research Program, a long-term federal study dedicated to building one of the largest biomedical datasets in the world. Heron leads efforts to engage 1 million people, including groups typically underrepresented in health science studies. The National Institutes of Health program launched in May 2018, and one year later, 80% of the 142,000 people who have signed up are from underrepresented groups, including over half who are racial and ethnic minorities.
What is the goal of the All of Us Research Program?
To accelerate health research and medical breakthroughs enabling individualized prevention, treatment and care for all of us. That's actually (NIH's) mission as well. And in order to do this, we are creating a research resource of 1 million or more people who will share their health data. This will include answering survey questions, sharing electronic health records and giving biosamples, which currently consist of blood and urine, and also physical measurements. We hope our program will span at least 10 years.
What's really exciting is that the data won't focus on one specific demographic or condition, but it will cover a broad range of conditions and data types. We really want to create a database to serve as a resource to researchers who are studying all kinds of health care questions.
One of our top priorities is to achieve a demographically, geographically and medically diverse participant community by intentionally including those individuals who have historically been underrepresented in biomedical research. That's really a major aim of our program.
What are some of the successes of the project over the first year?
One of our greatest successes is the fact that we currently have more than 140,000 diverse participants who have completed all phases of our research program protocol. And you know, this is really exciting because of those 140,000 participants, 80% represent communities that have been historically underrepresented in research. And of those, more than 50% are from racial and ethnic minority groups. Participants hail from all 50 states. Already, our program is one of the largest, and certainly one of the most diverse, research cohorts in the nation.
And this success is due in large part to the outstanding work of our more than 100 partner organizations. Those organizations include our community and provider partners who are responsible for increasing awareness about and interest in our program.
We also have what we call our health care provider organizations. And that consists of regional medical centers, federally qualified health care centers and the Veterans Administration, where individuals can complete all phases of the program.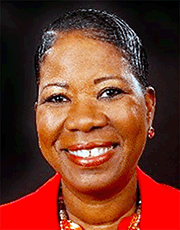 We also have our direct volunteer program — a novel approach where individuals can sign up online and be connected to a location nearby to provide their blood and urine specimens, and also give their physical measurements.
Just this past year, our program partners have held more than 1,500 events in more than 35 states to raise awareness about our program. I personally had the pleasure to speak to more than 60 communities across the country, sharing the great news about our program's progress and really doing my level best to encourage more people to participate so that everyone can benefit from the great work.
Another exciting advancement is we now have more than 300 sites that are collecting physical measurements and samples. And these are run by our health care provider organizations and our other partners. We are so excited about all the activity and progress that has been made over the past few years.
How is All of Us different from other long-term health research programs?
We have the opportunity to analyze data that is provided by a diverse group of participants so that researchers really may be able to learn new information about the impacts of not only race and ethnicity, but also the impact of lifestyle.
Researchers may be able to use this information to identify patterns and trends that will enable them to learn more about chronic illnesses, and as a result, develop more tailored prevention and treatment strategies, helping all of us to stay healthy longer.
Other large research groups collect limited types of data. They are often focused on a specific disease. But our program will combine surveys, data from electronic health records, blood and urine samples, physical and environmental measurements, information from wearable technologies, like Fitbit, and eventually other data types.
Another way that our program is different is that this data will not only be shared with researchers, but it will also be shared with participants. And of course, participants will have the ability to learn more about themselves, and they will also have choices about how much or how little information they want to receive.
How might this cohort impact prevention and treatment of chronic illness?
A program as diverse as the All of Us Research Program will provide us with the data that truly reflects the rich diversity of the United States. With that information, we can start looking much more closely at illnesses that are currently not well understood, or not effectively being treated in some communities.
Our diverse cohort will enable researchers to identify previously unknown information and trends that might answer questions, such as why do African Americans have a higher mortality rate from chronic diseases such as heart disease, diabetes and hypertension? Why is hepatitis B more common in Asian and Pacific Islander populations? Why do Hispanics have higher rates of obesity than non-Hispanic whites?
And certainly, we are not just focused on disease. We are also focused on prevention. There are some positive things that we see in communities, such as why do Hispanics live longer than other Americans? We want to learn about that resilience gene.
How do you build the trust of underrepresented individuals so they are comfortable taking part in a federal health study? After all, the U.S. has a history of unethical research on minorities.
We are intentionally not shying away from these issues. Instead, we are partnering directly with key stakeholders who are our trusted community and provider organizations and participant partners.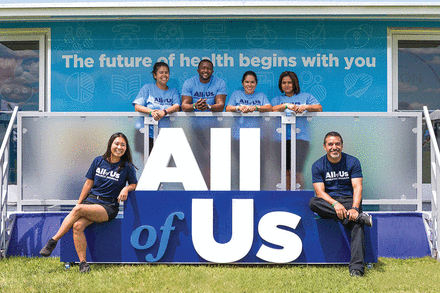 And we are acknowledging and addressing these realities head-on and sharing the progress that has been made to prevent these historic transgressions and breaches of trust that have happened in the past, such as human subjects protection, education and training, institutional review boards, and other laws and policies that protect human research participants.
But simultaneously, we must share the great news that research has the potential to be a powerful change agent — one with the potential to begin chipping away at the really unacceptable health disparities that we see in many communities.
And certainly at the All of Us Research Program, we are doing our level best, with both our words and our deeds, to make it abundantly clear that we are committed to helping those who have concerns understand that the only way we can learn more about, and hopefully one day eliminate, health disparities, is to have much more robust and diverse participation in research and clinical trials. You really can't have precision medicine for all if all of us aren't reflected in the research.
For more information on the All of Us Research Program, listen to our podcast, online at www.thenationshealth.org. To enroll in All of Us, visit www.joinallofus.org.
Copyright The Nation's Health, American Public Health Association