Missouri — home to more than 1 million teens and women of reproductive age — is down to its last abortion provider.
Over the years, Missouri has adopted a slew of laws and policies that restrict and stigmatize abortion, such as waiting periods, insurance restrictions and mandatory, in-person counseling for women seeking an abortion.
Mallory Schwarz, executive director of NARAL Pro-Choice Missouri, said the steady stream of unnecessary rules — referred to as targeted regulation of abortion providers, or TRAP, laws — has devastated abortion access in the state.
"We've seen our clinics close at an alarming rate," Schwarz told The Nation's Health.
In 2011, Missouri had five abortion providers. Today, the state has just one — a Planned Parenthood clinic in St. Louis that, as of late July, was contesting a decision by the state health department to deny its license renewal.
"We're doing everything in our power to not become the first state with no access to abortion," Schwarz said. "It's an unimaginable scenario to have to plan for."
In a year of extreme abortion bans, Missouri is a stark reminder that abortion is already out of reach for many women, especially for women of color, young women and poor women.
Advocates also warn that the recent wave of extreme state bans pose a newly heightened threat to the rights guaranteed under Roe v. Wade.
"They're a very big deal," said Elizabeth Nash, MPP, a state policy analyst at the Guttmacher Institute. "We're seeing more bans moving through legislatures than ever — and by ever, I mean since 1973 (when Roe v. Wade was decided)...These bans are setting the stage for the U.S. Supreme Court to have a real opportunity to revisit Roe."
This year, five states — Georgia, Kentucky, Louisiana, Mississippi and Ohio — passed bans that outlaw abortion after six weeks of pregnancy, which is often before many women know they are pregnant. Four of those bans have no exceptions for rape or incest.
Missouri passed an eight-week ban, Arkansas and Utah passed 18-week bans, and Alabama outlawed all abortion unless a woman's life is threatened. None of the bans have gone into effect, but all are being challenged in court, which Nash said is the intention.
"With a newly reshaped Supreme Court, conservatives at the state level have decided to move on an abortion ban," Nash told The Nation's Health. "But the regulatory attacks have kept coming too — and those laws been very effective at narrowing access."
Since 2010, states have passed more than 400 anti-abortion laws, including 46 this year, according to the Center for Reproductive Rights. Elisabeth Smith, JD, MA, chief counsel for state policy and advocacy at the center, said the persistent barrage is creating "abortion deserts across the U.S."
In April, for example, the center petitioned the Supreme Court to strike down a Louisiana law requiring that abortion providers have admitting privileges at a hospital within 30 miles. If the law is allowed to stand, Smith said it will likely force two of the state's three abortion clinics to close.
The Supreme Court struck down a similar requirement in Texas in 2016 — calling it an undue burden on the right to an abortion, while providing little, if any, health benefit — but not before half of Texas' abortion clinics were forced to close.
Today, Smith said, 90% of U.S. counties have no abortion provider and six states have only one abortion clinic left.
"As opposed to directly challenging Roe, many states are gutting the right to abortion by passing law after law that makes abortion impossible to access," she told The Nation's Health.
Some states moving to protect rights
Fortunately, not all states are moving to restrict access. In fact, several are moving in the opposite direction. Thirteen U.S. states have laws on the books protecting the right to an abortion, according to the Guttmacher Institute. Laws in Oregon and Vermont protect the right to abortion throughout pregnancy, while the 11 other states protect abortion prior to fetal viability.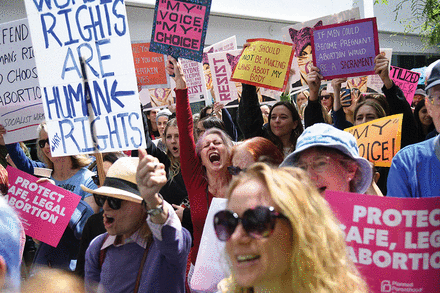 Some of those laws have been put into place recently. Just this year, several states — Illinois, Maine, Nevada, New York, Rhode Island and Vermont — passed laws reaffirming the right to abortion or expanding access. In Maine, Gov. Janet Mills signed two laws in June to expand access — the first allowing nurse practitioners, physician assistants and other clinicians to perform abortions. Previously, only physicians were allowed. The second expands abortion coverage in private insurance and Medicaid.
Cait Vaughan, community organizer at Maine Family Planning, which operates 18 family planning clinics across the state, said the laws will immediately expand abortion access.
For example, clinics will no longer have to rely on telemedicine to connect physicians to patients seeking a medication abortion. Instead, nurse practitioners and other advanced practice providers can carry out the care directly.
The insurance expansion makes Maine the 16th state to cover all or nearly all abortion care for Medicaid patients, circumventing the federal Hyde amendment that bans federal funds for abortion by using state funds instead. Vaughan said advocates in the state had previously mounted a legal challenge to the Medicaid exclusion, but a change in the state's political makeup made advocates go directly to the legislature, where they were ultimately successful.
"It's really a testament to what a difference elections can make," she told The Nation's Health. "People really went to bat for this. A lot of ordinary people came out and shared their abortion stories, which helped make this possible."
Even in hostile climates, expanding access is possible, advocates in Texas have found. After years of targeted abortion regulations, Texas' family planning safety net is a fraction of what it was. Since 2011, state lawmakers have slashed family planning funds and kicked Planned Parenthood out of the state Medicaid women's health program. In the aftermath, a quarter of the state's family planning clinics shut down, and 147,000 women were left without care.
Despite the barriers, Planned Parenthood was able to open a new health center in El Paso, returning last year after a 10-year absence, notes Sarah Wheat, MPA, chief external affairs officer at Planned Parenthood of Greater Texas.
"We have support from the communities we serve," Wheat told The Nation's Health. "As long as there's a need for our services, we'll be here to provide them."
For more on recent abortion laws, visit www.reproductiverights.org or www.guttmacher.org.
Copyright The Nation's Health, American Public Health Association