Brett Giroir, MD, is assistant secretary for health at the U.S. Department of Health and Human Services, which oversees an ambitious new health initiative, "Ending the HIV Epidemic: A Plan for America." Announced in February, the federally led plan seeks to reduce new HIV infections by 75% in the next five years and by 90% in the next decade by concentrating on high-risk regions in the U.S. The initiative partners with local and state health agencies to systematically test for HIV, expand access to pre- and post-infection medications, and respond quickly to potential outbreaks.
Why is the time right to launch this program?
I think that's one of the most important questions, because it's a combination of both scientific questions, including epidemiological and medical, but also a leadership question.
No. 1, antiretroviral therapy has been totally transformed. Now we have multiple regimens that are one pill a day so that nearly all patients can achieve viral suppression. We also know that PrEP, pre-exposure prophylaxis, is highly effective at preventing sexual transmission of the disease. We also know that non-detectable is non-transmissible, so actually not only is PrEP effective, but that treatment is prevention.
We also know that the epidemic is relatively circumscribed to 48 U.S. counties, San Juan, (Puerto Rico,) and Washington, D.C. They have about 50% of the new cases, and so we don't have to deal with 3,000 counties. We deal with a much smaller number.
And of course we want to focus not just on urban areas, but rural, which is why we also focus on several states in the South.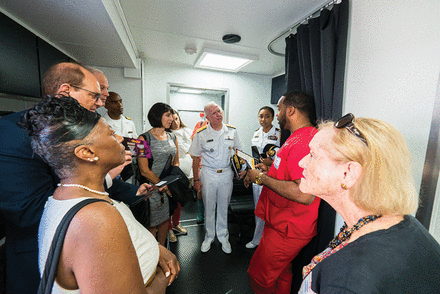 But the real reason for "now" is because a group of people got together in the leadership within HHS.
What has happened since "Ending the HIV Epidemic: A Plan for America" was announced in February?
We've been very active, because one thing we were adamant about is we didn't want to have an announcement by (President Donald Trump) in February and then have nothing done until the new budget year, so we have planned and have been very active working within jurisdictions and communities.
"We're seeing the natural conclusion, and that is the end to this epidemic. We can essentially eliminate HIV from this nation, and hopefully around the world, to get it to very small numbers."

— Brett Giroir
Our latest total (as of mid August) shows we have interacted with 29 different jurisdictions, including 13 site visits and 42 listening sessions, because we really want to listen and learn and interact with the community.
This is not us coming to Jackson, Mississippi, and saying, "This is the way to do it." We're here to listen and learn.
This is really very important, because what we want is the communities to come together to understand what's right in their communities — that they have the resources to do those planned grants so that when the money becomes available, hopefully with the new budget, that they're ready to spend it and to actually start implementing in their community plan.
In addition to that, we've awarded $6 million to four jurisdictions for pilot sites. That's DeKalb County in Georgia; Baltimore; East Baton Rouge, Louisiana; and the Cherokee Nation of Oklahoma.
These places met predefined criteria, and have made progress in this regard and have certain standards. We want to jump-start their effort, not only to get those communities started — but that they can serve as exemplars that all of the communities can learn from and we can learn from, as well.
So we're not just sitting on our hands. We're not waiting for new money. This is a serious initiative. We have all been on the road. Me, others and particularly Dr. (Robert) Redfield (head of the Centers for Disease Control and Prevention) have been out there working in communities.
And finally, we've assigned officers — (U.S. Public Health Service) Commissioned Corps officers to regions four, six and nine in Atlanta, Dallas and Los Angeles. I believe there are three officers per site. These are highly qualified officers who are going to be there working almost exclusively on the HIV implementation programs in their regions.
When will health agencies actually be seeing patients and prescribing — doing real boots on the ground work?
Well, of course, we hope things are happening now, and I think by talking about it and having the president talk about HIV, again, it raises awareness, decreases stigma.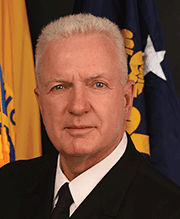 We talk to professional organizations all of the time about the importance of HIV screening. We're instituting HIV screening and PrEP referrals through all our Title X clinics. We're integrating it with sexually transmitted infection clinics, so a lot of things are happening right now at this moment.
So I don't want to just say it's all going to happen in the future, but clearly if the budget is funded and we get nearly $300 million — $291 million in new money — that's when the effort is really going to start taking place. We look forward to that in the next couple of months.
We hope that the funded grants will enable communities to really make serious plans, to put some money in, to put some thought in and put some modeling in. So that's kind of the state where we are right now.
Where do you see the program being in a year or two?
I think we're going to be rocking and rolling in a year or two, because the momentum is gathering.
And I want everybody to understand that if we're successful, the number of HIV diagnoses will double or triple in the next two years because that means we'll be reaching people who have not been reached. Instead of waiting three years, four years, five years, seven years for their diagnosis, they're going to be reached within the next six months to a year.
The estimates are that about 160,000 people are now living with HIV who have not been diagnosed. So if you just start looking at that, I see the number of diagnoses going up.
I see the momentum going up. I see the country rallying behind this.
What drives you in this initiative?
Look, I've lived through this. When I was a late medical student and intern, I had a whole group of children who came in and died of HIV. There was no hope for them. They had hemophilia. They had renal disease. There was no treatment. There was huge stigma.
So I saw HIV at its onset before we knew what it was, when it was just a death sentence. Now we've transitioned this to, in most cases, a true chronic disease. If you can get into treatment and take your medicine, your life span is almost normal.
Now we're seeing the natural conclusion, and that is the end to this epidemic. We can essentially eliminate HIV from this nation, and hopefully around the world, to get it to very small numbers.
And everyone here at HHS (is) incredibly excited and humbled by the opportunity.
I feel it's my moral obligation to do it. That's what's driving me, and also the motivation of all of the people around me who have worked their careers to get to this point. So I'm just really honored to be part of the team working with such great people, and I'm happy to do my part to make this happen.
— Interview conducted, edited and condensed by Mark Barna
For more information on "Ending the HIV Epidemic: A Plan for America," visit www.hiv.gov.
Copyright The Nation's Health, American Public Health Association