Air travel has become so efficient that an adventurous person could visit the world's seven continents within days. Such a traveler could also, in theory, spread a dangerous pathogen to every continent in that same short time.
The importance of preparedness for a global infectious outbreak motivated the World Health Organization to spend a decade rewriting its International Health Regulations, which gave WHO the ability to declare a public health emergency of international concern for an infectious disease outbreak, among other measures. The regulations took effect in 2005, and WHO has invoked the PHEIC declaration six times since, most recently on Jan. 30 to address the ongoing coronavirus outbreak that began in Wuhan, China, in December.
But debate has followed the WHO declarations from the start. Perceived delays in declaring an emergency — or decisions not to declare one at all — have been ongoing criticisms. And there have also been questions over whether a PHEIC actually accomplishes what it was designed to do.
In response, some global health leaders are calling for a reassessment of the 15-year-old regulations and the decisionmaking process leading to a PHEIC.
Among the reform advocates is WHO's own emergency committee, a group of public health and medical experts who recommend to WHO's director-general whether to make a declaration. On Jan. 23 — at a time when 600 cases of COVID-19 had been identified globally, with most cases in China — committee members announced they were split on a PHEIC recommendation on the outbreak. In a public statement, members said "WHO should consider a more nuanced system, which would allow an intermediate level of alert."
"There does seem to be something not working with our current system for declaring global health emergencies," said Steven Hoffman, PhD, JD, MA, a professor of global health, law and political science at Toronto's York University, who is not a member of the emergency committee. "I think there is disagreement about how (a PHEIC) should be used."
The 2005 International Health Regulations update was designed to improve global surveillance of emerging infectious diseases, representing a major advancement in international law and global public health. Over 190 countries adopted the regulations, legally binding member nations to have adequate public health and surveillance mechanisms in place. In addition, member nations must report emerging infectious diseases to WHO that could spread internationally, and develop a plan for containment, such as border screening or quarantine.
The regulations state that WHO's director-general can declare a PHEIC for "an extraordinary event" that constitutes "a public health risk...through the international spread of disease" and requires "a coordinated international response."
A PHEIC gives WHO authority to make formal recommendations to contain an outbreak. The declaration is intended to raise public awareness and can galvanize funding, expertise and resources from other member nations, said Lawrence Gostin, JD, an international health law professor at Georgetown University.
In July 2019, a PHEIC was declared for the Ebola outbreak in the Democratic Republic of Congo. Over the next seven months, more than $155 million was donated by countries and entities to address the crisis — an increase of over $40 million compared to donations in the 12 months preceding the PHEIC, according to WHO.
This year, on Feb. 5, less than a week after a PHEIC was declared on the COVID-19 outbreak, WHO called for $675 million to fund a public health strategy to respond to the outbreak. Days later, the U.S. said it would give up to $100 million to fight the disease.
But while a PHEIC offers positives for funding and mobilization, it also has limitations. A PHEIC does not automatically provide funding, and it cannot enforce member countries to comply with the International Health Regulations, Gostin said.
"You could say from a legal point of view, it is toothless," Gostin told The Nation's Health.
Moreover, factors other than science play a role in decisionmaking. Before declaring a PHEIC, a WHO director-general would likely consider the economic impact of trade and travel restrictions, said Jennifer Nuzzo, DrPH, SM, associate professor of global health at the Johns Hopkins Bloomberg School of Public Health and senior scholar of the Johns Hopkins Center for Health Security. A director-general might hold off on a declaration at the behest of a country wanting to avoid economic fallout.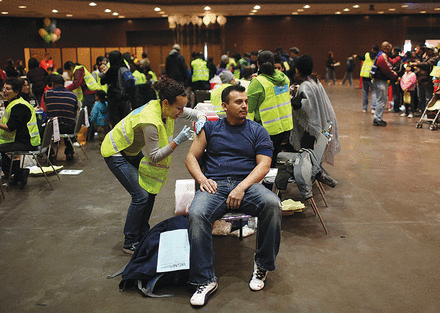 "They believe it is bad for countries in crisis and could hinder WHO's partnership with the country, particularly if done as an easy hammer to wield," Nuzzo told The Nation's Health.
WHO was criticized for causing undue public fear when it declared its first PHEIC in 2009 for H1N1, also known as swine flu. Several years later, some thought WHO stumbled for not calling a PHEIC for the 2013-2015 Middle East respiratory syndrome outbreak, which caused nearly 600 deaths. In 2018 and 2019, the emergency committee met four separate times over months before the director-general declared the PHEIC on the Ebola epidemic in the Democratic Republic of Congo, generating questions about the decisionmaking process.
In an unpublished analysis of the first five PHEICs since 2005, Nuzzo and colleagues found that WHO does not consistently apply International Health Regulations criteria when making a PHEIC decision.
"Sometimes they don't say in the reporting even if the criteria was met," she said.
In a 2018 study in the American Journal of Public Health, researchers examined PHEIC declarations for H1N1 in 2009, Ebola in West Africa in 2014, and Zika in Latin America in 2016. They found quicker WHO responses when U.S. citizens were infected and delayed responses when outbreaks worsened over holidays, suggesting staff availability plays a role.
"According to International Health Regulations, it is clear that the director-general has discretion on when to call a public health emergency of international concern," said Hoffman, lead author of the study. "But if the legal criteria are met and people wonder whether or not it might be called and what shadow criteria might be applied, then the system is not as useful as it could be."
Given the controversies, some global health leaders want a formal review of the declaration and of the 2005 regulations in general. And a subset back WHO's emergency committee in considering a new alert level.
An intermediate alert might be used when circumstances do not rise to the level of a PHEIC, emboldening WHO to take major action sooner to fight emerging infectious diseases, Hoffman said. That could translate into saving more lives and containing an outbreak faster.
"Because there is no gradation, there is a hesitance to flip the switch, even when it is clear that an international coordinated response is needed," Hoffman said.
WHO's internal grading system for operational response to public health issues, set forth in its "Emergency Response Framework," might serve as a template for intermediate response, Hoffman said. Grade 1 is limited oversight of an event managed by a country's health system, Grade 2 is moderate oversight and external support, and Grade 3 is major oversight and external support.
"It would be easy to adapt that system to also consider the response and operational capacity needed from other entities," Hoffman said.
For several years, Gostin and other health leaders have advocated for an intermediate alert. It would give WHO "a tool to be more subtle and nuanced in its response," Gostin said. An intermediate alert would require renegotiating the 2005 regulations with all member nations — a bridge Gostin thinks WHO may not want to cross now.
While adding an alert seems like an uphill battle, there is some agreement for a review of the regulations. Nuzzo said it is time for a formal examination and for WHO to standardize its PHEIC response. If member nations think PHEIC decisionmaking is overly political and arbitrary, Nuzzo worries that noncompliance will become a problem.
Michael Baker, a WHO consultant on emerging infectious diseases who helped develop and implement the 2005 regulations, said a review was needed but in general supported the current PHEIC protocol.
"I would argue it is already nuanced because at every point there is judgment," Baker, a global public health professor at New Zealand's University of Otago-Wellington, told The Nation's Health. "And if something reaches a threshold for a PHEIC, there is also huge potential to adjust the response.
"But there is a high need to review (2005 IHR) now that it has been around for 15 years to see where it needs to be fine-tuned," he said. "And that is what you would expect from a system as comprehensive and complex as this."
For more information, visit www.who.int/ihr.
Copyright The Nation's Health, American Public Health Association