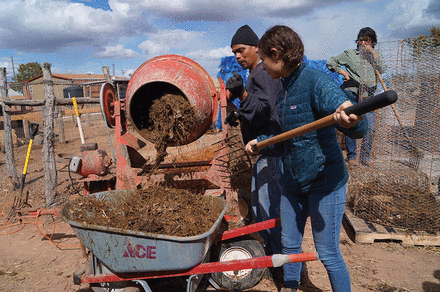 Foundations do not usually collaborate, even when the institutions have common interests and goals. But that is not the case for two major U.S. foundations focused on climate, health and social equity.
The Kresge Foundation and Robert Wood Johnson Foundation are exchanging ideas, reviewing each other's plans, sharing staff and collaborating at conferences to help ensure smooth operations and success of their respective public health and climate funding projects.
"Though we have separate funding, we are very aligned to what we are doing," said Alonzo Plough, MA, MPH, PhD, chief science officer and vice president of research, evaluation and learning at RWJF.
Both foundations are funding multiple projects devoted to fostering community resilience and improving health equity, responding to mountains of scientific evidence confirming that climate change is harming human health. The projects use a community-based approach to better understand health and climate, then build on the knowledge to advance human health outcomes.
"Climate change is a major threat to any vision of an equitable health future to anyone in the country or around the globe," Plough told The Nation's Health. "We recognize that climate change is the No. 1 health issue threatening the world. It is also a health equity issue that impacts marginalized communities the most."
The Kresge Foundation's health and environment programs are involved in a multi-year effort dedicated to building climate resilience through policies and practices that also improve community health. For several years, Kresge has had two national health and climate programs underway: one helps health systems and local health departments promote climate resilience and advocate for climate policies, and a second educates health care and public health practitioners on climate change's human health impact.
Launched in January 2019, Kresge's third national program is the Climate Change, Health and Equity Initiative, which is funding 15 organizations as they develop work plans to expand advocacy efforts in climate, health and equity.
"They are tasked with identifying policies in the places in which they work that would accelerate climate resilience and reduce health inequity," Shamar Bibbins, Kresge senior program officer of environment, told The Nation's Health.
In February, APHA staff joined Kresge grantees in Atlanta for discussions on the urgency of climate and health action across communities, health care systems and practitioners.
"I walked away from the convening with a sense that Kresge Foundation's multi-strategy approach aims to build power to promote equity and spur social change to address the health impacts of climate change," said Surili Patel, MS, director of APHA's Center for Climate, Health and Equity, who serves on the Kresge Foundation's Climate Change, Health and Equity Advisory Committee.
Among the work funded by the Kresge Foundation grants is Physicians for Social Responsibility in Los Angeles. Established in 1980, PSR-LA advocates for policies and practices that improve public health and reduce health disparities. Its early years focused on educating the public about dangers of nuclear war and weapons. In the 1990s, PSR's Los Angeles office broadened its work to include environmental issues. Today, a large share of its work involves climate and health.
PSR-LA provides support to physicians and health professionals who want to connect their experience and education to environmental policy objectives. The organization uses a variety of tools to impact public policy outcomes, including policy development, legislative education, media advocacy and litigation.
Another program receiving a Kresge planning grant is the Coalition for Environment, Equity and Resilience in Houston, Texas, made up of over 20 nonprofits that came together in the aftermath of Hurricane Harvey.
The hurricane struck Louisiana and Texas in August 2017. Flooding in the Houston area contaminated water and land systems and damaged homes, particularly in low-income communities. The coalition works to influence Houston decisionmakers and promote equity and resilience. Of particular interest is improving housing policies in disadvantaged neighborhoods.
"I think they are doing some fantastic work," Bibbins said. "The city is in the process of developing a climate action plan, so they are really in a square dead-on position to influence what the city actually puts in that climate action plan."
In October, 12 of the 15 organizations will receive Kresge funding for three years to implement their work plan.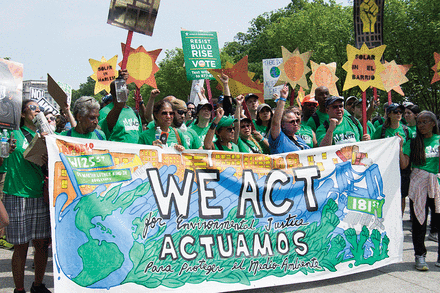 "Overall, we are looking to increase public support and political will that will drive the adoption and implementation of climate policy and programs and investments at the local and regional level," Bibbins said. "The goal is that programs will improve pubic health for low-income urban communities."
The Robert Wood Johnson Foundation also is funding several health and climate programs. One is the Health and Climate Solutions project, which is supporting seven organizations with two-year grants. Six are receiving $350,000 and one is receiving $200,000, Priya Gandhi, MS, RWJF research associate, told The Nation's Health.
Similar to Kresge's program, RWJF's grantees already have a strong track record of effective climate, health and equity advocacy, but they are in need of funding to expand their work.
Each grantee seeks to achieve three goals: create opportunities for better health, advance health equity and develop ways to lessen the impact of climate change on people, Plough said. The programs develop and amplify the evidence around a set of approaches that improve community health and well-being and advance health equity.
Understanding each program's community-driven method for success is a big part of the Health and Climate Solutions project.
"We are studying them to understand how they were able to make a change both in broader awareness about the impact of climate on health, particularly as an equity issue, and more awareness of the critical importance of addressing climate change," Plough said. "We make sure we can disseminate and share the knowledge from our grants to catalyze other activities."
The community-based programs are focused on air quality, energy sources, transportation and mobility design, food and water systems, housing, health systems, and other areas related to health and the environment.
One grantee is the Alaska Native Tribal Health Consortium in Anchorage, Alaska. Climate change is causing rising seas and melting permafrost, and some Alaska coastal villages are now puddled in salt water, polluting fresh water storages. Meanwhile, village land is eroding and damaging infrastructure. The consortium is evaluating the health impact of installing portable water sanitation systems in 69 homes in two low-income coastal Alaska Native communities.
As seas continue to rise globally, the work could offer ways to help people at coastal sites in the continental U.S.
Another grantee is the City of Austin for its Green School Parks program, a collaboration between Austin schools, the Parks and Recreation Department and two Texas universities.
Climate change is creating higher temperatures in many parts of the U.S., including Texas, causing heat stress and other heat-related human health problems. Higher temperatures can also mean children and adults stay in their homes more, getting less exercise.
Three elementary schools have been chosen for the Green School Parks program. All are in low-income Hispanic neighborhoods with little green space and few sidewalks. Workers are planting trees and gardens in school playgrounds to create a shady canopy to lower daytime temperatures.
In addition, several grantees in the Health and Climate Solutions project are developing better agriculture practices to improve the quality of crops, enrich soil, reduce the climate footprint of agriculture, and fortify crops to withstand flooding, drought and heat caused by climate change.
One of the agriculture programs is the Covenant Pathways Health and Climate Solutions project in Vanderwagen, New Mexico. Based on a Navajo reservation, it is centered at Spirit Farm, a working demonstration agriculture site involved in soil conservation and restoration. The work is important because much of U.S. soil has been degraded by agriculture, and better soil means healthier crop production.
Covenant Pathways is led by Navajo people who teach regenerative agricultural practices to traditional Navajo farmers at a time when climate change is making agriculture difficult in the region. As Navajo farmers learn modern farming and conservation, scientists are also learning as well.
At Spirit Farm, organizers "value guardianship of the land, including the soil, as something sacred," Ed Maibach, PhD, MPH, director of the George Mason University Center for Climate Change Communication, said in a blog post after a recent visit to Spirit Farm. The center has an RWJF grant to provide strategic communication and administrative support to the seven grantees.
"It's a powerful reminder of the humbling and perhaps most fundamental insight Native American culture shares with the social determinants model in the era of climate change, that our health and well-being are inextricably dependent on the health of the world we inhabit," Maibach wrote.
For more information on the Kresge program, visit www.kresge.org/CCHE. For more on the RWJF clmate program, visit www.rwjf.org. Learn about APHA's work on climate change and health at www.apha.org/climate.
Copyright The Nation's Health, American Public Health Association