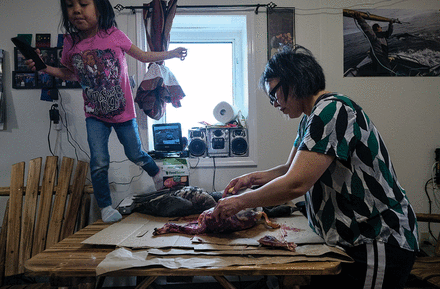 Not far from the Arctic Ocean in the middle of one of Alaska's busiest oil fields, the small village of Nuiqsut is at the epicenter of the climate crisis, facing threats from both the cause and effects of climate change.
"We're seeing it first-hand," said Rosemary Ahtuangaruak, an Inupiaq activist and member of the Nuiqsut City Council. "The amount of change we're going through is very concerning."
Nuiqsut is already experiencing shifts in the local environment, such as earlier thaws and warmer temperatures, which are making it harder to sustain traditional ways of survival, Ahtuangaruak said. Ice cellars, for example, which have been used for generations to safely store food in leaner months, are succumbing to erosion and flooding. Unseasonable weather is making it harder to dry fish and meat, and it is getting more difficult to hunt whales and caribou, both key sources of affordable food and nutrition.
"Because of the unique relationship that tribal communities have with the land, climate change poses a real threat to their ways of life."

— Ivana Castellanos
The town has grocery stores, but prices are high because everything has to be airlifted in.
"You could spend your whole paycheck and still not feed your family," Ahtuangaruak. an APHA member, told The Nation's Health. "And it doesn't even have the nutritional value we need for our harsh environment."
As climate change continues, tribal communities like Nuiqsut are especially vulnerable to its direct and indirect impacts. According to the U.S. Global Change Research Program, the changes threaten indigenous peoples' livelihoods and economies. Such disproportionate impacts, coupled with existing disparities in health and opportunity, make climate planning and adaptation critical.
"Because of the unique relationship that tribal communities have with the land, climate change poses a real threat to their ways of life," said Ivana Castellanos, MPH, a policy analyst at APHA's Center for Public Health Policy, which convenes the Tribal Public and Environmental Health Think Tank. "We have to do more to be inclusive of traditional knowledge as a valued resource in the fight against climate change."
At the National Indian Health Board, the Climate Ready Tribes Initiative, a program funded by the Centers for Disease Control and Prevention, has supported 10 tribes in conducting local climate work and research, according to Angelica Al Janabi, MPH, the initiative's public health project coordinator. Efforts range from climate-related health research to community outreach and education.
For example, Blackfeet Nation in Montana convened a climate-health advisory team of tribal representatives, and developed a climate communications plan to guide its outreach. The Swinomish Indian Tribal Community in Washington indigenized CDC's Building Resilience Against Climate Effects framework to make it more relevant to tribal needs and created modules fellow tribes can use. And the Lummi Nation, also in Washington, used funds to boost monitoring and education related to harmful algae blooms.
"In many ways, tribes are leading the way in this area," Janabi told The Nation's Health. "But at the same time, we do need more funding to maintain and grow this work."
In the northwest corner of California, traditional knowledge and practices are key to the Karuk Tribe's new climate adaptation plan, which it released last year. For example, the plan elevates traditional fire use as a solution to increasing wildfire risks, said Bill Tripp, deputy director of eco-cultural revitalization at the tribe's Department of Natural Resources. For a century, he said, the tribe has been prohibited from maintaining local forests using indigenous fire regimes and over time, that absence helped create the conditions for massive wildfires.
"What's unique about our plan is our proposal to once again embrace fire as a part of our natural system," Tripp told The Nation's Health.
The tribe's first demonstration project, created in concert with the new climate plan, is now underway and focuses on integrated fire management.
For more on tribal health and climate change, visit bit.ly/healthtribes. For more on the tribal think tank, visit www.apha.org.
Copyright The Nation's Health, American Public Health Association