Deaths caused by alcohol increasing
Alcohol-related deaths in the U.S. are on the rise, a new study reports.
More than 425,000 alcohol-induced deaths were identified between 2000 and 2016, with death rates accelerating among both men and women, according to the study, which was published in February in JAMA Network Open.
Using national vital statistics data on U.S. residents older than 15, researchers found that American Indian and Alaska Native men and women, as well as white women, experienced the largest increases in alcohol-induced deaths. Throughout the study period, deaths initially declined among black women and men and among Hispanic men, but went back up in later years.
In 2016, the study reported, alcoholic liver disease accounted for about 60% of alcohol-induced deaths among men and about 69% among women. Deaths from unintentional poisoning, exposure to alcohol, or mental and behavioral disorders due to alcohol accounted for nearly 36% of alcohol-induced deaths among men and about 28% among women. While rates of the deaths were generally higher in the western U.S., states nationwide reported increases.
"Reflecting on the consequences of alcohol-related morbidity and mortality throughout the age range, our findings document an urgent public health crisis calling for concerted public health action," the study said.
Advocates call for end to weight stigma
Weight stigma can harm physical and mental health and must be ended, according to a new statement from more than 100 medical and scientific organizations.
In a March paper in Nature Medicine, experts and advocates shared a joint international consensus statement and a Pledge to Eradicate Weight Stigma. The organizations — including the World Obesity Federation, American Diabetes Association, American Association of Clinical Endocrinologists and the Obesity Action Coalition — called for stronger policies against weight-based discrimination, and encouraged public health practices and campaigns that stay clear of messages that stigmatize people.
"Weight stigma is a public health problem, undermines human and social rights and is a major stumbling block in the fight against the epidemic of obesity," said lead author Franceso Rubino, MD, a professor at King's College London, in a news release.
The new statement also called on the media to produce fair and scientifically accurate portrayals of obesity that do not promote stigma.
"Weight stigma occurs in almost every aspect of our society, including the health care setting," said paper co-author Rebecca Puhl, PhD, deputy director for the Rudd Center for Food Policy and Obesity at the University of Connecticut, in a news release. "It is critical that efforts to address this problem include support and action from the medical community."
Nature tied to good feelings in children
Children who feel more connected to nature also tend to be happier, researchers reported in February.
In a study in Frontiers in Psychology, researchers surveyed nearly 300 children ages 9 to 12 from a city in northwestern Mexico on their connectedness to nature, participation in sustainable behaviors and their happiness. Overall, they found that kids who felt connected to nature had higher levels of perceived happiness and associations with behaviors such as altruism, equity and frugality.
"Environmental problems represent one of the most significant challenges humanity is currently facing and in such a scenario, children are important agents who could mitigate some of these environmental challenges," the study said. "In their actions and in the relationship they have with the natural environment lays the opportunity to solve those problems."
Black children have highest rate of ADHD
Black children are more likely to be diagnosed with attention-deficit hyperactivity disorder or a learning disability, according to new data from the Centers for Disease Control and Prevention.
In a March data brief from the agency's National Center for Health Statistics, researchers reported that between 2016 and 2018, nearly 14% of U.S. children ages 3 to 17 were diagnosed with ADHD or a learning disability. The rate among black children was nearly 17%, compared to 14.7% among white kids and about 12% among Hispanic children. Overall, children ages 3 to 10 were less likely to ever be diagnosed with ADHD or a learning disability, compared to about 18% of youth ages 11 to 17.
Among children ages 11 to 17, Hispanic children were less likely to be diagnosed with ADHD or a learning disability than black and white children. For kids whose families earned less than 100% of the federal poverty level, white and black children were more likely to be diagnosed than Hispanic children. Children with parents who had a high school education or less were more likely to be diagnosed with ADHD or a learning disability than children whose parents had more than a high school education.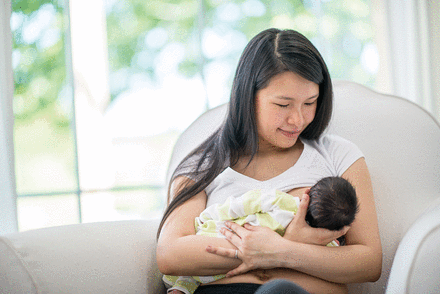 Nursing linked to lower diabetes risk
Breastfeeding can reduce the risk that women with a history of gestational diabetes will develop Type 2 diabetes later in life, a new study finds.
Published in February in Diabetes Care, the study is based on 25 years of data from more than 4,300 women with a history of gestational diabetes who took part in the Nurses' Health Study II. Overall, researchers found that longer durations of breastfeeding were associated with a lower risk of developing Type 2 diabetes.
In particular, women who breastfed for six to 12 months were 9% less likely to develop Type 2 diabetes, those who breastfed for one to two years were 15% less likely, and those who breastfed for more than two years were 27% less likely to develop the condition. Among women with gestational diabetes, longer breastfeeding was also associated with a favorable glucose metabolic biomarker profile
Sexual minority youth at risk for planning, thinking about suicide
Sexual minority youth report higher rates of suicidal thoughts than their heterosexual peers, a recent study found.
Using data from the Massachusetts Youth Risk Behavior Survey between 1995 and 2017, researchers found that suicidal thoughts and planning have declined overall among young people. However, the decline was significantly steeper among heterosexual youth than it was for sexual minority youth, according to the study, which was published in March in Pediatrics.
Prevalence of suicide ideation declined across the entire study period for sexual minority youth. Among heterosexual youth, a significant decrease occurred between 1995 and 2007 — declining much more sharply than it did for sexual minority youth — but plateaued from 2007 to 2017.
Regarding suicide plans, the same pattern occurred: Heterosexual youth experienced a sharper decline than sexual minority youth between 1995 and 2007, but then plateaued through 2017. The study noted that more than 85% of suicidal youth visited a primary care office in the last year but did not receive mental health care.
"Prioritized monitoring of trends in risk for suicide-related outcomes and screening of suicidal thoughts and behaviors in primary care settings for this vulnerable population is warranted and may be an important step to reduce disparities in these outcomes," the researchers said.
Copyright The Nation's Health, American Public Health Association
View Preview