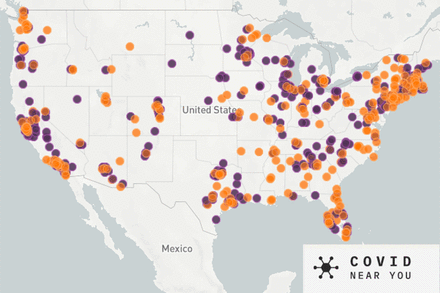 With Covid-19 Spreading rapidly this spring and local health workers facing surveillance gaps, researcher John Brownstein knew it was time to redeploy a technology he originally helped build to track another potential pandemic trigger — influenza.
"There's so much mild (COVID-19) illness in the community going unchecked, and it represents a huge amount of missing information," Brownstein, PhD, chief innovation officer at Children's Hospital Boston, told The Nation's Health. "We're flying blind in terms of our ability to understand the path it's taking through our communities."
To help fill the void, Brownstein and colleagues looked to Flu Near You, a crowdsourced disease surveillance tool they launched in 2012 that collects and maps self-reported flu-like symptoms. With research showing Flu Near You often captured data mirroring more traditional surveillance methods, Brownstein said it made sense to launch a sister tool to track the novel coronavirus, especially with so many cases going undiagnosed and contact tracing woefully behind.
So with help from volunteers at tech companies that included Google and Airbnb, COVID Near You launched in mid-March, with a goal of giving U.S. public health officials and residents another — and perhaps quicker — way of pinpointing ongoing and potential hotspots.
Within a month, COVID Near You amassed more than 800,000 voluntary participants across the U.S., Canada and Mexico, Brownstein reported, which far surpasses Flu Near You's participant high of 400,000. As of April, work was underway to build an accompanying public health dashboard, expected by June, to help local officials access and use the data.
"How are we going to understand how to get back to normal if we don't know what's happening?" said Brownstein, an APHA member. "This can help fill in those blanks."
With considerable gaps in testing, tracking and tracing hampering the U.S. COVID-19 response, tech innovations to help monitor and control the disease are popping up across the country, from tools that track where people are physical distancing to those that help hospitals predict and plan for increasing patient loads. In March, for example, Unacast, a location data and analytics company, released its Social Distancing Scoreboard, which uses smartphone data to measure reductions in travel distance at the county level and grades states on how well their residents are maintaining physical distancing. As of mid-April, the country as a whole was at a "C-."
In Washington state, researchers at Fred Hutchinson Cancer Research Center recently launched work on NextTrace, a survey-based contact tracing platform that local public health officials eventually will be able to deploy in their communities. Across the country at Penn Medicine, in March, researchers released COVID-19 Hospital Impact Model for Epidemics, or CHIME, an open-source tool to help hospitals plan for patient surges.
Millions of people around the world have been tuning in to Johns Hopkins University's COVID-19 Dashboard, which shares open-source data on incidence, testing, hospitalization rates and more. And Apple and Google announced work in April to use Bluetooth technology to help boost contact tracing capacity.
Leading science agencies are leveraging their technological know-how as well. NASA, for example, is lending its supercomputing and artificial intelligence expertise to the national COVID-19 response, calling on its workforce in April to brainstorm innovative ways to help. At the global level, also in April, the World Health Organization announced a partnership with the private sector to text critical health information to billions without internet access.
"A lot of people (in the technology sector) want to help but don't know where to start," said Bob Borek, chief operating officer at Datavant, a health data and technology company.
To help steer that energy in the right direction, Datavant, with support from APHA and other organizations, convened a Pandemic Response Hackathon in March, virtually bringing together experts from the technology and public health sectors to develop and jump-start tools to support response efforts and help keep community members engaged. The three-day hackathon hosted more than 2,000 participants and produced more than 200 projects. The goal was to use the round-the-clock event to produce a "minimum viable product," Borek said.
A few of the projects have already gone live, such as a lab testing dashboard to help officials predict where the next wave of hospital surges will happen. Other projects still in development as of April were Voice Over Virus, a social media-based campaign to amplify conversations about the social, personal and emotional impacts of COVID-19; and MyBubble, which helps people find new challenges and keep busy while physical distancing. Borek said events such as hackathons not only produce useful tools, they also help raise awareness about the complexities and challenges within health care that technologists may be particularly well equipped to help with.
"There are a lot of health workers on the front lines who are being forced to make really hard decisions without a lot of information," Borek told The Nation's Health. "I think there's a lot of value in the broader health and technology communities coming together to flank those providers and try to develop data sets and tools to help. I don't think there are any quick fixes, but I do think it's an extremely worthy endeavor."
While there is certainly value to engaging the technology sector in outbreak and pandemic response, it is also prudent not to let unproven methods overshadow the science, said Sean McDonald, JD, MA, a visiting fellow at the Duke University Center on Law and Technology and co-founder of Digital Public, which focuses on digital governance in the public interest.
For example, research during the 2014 Ebola outbreak in West Africa showed that location-based data from devices such as cellphones were not generally a good indicator of community transmission risk, he said. The finding highlights the risk of relying on untested data methods to deploy already- limited health resources, as well as the privacy issues that come with mining personal data, he noted.
Instead of focusing on population-based data modeling, McDonald said it may be more useful for many big tech companies to shore up their own gaps, such as plugging the online flow of misinformation and fake medical advice.
"We've already seen the cost of driving confidently ahead with weak science," he told The Nation's Health. "It's important that we don't let the technology jump ahead of the science."
To sign up for COVID Near You, visit www.covidnearyou.org.
Copyright The Nation's Health, American Public Health Association