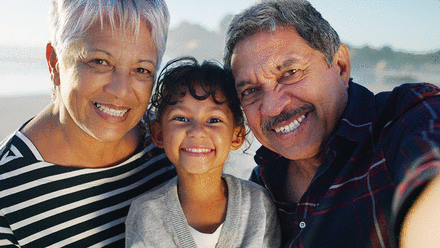 When it comes to reaching people in a community, no one is better at it than people who are there. That is why APHA's state and regional affiliated public health associations make ideal partners for the All of Us Research Program, which is working to reach often-missed populations.
During National Public Health Week in April, 32 APHA Affiliates raised awareness about the program in their regions, states and communities, bringing messages of inclusion to people that the All of Us program hopes to bring into its research.
"Our Affiliates are doing work on the ground," Lindsey Wahowiak, APHA's director of Affiliate affairs, told The Nation's Health. "They're able to connect with individuals in their communities in a way that big national organizations can't."
Launched in 2018 by the National Institutes of Health, the All of Us Research Program is working to recruit at least 1 million participants. Its goal is to expand precision medicine by including a more representative sample of Americans than is usually included in research data.
As of March, over 260,000 participants were completely enrolled in the program, and another 340,000 were in the process of enrolling. Thanks to a grant from APHA, its Affiliates are working to help boost those numbers.
"It is up to all of us — researchers, public health professionals, medical professionals and the general public — to push towards greater inclusion," said Minnesota Public Health Association member Kristin Moore, PhD, MPH, in an April 12 blog post.
Local knowledge can be key to reaching potential enrollees in the program, the Minnesota association found. Moore shared information on the association website because members found that their target audience tends not to use social media.
"We're known as a very healthy state, but we're also a state with substantial health disparity," Merry Grande, MPH, executive director of the association, told The Nation's Health. "And there's a lot of work to be done to overcome barriers and mistrust created by historical malpractice."
As National Public Health Week shifted to a virtual format because of the COVID-19 pandemic, APHA Affiliates harnessed the strength of digital media, webinars, e-newsletters and Twitter chats to convey their messages for National Public Health Week and to promote enrollment in the All of Us Research Program. For example, during webinars on professional development and on COVID-19, the Illinois Public Health Association used the opportunity to have speakers share information about All of Us and links with participants.
In Wisconsin, the association shifted its plans for face-to-face interactions to a virtual campaign.
"Our original plans were to hold in-person trivia and networking events around the state," Maggie Gruennert, CMP, education director at Wisconsin Public Health Association, told The Nation's Health. "With the pandemic, we had to cancel those in-person events. We instead opted to virtual communication through emails and social media posts."
Disparities during the pandemic underscored the need for better research data on health. In April, data from New York City showed that COVID-19 was about twice as deadly for blacks and Hispanics than whites. Chicago, Michigan and Washington, D.C., also reported higher death rates for black residents. The disparities have been linked to preexisting disparities, including access to health care.
"This is the stuff that All of Us is set up to manage, and it is more important than ever — COVID-19 is now the exclamation point on how important this is," Tim Gibbs, MPH, executive director of the Delaware Public Health Association, told The Nation's Health.
APHA is a community engagement partner in the All of Us program, joining 45 funded partner organizations and dozens of champion-level groups that work to raise its awareness. All of Us has over 100 funded partners.
Partner health care provider organizations, including community health centers, regional medical centers and locations run by the U.S. Department of Veterans Affairs, are also working to increase enrollment.
"Our Affiliates represent people that live in all 50 states and then some," Wahowiak said. "We are proud to partner with a program that will elevate care for everyone."
For more information on the All of Us Research Program, visit www.allofus.nih.gov.
Copyright The Nation's Health, American Public Health Association
View Preview