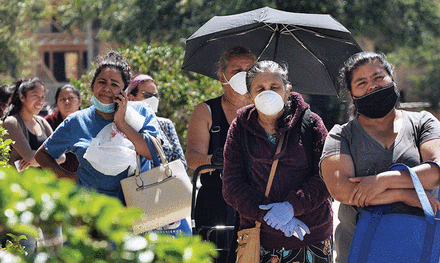 As the COVID-19 outbreak swept through America this spring, taking more than 100,000 lives and causing debilitating illnesses, a shadow pandemic was also underway, bringing its own devastation.
In March, as more Americans practiced physical distancing, the crisis hotline of Didi Hirsch Mental Health Services, a nonprofit mental health organization in the Los Angeles area, lit up with callers, with 20% expressing "suicidal desire," an organization report said. And in April, when 20.5 million people had lost their jobs, text messages to the federal disaster distress hotline spiked by over 900%, according to the Substance Abuse and Mental Health Services Administration.
For years America had been reeling from a steady rise in "deaths of despair," which are defined as deaths by suicide or associated with alcohol or drug use. Nearly 182,000 people died from those means in 2018. Then came the COVID-19 outbreak.
A May 8 report estimated 75,000 additional U.S. deaths of despair over the next decade. The projection was based on a model of the socioeconomic fallout from the coronavirus pandemic and continuing paucity of mental health services. The researchers acknowledged that if they had also modeled the mental stresses of social isolation and economic uncertainty, the estimate would have been higher.
"It is as if COVID has come in as a multiplier of social, economic factors that are making deaths of despair even worse," said Benjamin Miller, PsyD, chief strategy officer at the Well Being Trust foundation, which released the report with the Robert Graham Center for Policy Studies in Family Medicine and Primary Care.
The estimate, of course, is not America's definitive fate. Effective policies exist that show suicides can be reduced through gun safety laws and other means. New research indicates that health care settings offer an opportunity for increased surveillance of at-risk people. And technology can be harnessed by holding virtual office visits and group therapy sessions on conferencing sites to connect people with mental health professionals, expanding care.
In addition, the Coronavirus Aid, Relief and Economic Security Act, signed into law in March, includes $425 million for mental health services and provisions for expanding telehealth for those who qualify. But much more is needed.
"If you want to talk about the triplet separated at birth — primary care, public health and mental health — now is the time to invest robustly in them to give us the system we all deserve," Miller told The Nation's Health.
One promising national initiative is Project 2025, started five years ago by the American Foundation for Suicide Prevention, the largest organization of its kind in the U.S. The project includes a dozen partners pursuing a 20% reduction in suicides by 2025. Suicide prevention methods are being piloted and implemented across the country, including universal screening in health care settings for suicidal ideation.
Research funded by the National Institute of Mental Health, a project partner, shows that asking health care patients if they are suicidal is an effective intervention. Questions have been created for health care workers to ask patients, regardless if they show suicidal signs.
Studies show that the majority of people who have attempted or died by suicide visited a health care system in the weeks or months prior to their deaths, said Lisa Horowitz, PhD, MPH, staff scientist and clinical psychologist at NIMH.
"I'm talking about emergency departments, primary care offices, hospitals," she said. "And their suicidality goes undetected because most health care settings are not screening for suicide risk routinely.
"You may be the first person to ask a child or teenager about suicide, and now you have started the conversation," Horowitz told The Nation's Health. "The doctor or nurse can be the bridge to getting people the mental health care they need, or be the one to put a family on notice that a loved one is suffering."
"It is as if COVID has come in as a multiplier of social, economic factors that are making deaths of despair even worse."

— Benjamin Miller
Horowitz said it is a myth that asking about suicidal ideation plants a dangerous seed.
"It is actually the opposite," she said. "The best way to keep someone from killing themselves is to ask directly, 'Are you thinking of killing yourself?' Then listen when they answer, and get them help. Asking also de-stigmatizes suicide because it becomes part of the conversation."
Project 2025 also supports "red flag" laws, which give police authority to remove firearms from high-risk people, and tougher background checks and licensing processes for firearm purchases. Guns are used in nearly half of all suicides, which have increased 35% over the last two decades to about 47,000 annually, according to the Centers for Disease Control and Prevention.
"Suicide and guns share a fatal link," Mighty Fine, MPH, CHES, APHA's director of public health practice and professional development, told The Nation's Health. "While we must work to address the root causes of suicide, we have to acknowledge the role of gun access to truly curb this major public health issue."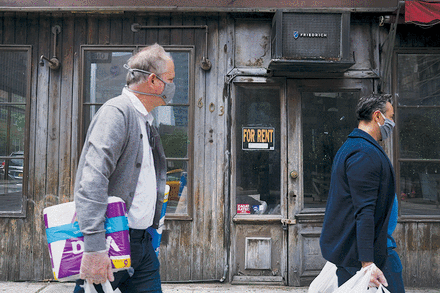 Mental health first aid offers support
During long-term disasters such as a pandemic, some people will buckle from the psychological toll, said George Everly, PhD, a disaster-relief psychologist with faculty positions at Johns Hopkins Bloomberg School of Public Health and Johns Hopkins School of Medicine.
The problem typically begins weeks or months after the pandemic's peak of infections and deaths, periods when deaths of despair usually rise.
"Expect this to get worse before it gets better, psychologically speaking," Everly told The Nation's Health in May.
To prepare to help people in distress, public health workers can learn simple techniques. Time-tested methods within the psychological field have been packaged into a variety of mental health first-aid training models.
"They are an evidence-based approach and very helpful," Luana Marques, PhD, president of the Anxiety and Depression Association of America and an associate professor of psychology at Harvard Medical School, told The Nation's Health. "Because of their simplicity, the programs can help anyone, even without mental health training."
At the Johns Hopkins Center for Public Health Preparedness, Everly created a first-aid training model called RAPID, or Reflective Listening, Assessment, Prioritization, Intervention and Disposition. Some people will need professional help to build resilience during the pandemic, but others will need only someone who cares and knows how to listen, he said.
"Sometimes all people need is an ear," Everly said. "They don't want you to fix the problem because the problem can't be fixed. They want to be heard. They want their story to be validated. And they want some glimmer of hope — that there is a light at the end of the tunnel that is not an oncoming train.
"We underestimate the psychological strength of people," he continued. "If we provide them with information, guidance, we will lessen the burden on the public health system and at the same time do a service to people through empowerment — they are taking care of themselves."
To learn more about John Hopkins' RAPID training, visit www.jhsph.edu. To learn more about Project 2025, visit https://project2025.afsp.org.
This article is the second in a series focused on violence prevention, which ties into the theme of APHA's 2020 Annual Meeting and Expo: "Creating the Healthiest Nation: Preventing Violence." Registration for the Oct. 24-28 Annual Meeting opens July 1.
Copyright The Nation's Health, American Public Health Association