Partner violence drops in Nicaragua
Women and girls in Nicaragua are reporting huge decreases in intimate partner violence, highlighting the importance of social movements that focus on women's rights and violence prevention.
In a study published in April in BMJ Global Health, researchers found that the percentage of women and girls in Nicaragua's second-largest city who reported experiencing such violence in their lifetimes dropped from 55% in 1995 to 28% in 2016. Women and girls reporting physical violence by partners in the preceding 12 months also decreased, from 28% to 8%, while reports of emotional violence in the prior 12 months fell from 43% to 23%. However, no difference was found in the prevalence of lifetime sexual violence.
To conduct the study, researchers compared interviews done in 2016 with almost 850 women ages 15 to 49 to data collected in 1995 from about 350 women. Over the time period, a movement to increase women's knowledge of their rights spurred Nicaraguan society to address violence against women and girls, leading to legislative and judicial reforms as well as collaboration among police, government ministries and organizations to protect and support victims.
"That Nicaragua, the second-poorest country in the Western Hemisphere, shows a comparable reduction in IPV to the U.S. is a stunning achievement," said study co-author Mary Ellsberg, PhD, executive director of the Global Women's Institute at George Washington University, in a news release.
Violence displaces millions of children
Violence and conflict are displacing record numbers of children worldwide, UNICEF reported in May.
In 2019, about 19 million children — more than ever before — were living in displacement within their own countries due to conflict and violence, according to the report "Lost at Home," which warned that the COVID-19 pandemic will likely make the situation worse. Internally displaced children typically lack access to basic services such as sanitation and are at risk for exploitation, abuse and trafficking, the global agency reported.
Twelve million new displacements of children occurred in 2019, according to the report, with 3.8 million of them due to conflict and violence and 8.2 million due to disasters such as flooding.
"Millions of displaced children around the world are already going without proper care and protection," said UNICEF Executive Director Henrietta Fore in a news release. "When new crises emerge, like the COVID-19 pandemic, these children are especially vulnerable. It is essential that governments and humanitarian partners work together to keep them safe, healthy, learning and protected."
For more information, visit www.unicef.org.
More work needed in herpes prevention
About half a billion people worldwide have genital herpes, a new study finds.
Published in May in the Bulletin of the World Health Organization, the study also found that 3.7 billion people have an oral herpes infection.
Overall, as of 2016, about 13% of the world's population ages 15 to 49 were living with herpes simplex virus Type 2, which is almost always sexually transmitted. Such infections disproportionately impacted women and people in WHO's African Region. That same year, about 67% of the world's population, from newborns up to age 49, had a herpes simplex virus Type 1 infection, which is mainly transmitted through oral-to-oral contact.
To conduct the study, researchers examined studies published between 2013 and 2018. They noted that the estimates highlight the need to scale up services to prevent and treat herpes.
"Current methods of prevention against HSV infection, such as the use of condoms or antiviral drugs by the infecting partner, are inadequate," the study stated. "These estimates for 2016 can inform the development and subsequent targeting of interventions to maximize the impact on morbidity and mortality, especially in low- and middle-income countries."
Mexico's soda tax lowers consumption
Just three years after Mexico's sugary drink tax went into effect, soda onsumption is down, researchers reported in May.
In 2014, Mexico instituted an excise tax of one peso per liter on sugar-sweetened drinks, which translates into a 10% price increase. In a study published in The BMJ, researchers examned the policy's impact, using years of data on soft drink consumption among 1,770 adults taking part in the Health Workers Cohort Study. They found that after the new soda tax, the probability of a person consuming no soda increased by almost five percentage points, while the probability of becoming a "low consumer" — or having one serving of soda per week — went up by more than eight percentage points.
Researchers noted that Mexico is home to some of the highest levels of diabetes, overweight and obesity in the world.
COVID-19 disrupts kids' vaccinations
As COVID-19 disrupts access to immunization programs, millions of children worldwide could miss out on lifesaving vaccines, global health officials warn.
According to UNICEF, as of late April, most countries had suspended mass polio vaccinations and 25 nations had put off measles campaigns in compliance with pandemic response restrictions. The interruption could exacerbate existing gaps and risks, the agency cautioned, noting that in 2018, more than 13 million children younger than age 1 had not received any vaccines at all.
As part of its response, UNICEF and its partners called on governments to sustain immunization programs, ramp up vaccinations after the pandemic ends, and start work now to ensure any future COVID-19 vaccine reaches all those in need.
"Children missing out now on vaccines must not go their whole lives without protection from disease," said Seth Berkley, MD, CEO of Gavi, the Vaccine Alliance, in a UNICEF news release. "The legacy of COVID-19 must not include the global resurgence of other killers like measles and polio."
For more information, visit www.unicef.org.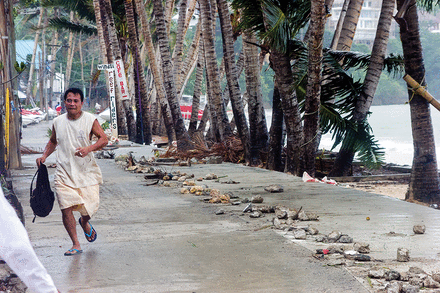 Disaster impacts trade networks
Urban trade networks can spread the impacts of natural disasters far and wide, a new study finds.
Published in May in Nature Sustainability, the study found that local economic impacts of disasters can set off secondary impacts across a city's production and trade network.
Using a model to estimate the spread of individual cyclone effects across the world's cities, researchers found that cities are vulnerable to economic harm even if they are located far away from where the cyclone occurred. For instance, regional cities that are dependent on urban networks for industrial supplies are more vulnerable to secondary economic impacts than larger cities such as New York City and Beijing.
"In addition to improvements in protective infrastructure, urban adaptation to storm damage and climate change might require modifications to trade network linkages," the study said.
Copyright The Nation's Health, American Public Health Association