Fewer adults think they are thriving
The percentage of U.S. adults who describe themselves as "thriving" has fallen to the lowest levels since the Great Recession.
Released in April, Gallup poll results found that about 49% of adults rated their lives high enough to be considered thriving, which represents the lowest percentage since the severe economic downturn of 2008.
Researchers interviewed about 20,000 adults between March 21 and April 5, asking them to rate their current and future lives from zero to 10 based on a well-being assessment tool known as the Cantril Self-Anchoring Striving Scale. People who rate their present lives as a seven or higher and their lives in five years as an eight or higher are considered thriving.
According to the poll, the April thriving rate is slightly down from earlier in March and down by 6.5 percentage points since October 2019. The decline in self-reported thriving was much greater among those ages 18 to 44, compared to older adults. The poll was held during the early weeks of safety restrictions in the U.S. because of COVID-19.
For the full poll results, visit www.gallup.com.
CDC: 4 in 10 teens have had sex
About 4 out of 10 U.S. teens have had sex, finds new data from the Centers for Disease Control and Prevention.
Between 2015 anjd 2017, 42% of never-married females ages 15 to 19 and 38% of never-married male teens reported that they had had sexual intercourse, according to a May data brief from the agency's National Center for Health Statistics.
Among the young men, the percentage represented a 17% decline since 2002, while the percentage among young women was similar to previous years. The brief is based on data from the 2002 through 2015-2017 National Survey of Family Growth.
As of 2018, the brief noted, the U.S. teen birth rate had dropped 72% from its peak in 1991, but it still remained higher than in other high-income countries.
For more information on the NCHS brief, visit www.cdc.gov/nchs.
Rates of foodborne illness have stalled
U.S. rates of foodborne illness are not improving and progress on controlling the health threats has stalled, a new study finds.
The study, published May 1 in the Centers for Disease Control and Prevention's Morbidity and Mortality Weekly Report, is based on 2019 data from the agency's Foodborne Diseases Active Surveillance Network, or FoodNet, which gathers data on confirmed illnesses caused by eight foodborne pathogens across 10 U.S. sites. When compared to 2016-2018 data, researchers found that incidence of infections caused by listeria, salmonella and shigella all remained unchanged, while those caused by pathogens such as campylobacter, cyclospora and vibrio increased significantly.
Overall, in 2019, the CDC surveillance network identified nearly 26,000 cases of foodborne infection, more than 6,100 related hospitalizations and 122 deaths. Researchers said the data indicate that the U.S. will not meet national Healthy People 2020 targets for reducing foodborne illness.
"FoodNet surveillance data indicate that progress in controlling major foodborne pathogens in the United States has stalled," the study stated. "To better protect the public and achieve forthcoming Healthy People 2030 foodborne disease reduction goals, more widespread implementation of known prevention measures and new strategies that target particular pathogens and serotypes are needed."
Blood pressure high in rural counties
Rural residents experience much higher rates of high blood pressure than their city peers, new research finds.
Overall, 40% of U.S. adults in very rural areas report having high blood pressure, compared to about 29% of people in the most urban areas, according to the May 8 study, which was published in the Centers for Disease Control and Prevention's Morbidity and Mortality Weekly Report. County-level prevalence of hypertension ranged from 18% to 55%, with the highest rates in Appalachia and the U.S. Southeast.
Use of hypertension medication was also higher in rural areas compared to urban ones, with the highest prevalence in southeastern and Appalachian counties, as well as in counties in Nebraska, North Dakota and South Dakota. The study is based on data from about 442,600 adults ages 18 or older who took part in CDC's 2017 Behavioral Risk Factor Surveillance System.
Researchers noted that risk factors associated with hypertension, such as smoking, obesity and lack of physical activity, also tend to be higher in rural communities.
"CDC is working with states to improve hypertension treatment and control through team-based care interventions that involve physicians, nurses, pharmacists, dieticians and community health workers," the study stated. "The increased use of telemedicine to support this strategy might improve the quality and availability of care among underserved populations."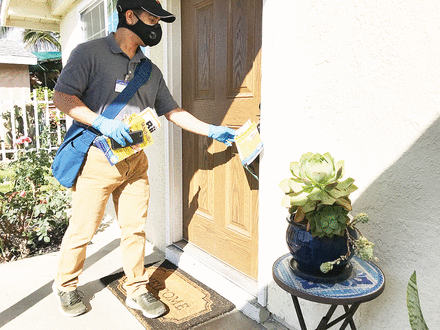 Virus forcing vector control cutbacks
The pressure and urgency of COVID-19 is forcing many underfunded local health departments to cut back on their more traditional duties, including vector control.
In a May report from the National Association of County and City Health Officials, researchers found that COVID-19 is having a significant impact on local capacity to monitor and combat mosquito- and tick-borne disease.
Impacts include losing staff to COVID-19 response, less surveillance testing due to laboratory constraints, and reduced outreach and educational opportunities because of physical distancing measures. The report is based on interviews with NACCHO's Vector Control Collaborative and Vector Control Workgroup.
At the same time, the report found vector control programs are finding ways to the fill the gaps, such as reaching out more through social media and using innovative mapping tools to prioritize high-risk areas. The report noted that tick-borne diseases hit a record high in 2017 in the U.S., with nearly 60,000 reported cases, and that warming climates are only expected to increase vector-borne disease risk.
For more information on the "Impact of COVID-19 on Local Vector Control Response," visit www.naccho.org.
More hot days for US farmworkers
U.S. farmworkers could experience double the number of unsafely hot workdays by 2050, a new study finds.
Using estimates from climate models, researchers found that the number of unsafely hot days in crop-growing counties will jump to 39 days per season under 2 degrees Celsius warming, which is projected by 2050. The number of unsafe workdays would rise to 62 under 4 degrees Celsius warming, which is expected by 2100, according to the study, which was published in April in Environmental Research Letters.
Farmworkers who pick crops currently experience about 21 days each year when the daily heat index exceeds workplace safety standards.
The study also found that, on average, heat waves will happen five times as often under 2 degrees Celsius of warming. Farmworkers already face greater health risks related to heat exposure, researchers noted.
Copyright The Nation's Health, American Public Health Association