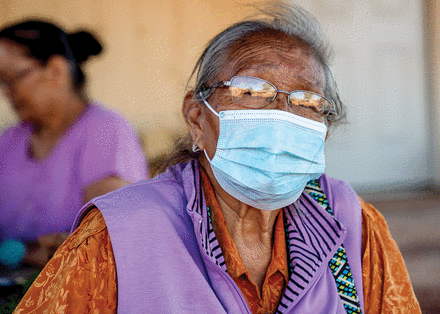 Tribal communities have long struggled with disparities in health and services, from higher rates of mental illness to less access to health care. The coronavirus pandemic is exacerbating those gaps, leaving American Indian communities struggling to contain the virus and its impacts.
"Higher rates of depression, higher rates of (PTSD), higher rates of substance abuse and higher rates of suicide — that is the baseline," said APHA member Donald Warne, MD, MPH, associate dean for diversity, equity and inclusion at the University of North Dakota. "That's where we are as the baseline. Then throw on top of it a pandemic."
Warne's comments came during a May media briefing hosted online by the Robert Wood Johnson Foundation that was organized to highlight the health and economic impacts of COVID-19 on American Indians. Such communities have experienced some of the highest per capita COVID-19 rates in the nation.
As of June 22, the Indian Health Service reported 17,700 positive cases of coronavirus among people at IHS, tribal and urban Indian facilities, almost 8,000 of which were in the Navajo Nation, which is located in Arizona, New Mexico and Utah.
COVID-19 is straining an already-frayed health system and further threatening the health of American Indians, Warne said. For example, despite already high rates of mental illness among American Indians and Alaska Natives and the added stress of COVID-19, mental health services remain scarce in many tribal communities, with no community mental health centers located on reservations.
Such gaps extend to medical care as well, with many tribal communities lacking the hospital resources needed to fight COVID-19, such as ventilators and intensive care units, if they have a hospital at all, Warne said. While American Indians and Alaska Natives have a legal right to care via the Indian Health Service, he noted that IHS lacks the funds to fully meet the needs of its communities.
Tribal communities also face a number of inequities that make COVID-19 control and prevention even more difficult. For example, he said, inadequate housing makes isolation and quarantine particularly impractical for some families, while limited public health capacity makes disease control especially challenging.
"In truth, I hope we don't get back to normal, because normal wasn't good enough for Indigenous peoples," he said. "We need to get back to better."
For resources, visit the National Indian Health Board's COVID-19 Tribal Resource Center at www.nihb.org/covid-19.
A version of this story was published on APHA's Public Health Newswire.
Copyright The Nation's Health, American Public Health Association
View Preview