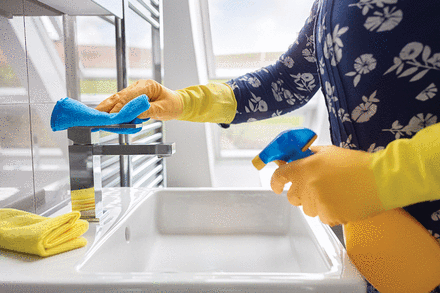 Disinfectants misused during pandemic
Many people do not know how to safely use cleaning products to protect against coronavirus, a new study finds.
Published in the June 12 issue of Morbidity and Mortality Weekly Report, the study is based on survey responses from about 500 U.S. adults. Overall, 39% of respondents reported engaging in at least one high-risk practice not recommended by health officials, such as washing food products with bleach, applying household cleaning or disinfectant products to bare skin, and intentionally inhaling or ingesting such products.
About 25% of respondents reported at least one adverse health effect during the prior month that they believed was related to cleaners or disinfectants, including sinus and skin irritation, dizziness, headache or breathing problems. Study authors noted that calls to poison control centers about exposures to such products have increased since the beginning of the COVID-19 pandemic.
Consumers did have some correct knowledge, with 68% recognizing that they needed to wash their hands after using cleaners and disinfectants, 73% knowing adequate ventilation was recommended, and 79% understanding cleaners and disinfectants should be kept out of children's reach.
"These data will allow for development and evaluation of further targeted messaging to ensure safe cleaning and disinfection practices in U.S. households during and after the COVID-19 pandemic," the study said.
Rubella connected to declining fertility
Fertility in Japan declined after the country experienced a large outbreak of rubella, according to a study in Emerging Infectious Diseases.
The study, published in June, examined the behavioral impacts of a major rubella outbreak in 2012-2014 that topped 12,600 cases of the vaccine-preventable disease. Japan is currently experiencing another rubella outbreak, which began in 2018, and as of April, had grown to about 5,300 cases. Rubella infections during pregnancy can lead to serious health consequences, including miscarriages, stillbirths and birth defects.
Using national birth data, researchers found that the timing of fertility declines in 2014 happened about nine to 13 months after peak rubella incidences in four jurisdictions with the highest rubella caseloads. They also found that peaks in rubella cases and Google searches for "rubella" were made in the four jurisdictions with the most rubella cases.
Authors attributed the fertility decline to voluntary decisions to delay pregnancy due to rubella risks.
COVID-19 health impact long-term
Based on the long-term health impacts of disasters such as Hurricane Katrina, officials should prepare now for the lasting effects of the COVID-19 pandemic, a new study finds.
Published in June in the Proceedings of the National Academy of Sciences, the study uses data from a prospective study of young, low-income mothers who survived Hurricane Katrina in 2005 to highlight the disaster-related stressors that could predict future health adversity. They found that bereavement, concern for loved ones, and lack of access to medical care and medications predicted adverse mental and physical health one year post-disaster, with some effects persisting up to 12 years later.
The results were the same even after researchers adjusted for pre-existing health and socioeconomic conditions.
"This burden may be unprecedented in scale because, unlike other disasters, the pandemic is not geographically bounded, and millions of people will be impacted," researchers wrote.
Low alcohol intake still harm to health
Even moderate and low-risk alcohol consumption can be harmful to people's health.
In a new study, published in June in the Journal of Studies on Alcohol and Drugs, researchers used an open-access model, the International Model of Alcohol Harms and Policies, to estimate alcohol impacts, along with data on hospitalizations, deaths and alcohol use in Canada. They found that people drinking within recommended guidelines — which call for no more than 10 alcoholic drinks per week for women and no more than 15 for men — experienced a significant portion of alcohol-caused death and disability.
For example, more than 50% of cancer deaths associated with alcohol use happened in people drinking moderately, while 38% of all alcohol-attributable deaths were experienced by people drinking below the weekly limits or among former drinkers.
Those drinking within the recommended guidelines experienced 140 more deaths and about 3,600 more hospitals stays than if they had chosen to abstain from alcohol.
Authors said the findings highlight that many countries may be recommending alcohol limits that are too high.
"Drinkers following weekly (low-risk drinking guidelines) are not insulated from harm," the study concluded.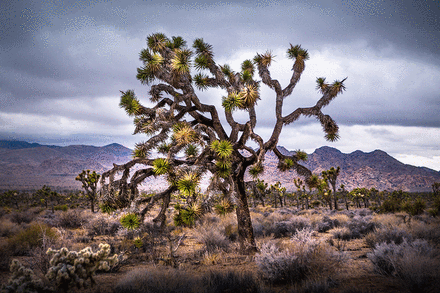 Microplastics found on US remote lands
Every year, more than 1,000 tons of plastic particles and fibers rain down on protected lands in the western U.S., according to a new study.
Published in June in Science, the study was based on high-resolution atmospheric deposition data and samples of microplastics and other particulates collected over 14 months in 11 national parks and wilderness areas. Researchers noted that microplastics are known to accumulate in wastewaters, rivers and oceans.
The study found that urban centers and soils or water are principal sources of wet-deposited plastics. Most of the plastics deposited in both wet and dry samples were microfibers from clothing and industrial materials, while about 30% of the particles were brightly colored microbeads likely from industrial paints and coatings. Other particles found were fragments from larger pieces of plastic.
Deposit rates averaged 132 plastics per square meter per day, which amounts to more than 1,000 metric tons of plastics ending up on protected lands throughout the U.S. West. Findings suggested that microplastics are small enough to get caught up in the atmosphere for cross-continental transport.
"Several studies have attempted to quantify the global plastic cycle but were unaware of the atmospheric limb," said study co-author Janice Brahney, PhD, MSc, a assistant professor at Utah State University, in a news release. "Our data show the plastic cycle is reminiscent of the global water cycle, having atmospheric, oceanic and terrestrial lifetimes."
Fossil fuel wells may impact preterm birth
Living near oil and gas wells can increase the chance of preterm birth, which is the leading cause of infant mortality in the U.S.
In a study published in June in Environmental Epidemiology, researchers examined 225,000 births among women living within six miles of oil and gas wells in California's San Joaquin Valley from 1998 to 2011. They found that women who lived near wells in their first and second trimesters were 8% to 14% more likely to experience a spontaneous preterm birth — or a birth that is otherwise unexplained — at 20 to 31 weeks of pregnancy.
The negative impacts of living near a an oil or gas well were strongest among women who were Hispanic, Black or had low education levels.
Copyright The Nation's Health, American Public Health Association
View Preview