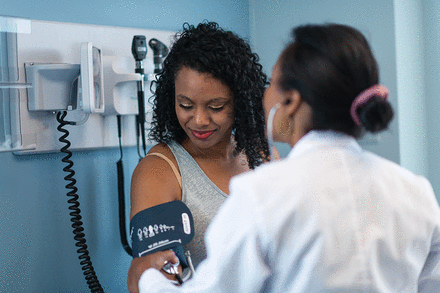 Chronic health factors have long been associated with hypertension, but a new study suggests racial discrimination also increases the risk of high blood pressure for Black Americans.
A growing body of evidence shows that racial discrimination has detrimental effects on the health of Blacks, including higher levels of stress and cardiovascular disease. Blacks are almost twice more likely to develop hypertension than whites, according to the American Heart Association. They are also less likely to have their blood pressure under control.
The new study, published in July in Hypertension, is one of the largest to suggest that discrimination may also lead to an increased risk for hypertension.
Researchers analyzed data from the Jackson Heart Study, a long-term research project focused on investigating the risks associated with high rates of heart disease in Blacks. As part of the study, nearly 2,000 Black participants underwent multiple medical assessments between 2000 and 2013. Participants, who were ages 21 to 85 and lived in the Jackson, Mississippi, area, self-reported their experiences with discrimination to researchers during interviews and through questionnaires.
The study found that participants who reported high or medium levels of lifetime discrimination were more likely to develop hypertension compared to those who reported low levels. During follow-up examinations, 52% of participants showed symptoms of hypertension.
While diet and physical activity are widely accepted as contributing to hypertension, "social factors such as discrimination have rarely been recognized as important risk factors within the health care setting," Allana Forde, PhD, MPH, a postdoctoral research fellow at the Urban Health Collaborative at the Drexel University Dornsife School of Public Health and the lead author of the study, told The Nation's Health.
Participants were diagnosed with hypertension if they met criteria identified by the American Heart Association.
"Our findings suggest that societal factors, not just clinical factors, should be considered as risk factors for hypertension to understand why African Americans have a higher risk of hypertension than whites in the United States," she said.
In light of the study's findings, Forde called for more attention on the way social factors can influence the health of Blacks.
"Understanding the unique social experiences of African Americans can contribute to improving the health of African Americans and reducing racial disparities in health," she said.
To read the study, visit www.ahajournals.org.
Copyright The Nation's Health, American Public Health Association