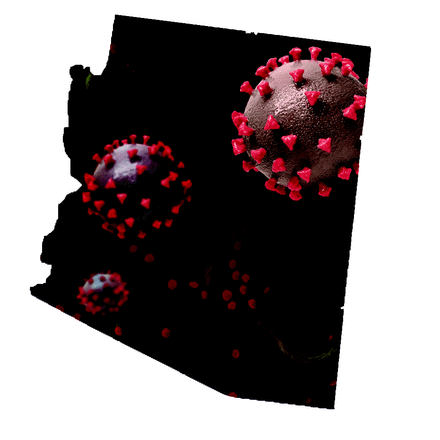 As the COVID-19 pandemic entered summer, states that neglected to follow science-based recommendations and reopened too soon struggled with spread of the virus. Among those states was Arizona, which saw cases counts skyrocket in June.
The surge was probably avoidable, Arizona Public Health Association Executive Director Will Humble, MPH, told The Nation's Health.
"Our state government was making good decisions until about the first week of May — and then something switched," said Humble, who previously served as director of the Arizona Department of Health Services. "We went from stay-at-home to free-for-all."
AzPHA, representing about 700 members, has been focused on COVID-19 since it arrived in the U.S. However, its work ramped up when the state started to diverge from science-based policy recommendations on controlling the outbreak. The state reversed a decision to keep stay-at-home orders in place and began reopening nonessential businesses such as dine-in restaurants, bars and salons in mid-May.
On May 5, the state suspended a partnership with the University of Arizona and Arizona State University on a model to predict the spread of the virus. The model suggested that the state should remained closed until at least the end of May. University partners were then instructed to pause operations and had their access to state data restricted.
On May 6, Humble was interviewed by MSNBC's Rachel Maddow, drawing widespread attention to the decision. The next day, the state announced its partnership with the two universities would resume.
"Sometimes you can gain ground with a soft word or a letter...and then sometimes it takes a little bad press," Humble said.
Since then, AzPHA members have built coalitions with other state health organizations and managed several high-profile wins for evidence-based policy. While as of July, Arizona lacked a statewide mandate on masks, AzPHA worked with the state's American Medical Association affiliate to have more than 1,200 doctors sign a petition urging the state to allow local ordinances.
"Building relationships with other stakeholders and knowing how to influence your policymakers is absolutely essential," said Humble, who is an APHA member. "It only took three days to get this done."
On June 29, Gov. Doug Ducey announced a 30-day closure of bars, movie theaters, gyms and other non-essential and high-risk businesses.
"We are not going back to normal anytime soon," Ducey said during a press event.
By late July, reintroducing restrictions appeared to have slowed the rising tide of cases. While lagging test results put an asterisk on exact figures, public health officials in the state said it might be an early indication that the virus spread was plateauing. Only time will tell, however.
"We are not arguing for another stay-at-home order, but we need to get back to following evidence-based policy," Humble said.
For more information on the association, visit www.azpha.org.
Copyright The Nation's Health, American Public Health Association