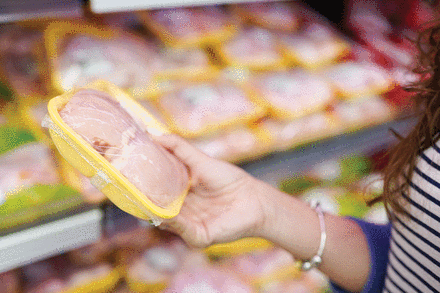 Salmonella risk high, needs guidelines
Current guidelines for stopping salmonella outbreaks are inadequate, new research finds.
While the poultry industry currently uses salmonella prevalence or positivity rates as an indicator of food safety, a study published in July in Risk Analysis found that many other factors, such as virulence, should be used in ensuring food safety as well.
In particular, the study found that even though meats such as ground chicken could have a lower salmonella prevalence than ground turkey, they could still pose a higher risk to health if the products are contaminated with greater numbers of more virulent serotypes of salmonella.
"When other risk factors were not held constant, salmonella prevalence was not correlated with risk of salmonellosis," stated the study, authored by Thomas Oscar, a researcher with the U.S. Department of Agriculture's Agricultural Research Service. "Thus, salmonella prevalence alone was not a good indicator of poultry food safety because other factors were found to alter risk of salmonellosis."
Instead, the study recommended a more "holistic approach" to poultry safety that considers factors such as salmonella serotype, virulence and incidence, undercooking and cross-contamination.
Gun violence costs health care billions
Gun violence costs the U.S. health care system $170 billion every year, a new study finds.
Published in August in the Journal of the American College of Surgeons, the study was based on data from 262,000 people who required at least one major operation for gunshot wounds between 2005 and 2016. Of the $170 billion yearly cost, $16 billion was for operations alone.
Over the study period, costs for gunshot-related hospitalizations went up more than 27%, while the amount of time patients spent in the hospital — a major cost driver — also increased. The percentage of fatalities went down, from 8.6% in 2005 to 7.6% in 2016, even though overall admissions for gunshot-related operations went up. Researchers also found that the severity of gunshot injuries worsened over the study period, with predicted survival decreasing from 81% to 79%.
People delaying care due to COVID-19
As of June, more than a third of U.S. adults had put off medical care due to COVID-19 concerns, a new study finds.
In a Sept. 11 study published in Morbidity and Mortality Weekly Report, researchers found that 41% of adults had delayed or avoided medical care, including 12% who avoided urgent or emergency care and 32% who delayed routine care.
Avoidance of urgent or emergency care was more prevalent among unpaid caregivers for adults, people with preexisting medical conditions, Black and Hispanic adults, young adults and people with disabilities. The study is based on surveys of about 5,400 U.S. adults conducted in late June.
Researchers said high rates of avoiding urgent or emergency care among Black and Hispanic adults was especially concerning, as those populations are also bearing the brunt of COVID-19 deaths.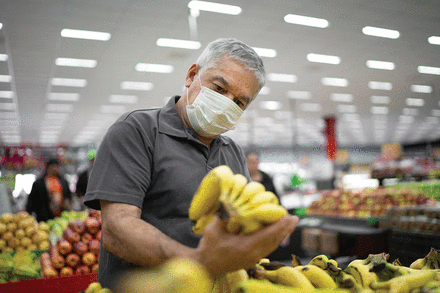 Blacks, Hispanics impacted by virus
Black and Hispanic Americans face greater mental health and economic challenges from the COVID-19 pandemic than their white peers, according to new survey findings from the Commonwealth Fund.
Of the more than 1,200 U.S. residents included in the multinational survey, more than half of Hispanic and nearly half of Black survey respondents said they had struggled economically during the pandemic and were unable to pay for basic necessities, had depleted their savings or borrowed money. Only 21% of white respondents said the same.
The survey results, released in September, also found that Black and Hispanic residents, as well as women, faced greater mental health risks than their white and male counterparts. Thirty-nine percent of women reported mental health concerns such as stress and anxiety, versus 26% of men. And 44% of Hispanics and 39% of Blacks reported such concerns, compared to 29% of whites. Forty-four percent of people living on lower incomes reported mental health concerns, versus 26% of those with higher incomes.
For more information, visit www.commonwealthfund.org.
Suicide up among kids, young adults
Suicides among children and young adults in the U.S. were rising even before the pandemic, according to data from the Centers for Disease Control and Prevention.
Published in September in the agency's National Vital Statistics Report, the grim numbers are based on data from death certificates from every state and Washington, D.C., among people ages 10 to 24 from 2000 to 2018.
Researchers found that the suicide rate was relatively stable from 2000 to 2007, increasing more than 57% from 6.8 per 100,000 people in 2007 to 10.7 per 100,000 in 2018.
Between 2007-2009 and 2016-2018, suicide rates among youth went up significantly in 42 states, ranging from an increase of nearly 22% in Maryland to more than double in New Hampshire. In 2016-2018, suicide rates were highest in Alaska.
Other states with high rates included Montana, New Mexico, South Dakota and Wyoming, while many of the lowest rates were in the Northeast, such as in New Jersey, New York and Rhode Island.
For more information, visit www.cdc.gov/nchs.
Tobacco campaign helped 1 million quit
More than 1 million U.S. adults have quit smoking thanks to the Centers for Disease Control and Prevention's Tips From Former Smokers campaign, which shares hard-hitting stories from real people with smoking-related diseases and disabilities.
In a study published in August in CDC's Preventing Chronic Disease, researchers found that the campaign led to more than 1 million adults quitting and about 16.4 million adults attempting to quit between 2012 and 2018. The study is based on surveys of U.S. adults who smoked cigarettes from 2012 to 2018, as well as their exposure to the CDC campaign.
Cigarettes kill more than 480,000 Americans every year and remain the country's leading cause of preventable death.
"The tips campaign effectively highlights the real-life consequences of smoking in a way that statistics cannot," said CDC Director Robert Redfield, MD, in a news release. "Personal stories from former smokers about the impact smoking has had on their lives have served an important role in helping others to quit."
Copyright The Nation's Health, American Public Health Association
View Preview