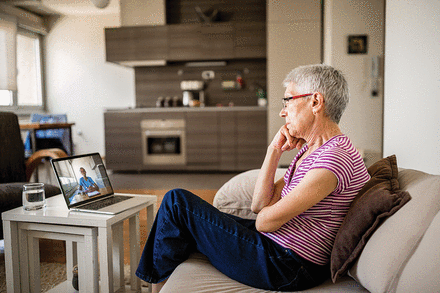 "They came in with a certain idealism. They were doing something to help people, so they accepted lower wages. But that has all changed."

— Brian Hepburn
Faced with loss, stress and never-ending uncertainty, the mental health of Americans has suffered during the COVID-19 pandemic. And at a time when mental health services were desperately needed, staffing shortages and barriers to access have complicated care.
Studies suggest that over 125 million Americans have struggled with mental health issues during the pandemic. Household surveys administered in 2020 by the Centers for Disease Control and Prevention found that 38% of adults were experiencing anxiety or depressive symptoms, up from 11% in 2019.
Almost 83 million people diagnosed with anxiety or depression were unable to access counseling services in 2020, a study published in June in Psychiatry Online found. About 42.9 million people with undiagnosed anxiety or depression had an unmet need for counseling, double the annual number in recent years.
Shortages in mental health services are widespread across the U.S., with the most underserved areas in middle America and the South, according to data from the Health Resources and Services Administration. The shortages impact an estimated 132 million Americans. More than 6,600 mental health practitioners are needed to fill vacancies.
Even before the pandemic, a years-long contraction of services due to budget cuts and turnover were creating a crisis. What began as a recruitment and retention problem among psychiatrists spread during the pandemic to the other licensed professions in behavioral health, said Brian Hepburn, MD, executive director of the National Association of State Mental Health Program Directors.
Some people who worked as nurses, counselors, psychologists and clinical social workers transitioned to higher paying jobs with better benefits. Meanwhile, a chunk of the workforce is retiring and not being replaced, as many positions in the mental health profession pay modestly and can be stressful.
Front-line behavioral workers — typically employed in domestic violence shelters, mental health centers, sober-living homes or drug-use prevention sites — are leaving as well, Hepburn said. In July, Virginia stopped admissions to five of its eight state mental health hospitals, citing a staff shortage of 30%, driven by over 100 resignations from mostly front-line workers. Long hours, lagging pay, COVID-19 risks and workplace stress have driven many workers to look for employment outside health care.
"People used to take a lot of pride in working in health care," Hepburn told The Nation's Health. "They came in with a certain idealism. They were doing something to help people, so they accepted lower wages. But that has all changed."
This summer, the Virginia Health Care Foundation performed a capacity assessment of mental health professionals in the state, finding that over 40% of Virginians live in regions with a workforce shortage. People in underserved areas have worse outcomes on key behavioral health indicators than those in areas without a personnel shortage, the assessment noted.
The foundation recommended that policymakers use state funds to help pay for licensing of social workers and counselors, create more psychiatric residencies for both general psychiatry and child and adolescent psychiatrists, and incentivize graduating residents to practice in Virginia. Recruitment and retention should be a state policy priority, the group said.
Virginia already has a loan repayment program for behavioral health, in which qualifying participants commit to working in an underserved area for two years. State lawmakers are also considering bonuses for state hospital staff.
A bright spot nationwide for the field has been virtual delivery of mental health services. In 2020, many providers moved their caseloads to telehealth, representing a 40% rise in virtual appointments compared to 2019, according to a 2021 study in the Journal of Telemedicine and Telecare. Health advocates, including APHA, are urging that federal and state regulations that made expansion possible become permanent.
"Telemental health has played a very important role in keeping people connected during the pandemic and offers a great future," Deborah Oswalt, executive director of the Virginia Health Care Foundation, told The Nation's Health.
Broadband access is needed for telehealth, and most states have coverage holes, including Virginia. But in summer, Virginia announced it would use a portion of the $4.3 billion it received from the federal American Rescue Plan to bring high-speed broadband internet access to most rural areas by 2024.
Adaptation and innovation have continued in the mental health care field, causing hope among some stakeholders that a corner has been turned.
For example, there has been a growth in community services and mobile crisis teams, which are dispatched instead of law enforcement to handle mental health crises.
Some behavioral health providers have been designated as crisis receiving facilities, which serve as a location where someone can be taken other than jail or an emergency department. In 2020, the federal government released guidelines for communities wanting to develop a crisis care service.
In addition, more high-tech crisis call centers have been established, and a 988 mental health hotline is set to go live nationwide in July. Callers will be connected to certified suicide prevention call centers, which can dispatch local mobile crisis teams. Stabilization services will also be available.
"Being able to reach someone who can respond and connect the person to other services is a big advantage," Robin Kimbrough-Melton, JD, research professor at Colorado School of Public Health and chair of APHA's Mental Health Section, told The Nation's Health.
Kimbrough-Melton co-hosted a session at APHA's 2021 Annual Meeting and Expo in October on strategies to promote well-being in the workplace, which showed that reinforcing healthy behaviors can pay off.
There are signs of optimism at the local level.
Pamela Trimmer, executive director of Ohio-Guidestone, a family services organization that provides mental health care, said retaining staff has been difficult and several positions have been open for six months. Counselors are overworked, with caseloads rising. Yet in recent months, the office has settled into a rhythm, she said, and two openings were recently filled.
Maintaining a positive office environment has been extremely important, as well as making sure employees have what they need to do their job, Trimmer said.
"If it becomes a negative work environment, you are going to have turnover," she told The Nation's Health. "Make sure everyone is working together and supporting each other."
For more information on health professional shortage areas, visit https://data.hrsa.gov.
Copyright The Nation's Health, American Public Health Association