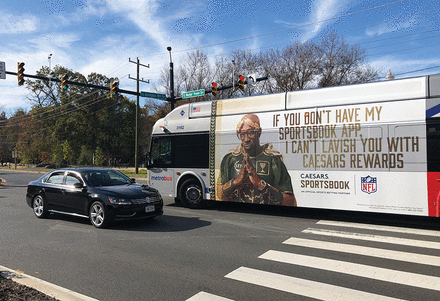 Sports betting exploded in Maryland in 2020, thanks to a new state law that allowed a range of online and in-person betting options at sport stadiums, horse racing tracks, state fairgrounds and six casinos, including one on a riverboat.
The Maryland law is not an outlier. Across the U.S., states are looking for new revenue sources and betting companies are ready to set up shop. But mental health and addiction professionals worry the expansion could create or worsen gambling disorders, which already affect millions of Americans. In a given year, about 2% of people in the U.S. engage in problem gambling behaviors.
"In my view, the relationship between gambling and public health is similar to its relationship with alcohol," said Rachel Volberg, PhD, a gambling addiction researcher at the University of Massachusetts Amherst's School of Public Health and Health Sciences. "Gambling for the most part now is a legal but risky consumer product."
In 2018, the U.S. Supreme Court overturned a federal law that prohibited most states from legalizing sports betting. Since then, all but a few states have considered allowing the practice. In under two years, the number of states with legal sports betting accelerated from one to 31, in addition to the District of Columbia.
Many people who live where sports gambling is now legal are eager to place bets. A September 2021 survey from the American Gaming Association found that a record-high 45.2 million Americans planned to bet on professional football during the 2021-2022 season — an increase of 36% over last season. Nearly 20 million adults planned to place a bet online, a 73% increase from 2020, the survey found.
Sports betting can be done anywhere in a legal jurisdiction, from a sports bar to the dinner table, all on a smartphone or other mobile device. Casino and sports-adjacent brands are investing in internet and mobile platforms as well as sleek advertising campaigns featuring celebrities and professional athletes.
"Everyone now has a casino in their pocket," Keith Whyte, director of the National Council on Problem Gambling, told The Nation's Health.
One investor is Caesars Entertainment, which has pledged $1 billion toward its digital products. Much of the spending will be for ads during NFL games. On Nov. 9, the company announced a partnership with former football players Peyton and Eli Manning, who will appear in advertisements and live events promoting sports betting.
One concern is that flashy, high-budget ad campaigns from gambling companies are now more common and targeting youth. According to Yale Medicine, which conducts research on gambling, as many as 7% of youth develop a gambling disorder, compared with about 1% of adults. Gambling can hold a special allure for disadvantaged youth, Volberg said.
Among those that are tackling the problem is the Massachusetts Department of Public Health's Office of Problem Gambling Services, which funds youth-serving organizations to integrate underage gambling prevention. Youth in the programs are paid to use photography to document how gambling impacts their community.
The program empowers youth to "showcase their findings to community members and influencers to motivate and enact policy change," according to presenters who spotlighted the work at APHA's 2021 Annual Meeting and Expo in October.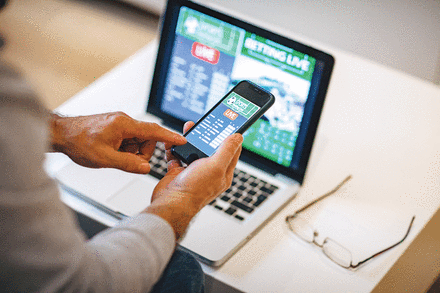 Working to prevent problem gambling
More than a dozen states now receive at least 10% of their general revenue from in-state gambling, according to the National Council on Problem Gambling.
A portion of gambling taxes is directed to preventive organizations, including the National Council on Problem Gambling and its state affiliate associations. The council operates a national gambling hotline, and many state universities and health departments run treatment and prevention efforts, ranging from support groups, addiction treatment centers and outreach to at-risk people.
The most common approach for prevention advocates is not to call for prohibition outright, but rather push for a share of the gaming tax revenue to be directed to treatment and prevention efforts.
Chartered in 2012, the University of Maryland's Center on Excellence on Problem Gambling has grown with the increasing need, said Blair Inniss, JD, MA, government relations director. And data soon to be published by the center shows that problem gambling has risen in Maryland since 2018, when the federal ban lifted but betting was still illegal in the state, she told The Nation's Health.
As an example of how widespread sports betting could become in Maryland, Inniss pointed to a survey given three years before the state legalized sports betting. It showed that while the state lottery was No. 1 for gambling, sports betting came in at No. 4.
"And let's remember, that was in 2017, so respondents were admitting to illegal sports betting," said Innis, who presented about the Maryland center's work during APHA's Annual Meeting. "That's how we can be so certain that number is going to increase once it becomes legal and easily accessible."
About 2 million U.S. adults are estimated to have severe gambling problems or addiction, according to the National Council on Problem Gambling. Up to 6 million more may have mild or moderate problems.
According to the American Psychiatric Association, gambling disorder involves "repeated problematic gambling behavior that causes significant problems or distress." The disorder is classified as a behavioral addiction in the American Psychiatric Association's diagnostic manual.
Problem gambling is more common in men, people of color and in those with mood or personality disorders. People with psychiatric disorders such as major depression are much more likely to develop gambling problems, according to a 2008 study.
Medication and therapy can help, but fewer than 10% of people with a gambling disorder seek treatment, according to the American Psychiatric Association.
For more on problem gambling, visit www.ncpgambling.org and bit.ly/APAgambling.
Copyright The Nation's Health, American Public Health Association