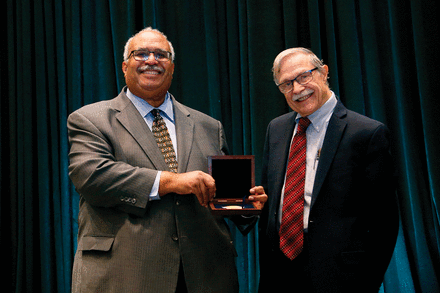 From experienced trailblazers to new professionals coming up in the field, nearly a dozen public health leaders were honored for their achievements during APHA's 2021 Annual Meeting and Expo in Denver in October.
"There are countless examples of public health professionals and advocates working tirelessly to confront the continuing pandemic," said APHA Executive Director Georges Benjamin, MD, in an Association news release. "The celebration of the accomplishments and dedication of this year's honorees is also a celebration of everyone's efforts to strengthen the field and create healthier communities in the midst of a public health crisis."
Oliver Fein, MD, professor emeritus of clinical medicine at Weill Cornell Medical College, received the Association's highest award — the Sedgwick Memorial Medal for Distinguished Service in Public Health — during APHA's Public Health Awards Ceremony on Oct. 26. Fein was honored for his commitment to patient-centered, community-oriented care and his decades of advocacy to ensure all Americans have access to health care.
Carlos del Rio, MD, a professor of global health and epidemiology at Emory University's Rollins School of Public Health, received the APHA Award for Excellence for his groundbreaking research on HIV in the U.S. and globally, among other accomplishments. Former APHA chief of staff and longtime APHA member leader Alan Baker, MA, was celebrated with the APHA Executive Director Citation for his work to advance and support the Association over the years.
APHA also honored the important work of organizations, such as the Voto Latino Foundation, which received the Association's 2021 Presidential Citation. The foundation was recognized for its work to improve the health and well-being of Hispanic communities in the U.S.
The 2021 Distinguished Public Health Legislator of the Year award was presented to U.S. Rep. Lauren Underwood, D-Ill., for her work in support of public health, including introducing the Black Maternal Health Momnibus Act of 2021, the Future Advancement of Academic Nursing Act, and the Child Suicide Prevention and Lethal Means Safety Act.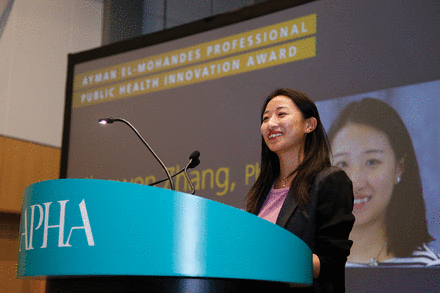 Jingwen Zhang, PhD, an assistant professor at the University of California-Davis, received APHA's Ayman El-Mohandes Young Professional Public Health Innovation Award for her research on communication and emerging media technologies that promote healthy lifestyles and prevention across diverse populations.
"I thank APHA's recognition of my work on digital technologies for public health and the tremendous importance of researching their impact on health equity for all," Zhang said.
Donna Petersen, ScD, MHS, CPH, dean of the College of Public Health at the University of South Florida and senior associate vice president of USF Health, received the Martha May Eliot Award for her lifetime of service to the field of maternal and child health.
"As a tireless leader, relentless advocate, selfless adviser and pragmatic visionary, she has motivated and inspired others and driven change in the field of maternal and child health," said then-APHA President José Ramón Fernández-Peña, MD, MPA, during the awards presentation. "She has influenced generations of maternal and child health and other public health professionals."
Other public health leaders honored at the APHA 2021 awards ceremony included: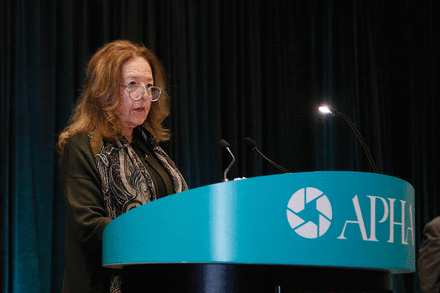 Ruth Zambrana, PhD, MSW, co-founder and director of the University of Maryland Consortium on Race, Gender and Ethnicity, who received the Lyndon Haviland Public Health Mentoring Award for her work to support the next generation of public health professionals. An APHA member for four decades, Zambrana has mentored on public health, medicine and the sociomedical sciences.

Micah Berman, JD, associate professor in the College of Public Health and Moritz College of Law at Ohio State University, received the David P. Rall Award for Advocacy in Public Health for his science-based work on tobacco policy. An expert in local, state, federal and international policymaking, Berman served as a senior advisor to the Food and Drug Administration's Center for Tobacco Products and as a visiting scholar at the World Health Organization's Center for International Cooperation on Tobacco Control.

Donald Warne, MD, MPH, associate dean of diversity, equity and inclusion and director of the Indians into Medicine and public health programs at the University of North Dakota, received the Helen Rodríguez-Trías Social Justice Award for his work in support of underserved and disadvantaged populations. A member of the Oglala Lakota Tribe of Pine Ridge, South Dakota, Warne is a physician and tribal health advocate.

Séverine Autesserre, PhD, professor of political science at Barnard College, Columbia University, received the Victor Sidel and Barry Levy Award for Peace for her work as a peace-builder, researcher, scholar and author. An expert in conflict-resolution, peacekeeping and international aid, Autesserre has been a featured speaker at the World Summit of Nobel Peace Laureates and the U.N. Security Council.
For more information on APHA's awards, visit www.apha.org/about-apha/apha-awards.
Copyright The Nation's Health, American Public Health Association