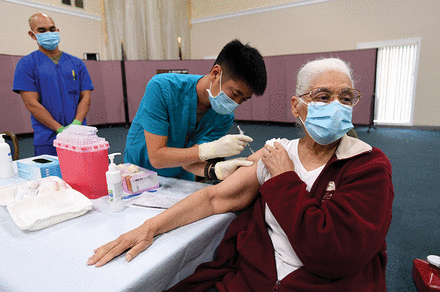 With limited supplies of COVID-19 vaccines, ethicists are striving to ensure that people at greatest risk for severe disease and death are prioritized. Whether their recommendations are entirely heeded remains to be seen.
During the pandemic, ethicists have been advising on COVID-19 vaccination trials, care in hospitals and, most recently, vaccine prioritization. Last year, the National Academies of Sciences, Engineering and Medicine and the Centers for Disease Control and Prevention both took ethics into account in their recommendations on who should get vaccinated first.
Indeed, without considering ethics, defeating the pandemic will be difficult, said Matthew Wynia, MD, MPH, FACP, director of the Center for Bioethics and Humanities at the University of Colorado.
"These are not only scientific decisions," Wynia told The Nation's Health. "They are decisions about values too, and that is where ethicists come into the conversation."
CDC's vaccine prioritization recommendations, first released in December, were created to decrease death and serious disease, preserve functioning of society and address disparities, according to the agency.
Health care personnel in the U.S. were recommended to be vaccinated first because of their important role on the front lines of the pandemic, for example, while people in long-term care facilities were prioritized because of their high risk of severe illness and death.
Ethicists recommend targeting people "who are most likely to catch the illness and to die if they catch it or spread it to a bunch of other people. Those populations ought to get this first," Wynia said.
But as states have jurisdiction over public health, vaccine prioritization across the U.S. has varied. That has created "confusion about who is eligible, confusing communications, and complicated systems to determine eligibility that often result in inequitable access to already marginalized groups," said Lisa Lee, PhD, MA, MS, co-leader of a task force that revised APHA's Public Health Code of Ethics, released in 2019.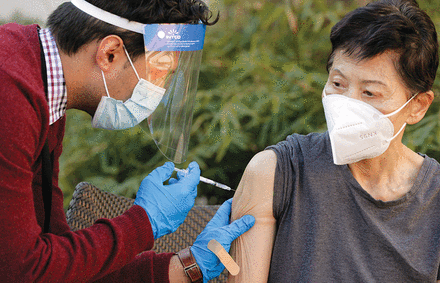 Underserved and underrepresented communities as well as essential workers such as bus drivers and grocery staff — positions that are held by many people of color — were largely left out of state plans.
But even after vaccination supplies begin to meet demand, fair and equitable distribution will remain an issue, said Akilah Jefferson, MD, MSc, a bioethicist and assistant professor in the Allergy and Immunology Division at the University of Arkansas for Medical Sciences' College of Medicine. Without ethics, there is no equity, particularly for vulnerable people.
"We have to put a whole lot of effort into making sure we don't leave these people behind," Jefferson told The Nation's Health. "Because if things keep going how they have been going, thousands and thousands of people will be left behind."
Reaching underserved US communities
The Public Health Code of Ethics outlines foundational values to consider when deciding how to prioritize a public health service such as COVID-19 vaccination. It calls on leaders to determine the public health goals of an action, identify ethically relevant facts and uncertainties, analyze the implications of the action for affected communities, and think about how the action fits with core values of public health.
"Each of these steps is complex and requires thoughtful consideration," said Lee, who is an APHA member.
NASEM and CDC relied on a similar ethical structure when developing their COVID-19 vaccine prioritization recommendations. Jefferson, who was not involved in the two frameworks, summarized the guidelines as striving to maximize benefit, minimize harm, promote justice, promote transparency and achieve health equity.
Though the early U.S. COVID-19 vaccine rollout was bumpy, it began to improve under the Biden administration. In February, the administration announced a program to deliver vaccines to a network of community health centers in underserved neighborhoods to address racial inequity.
People in underserved communities face barriers to vaccination, such as difficulties in signing up online for appointments, a lack of neighborhood pharmacies for vaccine administration and hesitancy due to lifelong experiences of health inequities, White House officials said.
Health departments and advocates will have to organize outreach and vaccine events at churches, community centers, corner markets and even barbershops in vulnerable communities, Lee said.
Such efforts can reduce vaccine hesitancy, especially if trusted community members speak publicly about vaccine safety and efficacy and publicly receive their inoculation.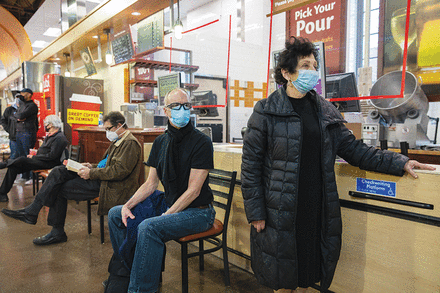 "One of the important ethical concepts we rely on in public health is reciprocity, which basically means that if we are going to ask the public to do something for the good of the public's health — say, get a COVID-19 vaccine — we have the obligation to provide what it takes to make it reasonable for a person to participate," Lee said.
Using vaccine ethics on a global scale
Another ethical issue involving COVID-19 is a global one: Unless the U.S. and other wealthy countries aid middle- and low-income nations by building up their public health infrastructure and getting vaccines to them, people there will continue to die. And COVID-19 variants will continue to circulate around the world, exponentially increasing infections.
The World Health Organization, which has 194 member nations, leads international efforts to defeat the pandemic. In May, the Trump administration announced the U.S. would withdraw from WHO, thereby ending U.S.'s global health influence and undercutting WHO's funding, a devastating blow to helping non-wealthy countries control the contagion. The withdrawal would have been effective in July 2021.
But on Jan. 21, one day after President Joe Biden's inauguration, Anthony Fauci, MD, Biden's chief medical adviser, confirmed that the U.S. would not only remain a WHO member, but that it would also participate in the COVID-19 Vaccines Global Access Facility, co-led by WHO, Gavi and the Coalition for Epidemic Preparedness Innovations.
"These are not only scientific decisions. They are decisions about values too, and that is where ethicists come into the conversation."

— Matthew Wynia
COVAX's goal is to purchase COVID-19 vaccines and deliver them to low- and middle-income countries, with emphasis on vaccines being distributed fairly and equitably. By the end of 2021, leaders hope to have delivered 2 billion doses, with most going to countries with the lowest incomes.
As of mid-February, wealthy countries held 4.2 billion doses, while low- and middle-income countries held only 670 million doses, according to the Duke Global Health Innovation Center.
An ethical approach on a global scale is the only way to truly end the pandemic, Lee said.
"All developed countries have both a prudential and an ethical obligation to ensure that all people are protected from this virus," she said. "If we do not, we will continue to suffer the consequences of this deadly disease, fighting outbreaks and dealing with mutating virus that will outsmart our treatments and vaccines."
To download APHA's Public Health Code of Ethics, visit bit.ly/phcodeofethics. Connect with APHA's Ethics Section on Twitter at www.twitter.com/APHAEthics.
Copyright The Nation's Health, American Public Health Association