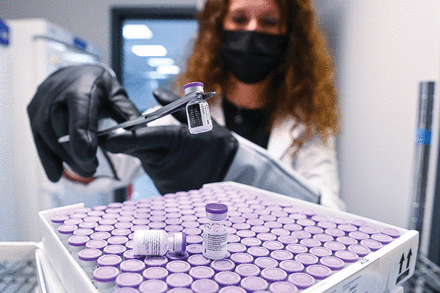 The success of two messenger RNA vaccines in the U.S. to fight COVID-19 has spurred excitement in both public health and medical circles. But the virus is not the only threat being targeted by the technology: Researchers are also working to harness mRNA science to fight malaria, Ebola, Zika, HIV, influenza and even cancer.
"I do not see any major limitation specific for mRNA vaccines," said Norbert Pardi, PhD, an mRNA vaccine specialist at the University of Pennsylvania's Perelman School of Medicine. "Multiple published studies demonstrated that mRNA vaccines are equal or even superior to other vaccine types."
Two COVID-19 vaccines were authorized for emergency use by the Food and Drug Administration in December, with more than 190 million doses administered to U.S. adults as of mid-April. The vaccines use messenger RNA to instruct cells to make a spike protein, prompting the human immune response to make antibodies against the SARS-CoV-2 virus.
"It is important to note that mRNA cannot change our genetic material and it is non-infectious, so it cannot cause disease," Pardi told The Nation's Health. "They have proved to be safe and very effective."
A major reason mRNA technology has captured the scientific imagination is the speed at which it can produce results. This was shown last year with COVID-19. In January 2020, the genomic sequence of the disease was shared by officials in China, where the virus was first identified. Weeks later, researchers with Moderna and Pfizer had mRNA vaccines in trials.
"The excitement about mRNA technology is that you can go from having sequence of the pathogen to a vaccine within weeks, and in the clinic within a couple months," said Steven Deeks, MD, a professor of medicine in residence at the University of California-San Francisco, and faculty member in the Division of HIV, Infectious Diseases and Global Medicine at Zuckerberg San Francisco General Hospital.
Though it can seem like an overnight success, mRNA technology has been studied in labs for decades, and the platform used by Moderna and Pfizer was developed about half a decade ago. Scientists have researched mRNA vaccines for rabies, Zika and cytomegalovirus, a common virus often spread by sexual contact, according to the Centers for Disease Control and Prevention. However, mRNA vaccines have rarely made it to clinical trials.
The COVID-19 vaccine breakthrough resulted from a combination of technology, funding, focus, collaboration, public interest and exigency of circumstance, collapsing a process that usually took years into months. In November, officials announced that the Moderna and Pfizer vaccines were over 90% effective in trials. In March, the Pfizer vaccine was found to be highly effective in real-world circumstances.
"I think it is one of the greatest successes in the history of medicine," Deeks told The Nation's Health.
Now, Moderna and Pfizer are each using the technology to develop a vaccine for seasonal flu.
Flu vaccines work by dosing the body with a tiny bit of weakened or inactivated virus, which prompts the immune system to recognize and destroy the pathogen. But because of influenza's ease in creating variants, flu vaccines do not always match circulating strains. Flu vaccines are also grown using eggs, which is a lengthy process.
mRNA technology could offer a faster, more effective alternative that can also be edited to adjust for flu variants.
Moderna is also developing an mRNA vaccine for HIV, which in 2018 killed nearly 16,000 people and so far has been invulnerable to vaccines.
A team at Yale University, in partnership with the pharmaceutical company Novartis, is testing an mRNA-based vaccine for malaria, which in 2019 killed over 400,000 people globally. Malaria is caused by a parasite, not a virus, that has evolved to thwart immunity. One method involves targeting its PMIF protein, which prevents the human immune system from remembering how to fight the disease.
The malaria vaccine that is under development uses mRNA to instruct cells to create PMIF, just as COVID-19 mRNA vaccines instruct cells to create spike proteins. The approach circumvents the PMIF issue and has created malaria immunity in animal models, according to Yale researchers. Clinical trials are scheduled for this year.
The University of Texas MD Anderson Cancer Center, Biotech and other vaccine developers are using mRNA science to create immunotherapies for cancer. One of the challenges, though, is that each cancerous tumor would need its own mRNA vaccine recipe based on a specific tumor's genetics.
Steele said developing the mRNA platform for cancer, malaria and HIV will be more difficult than it was for COVID-19.
"COVID was a straightforward pathogen to go after," he said. "The spike protein is easy to neutralize and it doesn't evolve very quickly. HIV is going to be orders of magnitude tougher and cancer is going to be orders of magnitude tougher. But it doesn't mean we shouldn't be trying."
Other challenges are that mRNA technology is expensive to manufacture, and distribution requires extreme cold storage. That adds to expense, especially when deploying mRNA vaccines in low-income and middle-income countries with inefficient storage facilities, according to a review by the Massachusetts Institute of Technology. mRNA vaccines become ineffective within hours outside ultra-cold temperatures, so they need to be used quickly.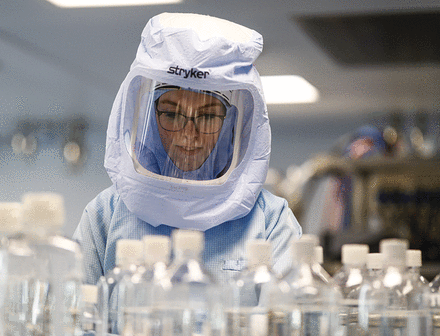 Non-mRNA vaccines also show promise
Margaret Liu, chair of the board for the International Society for Vaccines and a consultant for the World Health Organization's drafting group on mRNA guidelines, said she has marveled at how effective the mRNA vaccines have been against COVID-19, especially with their limited side effects.
By April, FDA had authorized a third COVID-19 vaccine, from Johnson & Johnson, for emergency use against COVID-19. A non-mRNA vaccine, the Johnson & Johnson vaccine requires only a single dose and is easier to store and distribute. But it showed lower efficacy in U.S. clinical trials leading some to view it as lower quality than the mRNA-based vaccines.
But Liu said that is the wrong way to think about it. The mRNA vaccines were in clinical trials at a time when far fewer variants were circulating, she noted.
"So nobody knows for sure if there is really a difference between 95% efficacy and 76% efficacy, given some studies were done months prior," Liu said.
The mRNA vaccines were 100% effective against severe disease, hospitalization and death in their respective trials. The Johnson & Johnson vaccine, which was developed using traditional methods, was about 80% effective on those factors in trials.
Liu did not recommend one vaccine over another, and that will not change even as two more non-mRNA formulas — Astra-Zeneca and Novavax — likely rollout nationwide this year. Both were still in clinical trials in April.
In the U.S., lack of vaccine doses will not be the reason COVID-19 sticks around, Liu said. Vaccine hesitancy could thwart herd immunity, but another issue could be vaccinated Americans forgoing mitigation protocols.
Liu said public health needs to continue to message that, even after vaccination, people need to keep a safe distance, wash hands regularly, wear masks and avoid indoor crowds.
"It is not like a magic shield," Liu said of vaccination. "It is not like a superpower that completely protects you."
For more information on COVID-19 vaccines, visit www.fda.gov/covid19 and www.apha.org/covid-19-vaccines.
Copyright The Nation's Health, American Public Health Association