APHA backs violence research funding
With nearly 40,000 Americans dying and almost 85,000 injured from gun violence each year, continued federal funding for gun violence research is imperative, APHA told Congress recently.
In March 25 letters to U.S. House and Senate appropriations committee leaders, APHA and partners called for $50 million for gun violence research in fiscal year 2022. The funds should be shared between the Centers for Disease Control and Prevention and the National Institutes of Health, enabling the agencies to continue their public health research into firearm morbidity and mortality prevention.
Congress provided $25 million for gun violence research to the two agencies in fiscal year 2021.
"Additional funding can generate research into important issues such as the best ways to prevent unintended firearm injuries and fatalities among women and children, the most effective methods to prevent firearm-related suicides, the measures that can best prevent the next shooting at a school or public place, and numerous other vital public health questions," the advocates told House appropriations leaders.
In April, President Joe Biden included the $50 million appropriation for gun violence research requested by the advocates in his fiscal year 2022 discretionary budget proposal.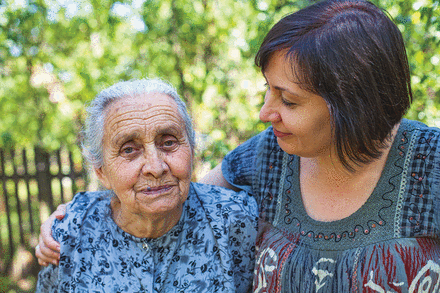 Paid leave essential for all US workers
The COVID-19 pandemic has underscored that all U.S. workers should have comprehensive paid leave, APHA told federal policymakers this spring.
In a March 29 letter to President Joe Biden and congressional leaders, APHA and partners endorsed H.R. 804/S. 248, the Family and Medical Insurance Leave Act. The act would would create a comprehensive national program that helps meet the needs of new mothers and fathers and people with serious personal or family health issues through a shared fund that makes paid leave affordable for employers and for workers and their families.
The act would provide workers with up to 12 weeks of partial income when they take leave due to pregnancy, the birth of a child, the adoption of a child or to care for a child with a serious health condition, among other reasons. Modeled after successful paid family leave insurance programs across the country, the act builds on a foundation of experience and success to create a comprehensive national paid leave policy, the advocates said.
Paid leave provides workers with flexibility to care for themselves and their families when sick and reduces spread of viral infections. The COVID-19 pandemic has drawn attention to the public health consequences of not having comprehensive paid family and medical leave available.
Paid sick leave is also another factor effecting health inequity. While about half of white women have access to paid parental leave, only 41% of Black women and 33% of Hispanic women receive the benefit, the advocates said. Low-income families also tend not to have access to the benefit.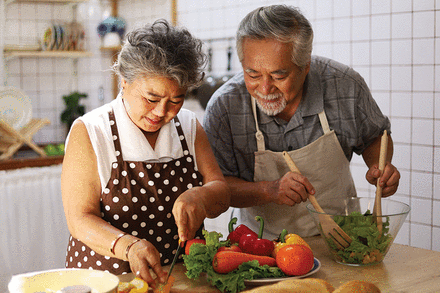 APHA: Food policies boost nutrition
APHA took action in recent months to help Americans make healthier food choices.
On April 1, APHA called for the U.S. Food and Drug Administration to create guidance for nutrition labeling on online food-ordering platforms. Currently, services such as UberEats and DoorDash are not subject to the same nutrition labeling requirements as restaurants. In 2019, over 60% of young adults used such platforms to order food. Research shows that nutrition labeling including calorie information helps consumers make better and healthier choices.
Nutritious school meals are another way to bolster health. In an April 9 letter to congressional members, APHA and partners said that nutrition priorities should be part of the next pandemic relief package. Lawmakers should extend waivers that make school meals available to all students regardless of cost, maintain science-based nutrition standards and increase reimbursement for school meals, the advocates said.
Helping people decide what to eat to stay healthy is also important, according to APHA. As part of its advocacy for fiscal year 2022 appropriations, APHA and partners called for funding to implement the 2020-2025 Dietary Guidelines for Americans. The guidelines provide science-based nutrition recommendations for public health practices, policy-making and federal food and nutrition programs, the advocates told congressional leaders on April 14. They recommended $6 million for a public education campaign to help people make healthier food choices.
Bill underscores LGBTQ protections
Even though significant steps have been taken in the U.S. toward bringing equality to the LGBTQ community, many states continue to deny basic legal protections to the population.
In a May 13 letter to Senate members, APHA and partners urged law-makers to pass H.R. 5, the Equality Act. Passed by the House on Feb. 25, the act would affirm permanent protections under the nation's existing civil rights laws. It would protect access to health care, housing, education and federally funded programs regardless of sexual orientation, gender, gender identity or transgender status.
Last summer, the U.S. Supreme Court ruled in Bostock v. Clayton County that Title VII of the Civil Rights Act prohibits employment discrimination on the basis of sexual orientation and gender identity because they are aspects of sex discrimination.
Though the Biden administration issued an executive order stating that the ruling should be interpreted broadly and is not limited to employment situations, future administrations may interpret the ruling as applying only to the workplace, APHA and the other advocates noted.
The inconsistency of state laws creates uncertainty and can lead to for discrimination toward the LGBTQ community, impacting health and safety, the advocates said.
APHA: Families Plan positive step for US
President Joe Biden's proposed American Families Plan contains important provisions that will benefit the health of millions, APHA said in an April 28 news release.
If enacted, the plan would increase federal spending on child care, paid leave, education and health. It is the third in a series of programs aimed at improving health equity and the U.S. economy. The two others were the American Rescue Plan, a $1.9 trillion stimulus package signed into law March 11, and the American Jobs Plan, a national infrastructure project proposed in March.
APHA lauded the plan's inclusion of a national paid leave program. Currently, only a small percentage of U.S. workers have access to comprehensive paid leave. Lack of paid leave adversely impacts low-wage workers and communities of color and hinders efforts to mitigate the spread of disease, especially COVID-19.
"We look forward to working with both the Biden administration and Congress on these policy improvements that help us achieve our goal of the healthiest nation in one generation," APHA Executive Director Georges Benjamin, MD, said in the statement.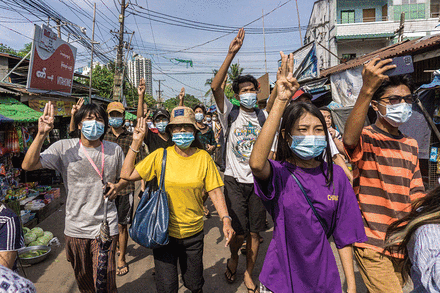 More action needed to support Myanmar
The U.S. should take additional action to address the public health and human rights crisis in Myanmar, APHA told U.S. leaders.
In an April 7 letter to U.S. Secretary of State Antony Blinken, APHA and other health organizations urged the nation to launch a global effort to offer additional protection, support and services to people being targeted in Myanmar by the military and to refugees who have fled the country. The U.S. should also coordinate with other countries to exert the necessary pressure to secure access to detainees for independent health care providers.
Myanmar's armed forces rejected legal election results and seized control of the country. Hundreds of protestors have been killed.
Since then, Myanmar's health care workers, in particular, have been systematically targeted by the military.
APHA supports ban on harmful pesticide
APHA is celebrating a recent court decision against a potentially dangerous pesticide used in food production.
In 2019, APHA joined the American Academy of Pediatrics and other health organizations on a friend-of-the-court brief on chlorpyrifos, a pesticide used on fruits and vegetables. In April, a federal appeals court ruled that the product must be banned by the U.S. Environmental Protection Agency unless it can show that the product is safe.
The Obama administration in 2015 had moved to ban chlorpyrifos, citing potential risk to children. But before the ban was finalized, the Trump administration rejected EPA's own analysis showing the health dangers of the pesticide.
Chlorpyrifos exposure can cause headaches, blurred vision and long-term risks such as lower birthweight and neurological damage in children.
Maternal care needs generous US funding
More women die from pregnancy-related complications in the U.S. than in any other wealthy country, and the rate continues to rise. Federal lawmakers must take action to address the issue, APHA House leaders in April.
APHA joined health advocates in calling for additional fiscal year 2022 funding for maternal health programs at the Centers for Disease Control and Prevention, Health Resources and Services Administration and National Institutes of Health.
"As you develop the appropriations legislation for fiscal year 2022, we encourage you to priori-tize the highest possible funding level for the below programs that seek to prevent maternal deaths, eliminate inequities in maternal health outcomes, and improve maternal health overall," the advocates said.
Of note for funding was HRSA's Title V Maternal and Child Health Services Block Grant, the only federal program devoted solely to improving the health of U.S. women and children. Healthy Start, which provides grants to support community-based strategies to improve perinatal outcomes for women and children in disadvantaged communities, is also essential, the advocates said, as is CDC's Safe Motherhood and Infant Health program, which supports the health of women and babies and works to reduce health disparities.
Better rights for pregnant workers
Many pregnant workers are not offered accommodations by their employers to enable them to stay on the job during pregnancy without risking their health. To rectify the issue, APHA and partners called on senators May 11 to support H.R. 2694, the Pregnant Workers Fairness Act.
Some workers have rigid schedules that require physical exertion, such as cleaners, care-givers, gardeners and food service workers. Such positions are disproportionately staffed by people of color. Pregnant workers are also sometimes pushed out of the work-force by their employers, causing economic stress, which can create risks such as premature birth and low birth-weights.
The legislation would require employers to provide reasonable accommodations to pregnant women, similar to the way employers must reasonably accommodate workers with physical disabilities.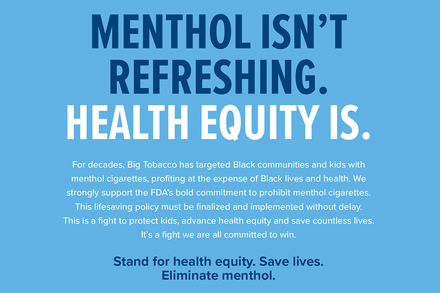 APHA supports FDA plan on menthol
Banning menthol in tobacco is an important step toward reducing the health dangers of such products, APHA said in a recent statement.
The April 29 statement came after the U.S. Food and Drug Administration announced that it would work toward creating a ban. The agency said it planned to propose product standards within the next year to ban menthol flavors in cigarettes and ban all cigar flavorings.
Menthol in cigarettes also has a disproportionate adverse impact on the health of Black Americans, APHA noted.
"For years, the tobacco industry targeted Black Americans in their marketing and promotion of menthol-flavored tobacco products," APHA Executive Director Georges Benjamin, MD, said in the statement. "This plague upon public health…has directly worsened already problematic health disparities."
A recent study showed that 85% of Black smokers use products with menthol flavors. Black Americans with lung cancer are much less likely than whites to be diagnosed with the disease at an earlier, more preventable stage. Tobacco flavorings such as menthol also makes it harder for people to quit using them, Benjamin said.
"If we want to create the healthiest nation in one generation, we need to begin doing so by reversing harmful practices that have been deeply entrenched in our culture, and today's development does just that," he said.
APHA also showed its support for the proposed ban by joining with the Campaign for Tobacco-Free Kids in an ad that ran in The Washington Post.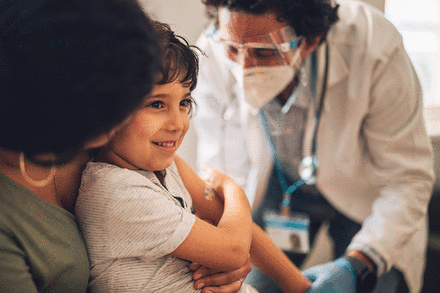 Child vaccinations important priority
To boost lagging vacci-nation rates among U.S. children, lawmakers must provide support for a critical program that provides vaccines.
In an April 16 letter to Congress, APHA and partners endorsed H.R. 2347, the Strengthening the Vaccines for Children Program Act of 2021.
The Vaccines for Children Program provides federally purchased vaccines to approximately 50% of all children in the country, with more than 80% administered in physicians' offices, allowing the trusted relationships within the medical home to identify vaccine gaps and to bolster vaccine confidence, the advocates said.
Since its inception in 2013, the program has increased vaccination rates across all races and ethnicities and income groups and has reduced disparities. The current bill builds on the successes of the Vaccines for Children Program, ensuring long-term improvements in children's access to vaccinations.
While the vaccines program has been a tremendous success in providing vaccines at no cost to eligible children, current financial and administrative barriers make it difficult for pediatricians, family physicians and other clinicians to participate, the advocates said. This creates barriers to vaccinating children
Funding critical for health training
The Health Resources and Services Administration's workforce programs play a vital role in strengthening the health profession and must receive adequate support, APHA told key members of Congress.
In a March 31 letter to U.S. House and Senate appropriation leaders, the Health Professions and Nursing Education Coalition, of which APHA is a part, recommended $1.5 billion for HRSA's Title VII health professions and Title VIII nursing work-force development programs for fiscal year 2022. The funding would help recruit, train and support public health practitioners and other front-line health workers.
The COVID-19 pandemic has underscored the many health inequities facing minority communities and gaps in care for older people, the coalition said. The funding would equip current and future providers with the tools to serve these populations better.
"Studies show that Title VII and Title VIII programs lead to increasing the number of underrepresented students enrolling in health professions schools, heightening awareness of factors contributing to health disparities, and attracting health professionals more likely to treat underrepresented patients," the coalition said.
To take action on public health, visit www.apha.org/advocacy.
Copyright The Nation's Health, American Public Health Association