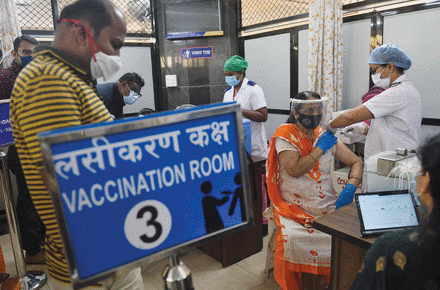 Over half of the world's population has been fully vaccinated against COVID-19. But most people who are vaccinated reside in regions and nations with high wealth, such as China, Japan, the United Kingdom, the U.S. and the European Union.
Populations in some middle- and low-income countries have low vaccination rates, according to Oxford University. Variants such as delta and omicron have emerged from underserved regions to spread globally.
Vaccinating the world has become an enormous challenge. Most of the COVID-19 vaccination platforms, including mRNA and adenovirus technologies, are too expensive and hard to scale for global use, said Peter Hotez, MD, PhD, co-director of Texas Children's Hospital's Center for Vaccine Development. The center has developed a COVID-19 vaccine based on a proven recombinant protein-based technology used for tetanus and other common vaccinations.
The low-cost vaccine has been provided patent-free to manufacturers in four underserved countries. In India, Biological E, which calls the vaccine Corbevax, has manufactured 250 million doses as of January and plans to make 140 million doses a month. Clinical trials have shown Corbevax to be safe and effective.
Hotez spoke to The Nation's Health about global vaccination and why the technology he and his team developed is being given away free.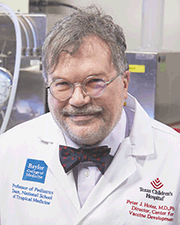 Why has this been called "the world's vaccine?"
Our Texas Children's Hospital for Vaccine Development has been making vaccines now for global health for two decades. We make the vaccines the pharma companies won't make, usually for diseases of poverty, like schistosomiasis. We started developing coronavirus vaccines 10 years ago because they were orphaned as well. When we got the COVID-19 sequence in January of 2020, we were able to pivot our program to COVID-19 vaccines.
Now, unlike mRNA or adenoviruses or nanoparticle technologies, we make our vaccines so that they can actually be produced in low- and middle-income countries. So in a half dozen LMICs like Brazil and Argentina and Indonesia and Bangladesh and Vietnam, they can make their own recombinant protein hepatitis B vaccine by yeast fermentation, a vegan process. The advantage to that technology is that there is no limit to how much you can produce and it is probably the least expensive. If you want to make a global health COVID vaccine, that is the way to go.
We developed and transferred the technology, with no patent, no strings attached.
Why no patent?
Because as I often like to say, "If your house is on fire, and you can make one phone call, you don't call a patent attorney, you call the fire department." We are trying to be the fire department here, because the world is on fire with COVID.
We have so far transferred the patent to four developing countries. We have done this with Biological E in India, Biopharma in Indonesia, Septa in Bangladesh and ImmunityBio is trying to do this in South Africa. BioE is furthest along. They've produce 250 million doses.
BioE owns the vaccine. We practice what we call decolonization; we don't try to hang onto it. BioE works out the clinical development plan with Indian regulators, and the regulatory steps and dissemination of results with the World Health Organization. It was released for emergency use authorization Dec. 28, 2021, for adults and now (in February) they are moving toward kids and a booster.
We are committed to developing the lifesaving vaccines that others don't care to make.
Are patents a barrier to treatment of diseases?
They can be a barrier, but the biggest barrier is technical know-how of how to make a vaccine at scale and under a quality umbrella and how to work with a regulatory authority. That is why there is an advantage with our technology, several decades of learning experience.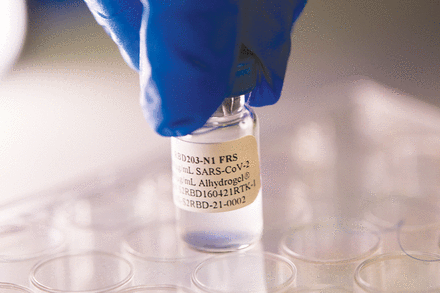 Other vaccines are based on similar technology. What separates your platform from those?
It is true there are other recombinant protein vaccines, but they are using technologies that are not as easy to scale. Ours are the lowest cost and easiest to produce. It is about $1.90 a dose. And it has the best safety profile, similar to that of the hepatitis B vaccine. Simple refrigeration, no limit to what you can scale. This probably checks more boxes for global health access than any other vaccine.
How do we increase doses to unvaccinated countries?
For me, the best way is this decolonization approach that empowers the vaccine producers in low- and middle-income countries.
What are reasons for COVID-19 vaccine inequity globally and how can we solve this?
Part of the problem is that the vaccine ecosystem is overly dependent on the multinational pharma companies. And it is not that I am against those companies — they do a lot of good.
The problem is the incentivizing mechanisms are almost exclusively for the multinational pharma companies, and that has caused an imbalance because the ecosystem needs to include the vaccine producers for low- and middle-income countries. If we do that, we might be able to get technologies that are suitable in resource-poor settings.
You also work on neglected tropical diseases. What are similarities between that work and your work on COVID-19?
It's funny, because early on in the pandemic, I predicted that COVID-19 could become a neglected tropical disease, because it is going to be the world's poor that lack access to essential vaccines, diagnostics and treatments. The other feature of neglected tropical diseases are their long-term, debilitating effects. And now we are seeing long COVID's effect on the cardiovascular and respiratory systems. I am very concerned about the neurodevelopmental and long-term complications of COVID-19.
This interview was edited for style and length.
Copyright The Nation's Health, American Public Health Association