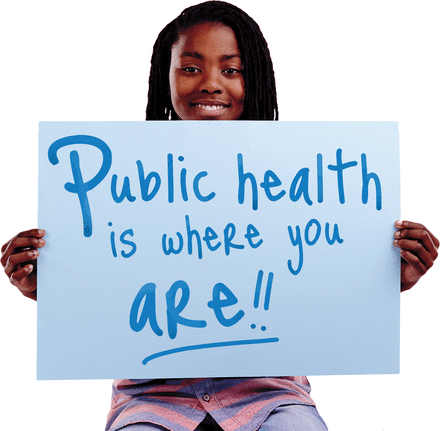 From sidewalks and seat belts to vaccines and prenatal care, public health is an everyday part of life. This year's National Public Health Week theme, "Public Health is Where You Are," highlights the fact that health is a part of every community.
The April 4-10 event, organized by APHA, will bring together health workers, students, health advocates and community leaders across the U.S. to celebrate and raise awareness of public health.
The seven days of NPHW include daily subthemes that zero in on key public health issues. Monday will focus on racism; Tuesday, the public health workforce; Wednesday, community; Thursday, World Health Day; Friday, accessibility; Saturday, climate change equity; and Sunday, mental wellness.
Hundreds of NPHW 2022 supporters are organizing events in communities across the U.S. Plans include virtual meetings, public health videos, documentary screenings, social media shareables and art projects.
Taking part in NPHW is easy, thanks to APHA's online event resources. Organizers can access social media shareables, fact pages, a planning guide, a sample proclamation and downloadable NPHW logos.
The virtual aspect makes the celebration both a local and national event, said Lindsey Wahowiak, APHA's director of Affiliate affairs.
"People can participate with APHA's virtual events, or find something happening in their own neck of the woods," Wahowiak told The Nation's Health.
One of the local organizers is Boston University School of Public Health, which will be highlighting daily themes and using tips from the NPHW social media toolkit to promote events. The school's NPHW events include webinars, panels and conversations. On April 5, Michelle Holder, MA, MPA, PhD, president and CEO of the Washington Center for Equitable Growth, will be part of a conversation on the labor force and diversity.
"The public health workforce is made up individuals with diverse back-grounds, and that allows us to meet people where they are," Robyn Volcy-Lee, MPH, wellness and communications manager of graduate student life, told The Nation's Health.
The Maine Public Health Association, recognized as APHA's Affiliate of the year in November, will also be participating in NPHW. The Maine association will focus on the comprehensive nature of public health. Several events are planned to coincide with Saturday's theme of climate change equity.
"The continued inclusion of climate change as a daily topic of NPHW enables us to highlight how critical the health of our climate is to the health of our people and communities," Heather Drake, MPH, association membership and engagement director, told The Nation's Health.
NPHW celebrants can add their events to APHA's online calendar to share them with others. Health professionals can also browse the calendar to get ideas for their activities or make plans to attend events.
Some physical activity events during NPHW will link to APHA's Keep It Moving Challenge, which encourages people to become more active. As of mid-February, about 850 participants had joined 20 teams. All participants who reach activity goals in one of three levels will be entered into a drawing for prizes.
APHA will lead virtual events during NPHW that are open to all. On Monday, April 4, community leaders will talk about health equity during an online forum. Tuesday, April 5, is Student Day and will feature a young professionals career panel and mentoring webinar, showcasing three generations of the mentor-mentee relationship. A webinar featuring the Healthiest Cities & Counties Challenge will be held on Wednesday, April 6.
Other activities will continue through the end of NPHW on Sunday, April 10.
To learn more about National Public Health Week and get involved, visit www.nphw.org.
Copyright The Nation's Health, American Public Health Association