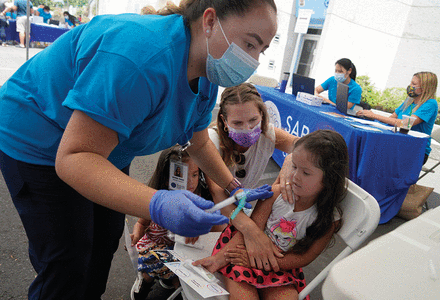 "This is an eroding of our entire public health infrastructure. You're going to see outbreaks of more vaccine-preventable diseases all over the country."

— Allison Winnike
Emboldened by inroads against COVID-19 vaccination requirements, a surge of bills in state legislatures are taking aim at routine vaccinations for children. What started as a campaign against workplace vaccination mandates for adults has expanded to target proven vaccines that protect children from dangerous diseases.
"This is an eroding of our entire public health infrastructure," Allison Winnike, JD, an adjunct professor at the University of Texas Health Science Center at Houston, told The Nation's Health. "You're going to see outbreaks of more vaccine-preventable diseases all over the country. Millions of vulnerable adults and children will be at risk."
Immunization has been named by the Centers for Disease Control and Prevention as one of the top public health achievements of the 21st century. In the first decade of the century, about 2.5 million deaths were prevented each year through vaccinations.
Despite that, lawmakers in nearly 20 states have proposed bills that would end child vaccination requirements for school attendance, make it easier to exempt children from vaccinations or both, according to Becky Christensen, founder and campaigns director at Science and Families Engaging Communities Coalition and Action Fund, a vaccine advocacy organization.
Among the bills making their way through state legislatures is H.B. 2009 in Missouri, which would exempt children who attend private schools from state vaccine requirements. In Wisconsin, S.B. 336 would ban schools and universities from excluding students from activities based on vaccination status. In Wyoming, H.B. 32 would restrict new vaccine requirements at schools.
Legislation in Louisiana could upset the state's successful use of mobile vaccination units to protect children from dangerous diseases. Seven mobile units contract with the Louisiana Department of Health to offer vaccinations on school grounds. Health care workers immunize kids against influenza, polio, measles, mumps, rubella and other illnesses. From spring 2021-2022, over 450 vaccine events took place at K-12 public schools, with over 13,000 staff and students receiving shots.
Louisiana's mobile vaccination units have helped reach low-income residents lacking transportation and schoolchildren who lack access to preventive health care, Christensen said.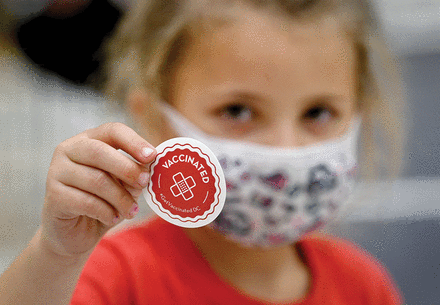 But under H.B. 427, a bill now before the Louisiana Legislature, administering vaccinations to minors on school grounds outside of school clinics would be banned. A second bill would prohibit colleges and universities from administering vaccines on campus.
"That is how entrenched the anti-vaccine movement is, that they want to remove access," Christensen told The Nation's Health. "And I find that very concerning, because it's undoing some really hard, thoughtful work to get people vaccinated."
Though all states require vaccinations for school attendance, more than 40 also grant some religious exemptions, allowing parents to opt out their children from school and day care immunizations. Over a dozen allow philosophical exemptions. Expanding the exemption footprint is another strategy by anti-vaccine lawmakers.
A host of bills in Kansas focus on broadening and simplifying the exemption process for parents. One proposal on the table would allow exemptions for non-theistic and ethical beliefs. Meanwhile, several Kansas lawmakers, echoing actions in some states to limit public health authority, support a bill that would strip the health secretary and other health officials of the ability to declare quarantines.
"That means public health officials won't be able to quarantine unvaccinated children in the event of an outbreak," Christensen said. "Parents would still be able to send their unvaccinated child to school during a measles outbreak."
Also on legislative dockets are proposals to keep schools free of COVID-19 vaccine requirements. Because of the way legislation and statutory law works, such proposals could be modified to include routine vaccines, Christensen said.
"It would be very simple to have those bills apply to all vaccines," she said.
The similarities of anti-vaccination legislation in states suggest a coordinated effort by anti-vaccination groups, said Jaimie Vickery, MPP, government affairs lead at Vaccinate Your Family, a vaccine advocacy group.
"They're really well organized, they're savvy, they know what they're doing," Vickery told The Nation's Health. "They're incredibly well funded."
And though she said she believes some proposals are merely grandstanding that will not progress further, many others will find a foothold in the legislative process.
"We are continuing to evaluate and monitor these cases and work with our partners on the ground, continuing to combat misinformation online and provide support to local services," Vickery said. "A lot of what we're doing at Vaccinate Your Family is teaching people how to recognize misinformation."
Though lawmakers are regularly hearing from anti-vaccination groups about ending vaccine requirements, polls show Americans overwhelmingly support routine school vaccination requirements.
That silent majority needs to speak up, said Winnike, a former president and CEO of the Immunization Partnership.
"We need to have our public health professionals contact their elected officials at the local level, at the state level, at the federal level," Winnike said. "They need to stress the importance of strong public health laws."
Christensen's SAFE Communities Coalition is involved in grassroots efforts to get the public to join in on advocacy.
"Parents need to say, 'My child has a right to go to school in a disease-free environment,'" she said. "My child has a right to visit the emergency room and know that their health care worker is vaccinated and not transmitting a disease. We really think that it's important that we encourage families — grandparents, those types of regular everyday citizens — to be advocates in their communities."
The COVID-19 pandemic has been devastating to both the U.S. economy and schools, Christensen said. Blocking routine school vaccination requirements would cause further strife.
"Let's stop destroying our public health system and instead strengthen it, making sure that it is more available to everyone," she said.
For more information on vaccine advocacy, visit www.safecommunitiescoalition.org or www.vaccinateyourfamily.org.
Copyright The Nation's Health, American Public Health Association