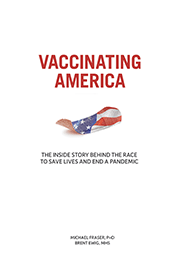 The quick development and high efficacy of COVID-19 vaccines have been called some of the great successes of preventive medicine. Another marvel during of the pandemic was the speed and thoroughness of vaccine distribution in the U.S., thanks to hundreds of thousands of public health workers.
A new APHA Press book, "Vaccinating America: The Inside Story Behind the Race to Save Lives and End a Pandemic," takes an inside look at the most ambitious vaccination campaign in modern U.S. history. The volume covers the first 18 months of the work to vaccinate a country of 330 million people against SARS-CoV-2.
Book co-authors Michael Fraser, PhD, MS, executive director of the Association of State and Territorial Health Officials, and Brent Ewig, MHS, chief policy and government relations officer at the Association of Immunization Managers, bring an insider's vantage point to the COVID-19 response.
During the pandemic, Fraser worked alongside scores of state and territorial health officials. He said he saw firsthand how the rollouts of vaccines across America unfolded as well as the backlash, as health officials were harassed and threatened.
Despite the hurdles, the federal government delivered close to 600 million doses of COVID-19 vaccine in 18 months after the first shot was administered to a nurse on Dec. 14, 2020. Over 60% of eligible Americans were vaccinated, preventing serious illness or death for millions.
Part of the role of the new book is to share those successes and correct the narrative that public health "failed," according to Fraser.
"I don't think that anyone should have expected a perfect response to the biggest global pandemic we faced in 100 years," Fraser, who is an APHA member, told The Nation's Health.
Ewig brings his knowledge of policy, immunization infrastructure and distribution to the book. He witnessed the immense challenges state and local public health professionals faced to transform and scale up a public health infrastructure that was previously used to distribute routine childhood vaccinations.
"Despite 1,000 challenges, government public health pulled together, worked with hundreds of thousands of private sector partners and together saved over 3.2 million lives," Ewig, an APHA member, told The Nation's Health.
The new book does not shy away from documenting mistakes and barriers. Politics, vaccine hesitancy, misinformation and missteps by officials are part of the pandemic story.
The pandemic also revealed problems in public health communication, messaging and building trust. At least 400,000 people who were eligible for vaccination died because they chose not to be immunized, the book reports.
Still, evidence suggests that local, state and federal health agencies have learned from many of the mistakes and are getting better, the authors say.
"States now are thinking about the gaps that need to be filled, having lived through this huge experience," Fraser said. "Folks have a much better sense of capacity needs and communication capacity needs in particular."
For more information or to purchase "Vaccinating America," visit www.aphabookstore.org.
Copyright The Nation's Health, American Public Health Association